Health unions could call off strikes as Steve Barclay opens door to pay talks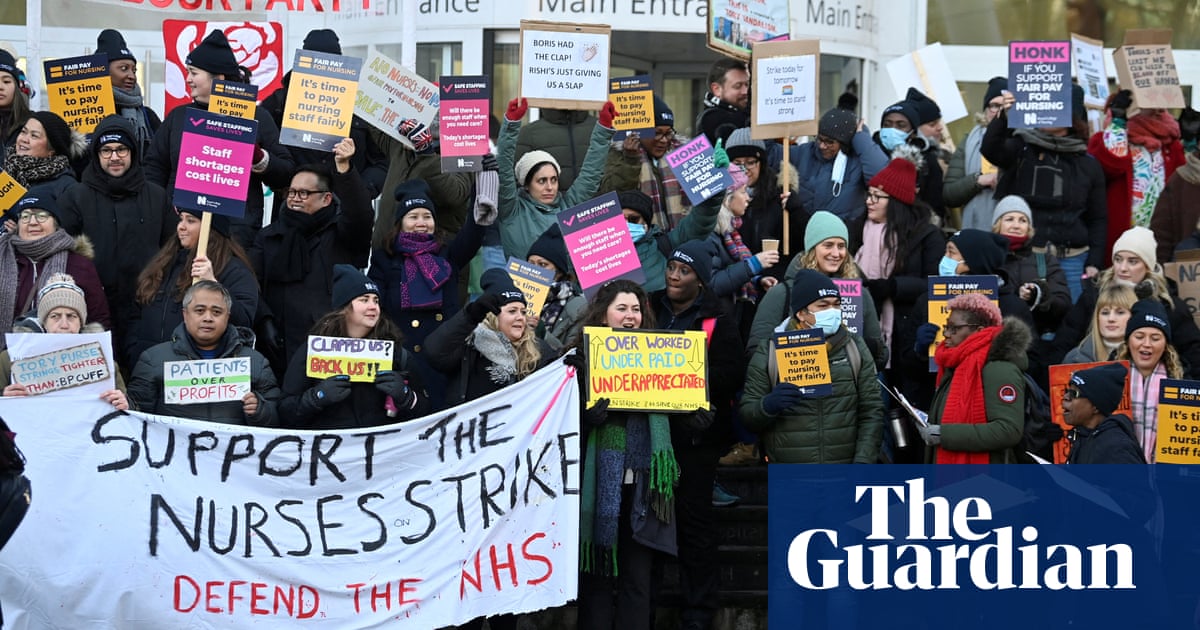 Health unions in England are considering suspending strike action to enter talks with the government after Steve Barclay signalled he was willing to discuss a one-off cost of living payment for the current year.
The Royal College of Nursing (RCN) temporarily called off strikes last week to enter "intensive" negotiations with the health secretary. Their move infuriated other unions involved in NHS stoppages, which vowed to press ahead with strikes.
With the GMB threatening to escalate action by ambulance workers, and up to 32,000 Unison members expected to stop work next Wednesday, Barclay wrote to the NHS Staff Council, calling for talks.
The Staff Council, which includes representatives of workers and NHS employers, as well as the Department of Health and Social Care (DHSC), is the usual forum for discussing NHS pay.
According to sources with knowledge of Barclay's letter, it set out the government's willingness to discuss a "non-consolidated" – one-off – payment for the current financial year, as well as the pay deal for 2023-24.
NHS unions have repeatedly urged ministers to talk about pay for the current financial year, pointing to the impact of the cost of living crisis on their members, but the government had previously insisted it would not do so.
However, Barclay's letter also said unions involved in the discussions would have to suspend strikes as a precondition of talks, and would have to commit in advance to recommend any deal reached to their members.
The unions involved are holding urgent discussions about whether to accept Barclay's invitation, and demanding confirmation from the government that new money will be on the table.
Rachel Harrison, the GMB national secretary, said: "The government has finally realised what we've been saying all along – they need to talk pay now."
But she added: "Vague promises will not cut it – ambulance workers need to know that they are going to be spoken to seriously about pay."
Health unions are also asking for reassurance from the DHSC about the current status of the talks with the RCN.
Unison's head of health, Sara Gorton, who chairs the employees' group on the NHS Staff Council, said: "Health unions will need to clarify the basis upon which talks can get under way. This includes understanding the status of the unilateral talks that have taken place with the Royal College of Nursing."
Unite's national lead officer, Onay Kasab, said it would discuss the offer of talks with its representatives in the sector, but said that the "excessive pre-conditions" were not helpful.
Barclay's decision to call in the RCN appeared to be an attempt to cut a separate deal with nurses whom, polling suggests, are the workers with most public support for their stand against the government.
But nurses are part of a much wider NHS bargaining unit, known as Agenda for Change, which covers more than 1 million members of staff, including the ambulance workers and physiotherapists who have also been striking.
Most NHS workers were given a flat rate pay rise of £1,400 for 2022-23, but the unions have pointed to widespread staff shortages as evidence that their members are underpaid.
Rishi Sunak's government has been hit by wave after wave of public-sector strikes in recent months, with continuing disputes in schools and a string of Whitehall departments.
Better than expected public finance figures in recent days may have helped to open the way for a more generous settlement for health workers, who had been planning to step up strike action in the coming days.
Unless strikes are called off, ambulance stoppages involving Unite and GMB members will take place on Monday.
The GMB had said it would tighten the conditions of the "life and limb" agreements struck with local trusts, so that in many cases striking members would only respond to life-threatening conditions.
Separately, Unison ambulance workers are due to strike on Wednesday, with up to 32,000 members expected to take part, after a fresh round of ballots significantly expanded the regions involved.
A DHSC spokesperson said: "We have been clear we are happy to talk to all unions who are willing to discuss what is fair and reasonable. We have invited the NHS Staff Council, who represent Agenda for Change unions, to join a series of intensive talks beginning this week covering pay, terms and conditions improvements and productivity enhancing reforms."