The Long Run review – going the distance with love and laughter
The crowd carries you along in a marathon, says Katie Arnstein towards the end of this winning show about family and friendship. It's the cumulative effect of all those tiny connections with others – like a performer and her audience or a hospital waiting room full of strangers.
Which is where much of the story unfolds as Arnstein takes us through her mum's treatment for bowel cancer. Yes, it's one of those comedy shows, Arnstein acknowledges, keenly aware that she is entering a familiar subgenre. But this tribute to her mother is delicate in its emotional detail, often underscored by absurd humour drawn from quotidian scenarios such as the inherent hazards of bowel cancer coffee mornings.
Jane Arnstein is evoked so nimbly by her daughter that you almost feel they are sharing the stage when, in a touching role reversal, Katie drops her off at the hospital as if it's her first day at school and, another day, picks her up weary after radiotherapy and fondly calls her a sleepy bear. We experience their fear, resolve and anger in the face of illness, the daughter's outlook affected by a chance encounter in the waiting room with a spry gent in Skechers, training for a marathon.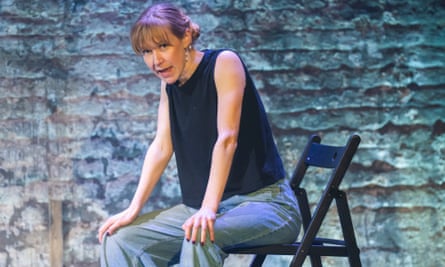 To say much more would spoil the evening. Bec Martin's captivating production makes powerful use of a traverse stage – we naturally flinch and avoid eye contact when hearing this subject matter but the faces of others provide a comfort. Arnstein herself, as she proved in her 2019 show Sexy Lamp, is a genial host and very funny, whether with thumbnail sketches of hospital visitors or gleefully daft wordplay. Her delivery, and a series of callbacks, find the hour settling somewhere between standup and storytelling.
By the end we have ranged across three relationships and the show could afford to spend less time warming up so as to develop its final mile. While the portrait of her mother is skilfully achieved, the romantic partnership that Arnstein discovers needs to emerge a little more vividly. But this first night of a Vault festival run left me poleaxed by its abundance of kindness.