Preview: Wolverines at the 2023 NFL Combine
Nine Michigan Wolverines will be at the NFL Combine March 1-6, 2023. Let's preview each prospect and what to expect.
Workouts and drills
Thursday, March 2nd, 3pm ET – Defensive Linemen and Linebackers
Friday, March 3rd, 3pm ET – Defensive Backs
Saturday, March 4th, 1pm ET – Quarterbacks, Wide Receivers, Tight Ends.
Sunday, March 5th, 1pm ET – Running Backs, Offensive Linemen.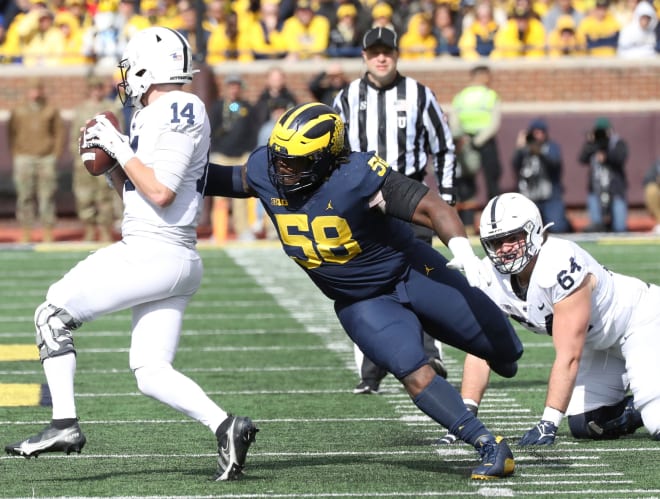 DT Mazi Smith
Draft Projection: 1st Round to 2nd Round
Mazi Smith is Michigan's best prospect heading into the NFL Draft and has the best chance of being a first-round pick.
Mazi's measurables are pretty average in terms of defensive tackles at the combine. He is in line with most interior defenders at 6 foot 3 with arms likely to measure around 33 3/4. Where Mazi is going to blow the roof off of Lucas Oil is drill results compared to his weight. There aren't a lot of football players that weigh 340 pounds, and even fewer that can run a 4.8 40.
Despite being a 2nd round-graded prospect, Mazi may have the most to gain at the combine. He entered the 2022 season as Bruce Feldman's Biggest Freak in college football. He is going to remind people why in Indy. His combination of speed, power, size, and agility is rare in his position. He isn't perfect technically, but in the right scheme fit, he will be an absolute star.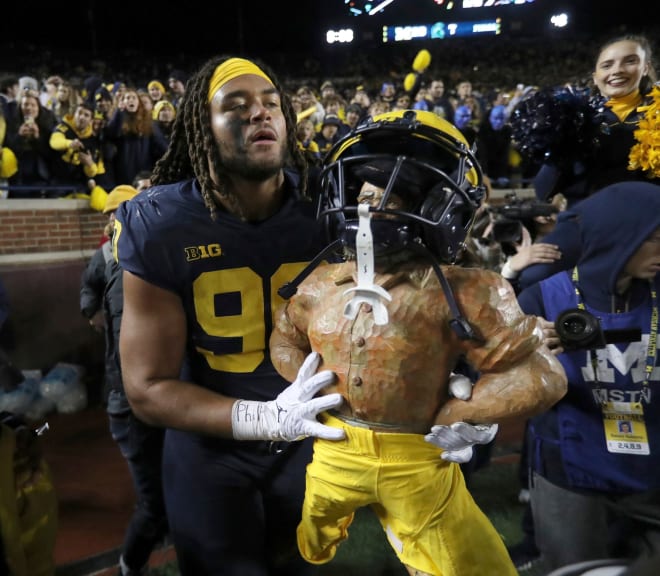 EDGE Mike Morris
Draft Projection: Second to Third Round
Michigan has been churning out EDGE players the last few seasons, including the #2 overall pick last season, Aidan Hutchinson. Mike Morris was tasked with replacing Hutch, and while he was never going to fill his shoes, he still exceeded most expectations.
Morris is a monster at 6 foot 6 292 pounds with an 82-inch span. Morris has what the NFL likes which is length and excellent hands play. Morris is quick and gets to a quarterback on a direct line. He never quite got his balance right with his height at Michigan, limiting the advantages of his length. The right coach will tell you that makes him a potential steal in this draft.
His versatility is a significant plus. In 2021, Morris played at every spot along the line. He fits any scheme and will improve any team's pass rush. He doesn't need to surprise anyone at the combine, his tape is his best asset.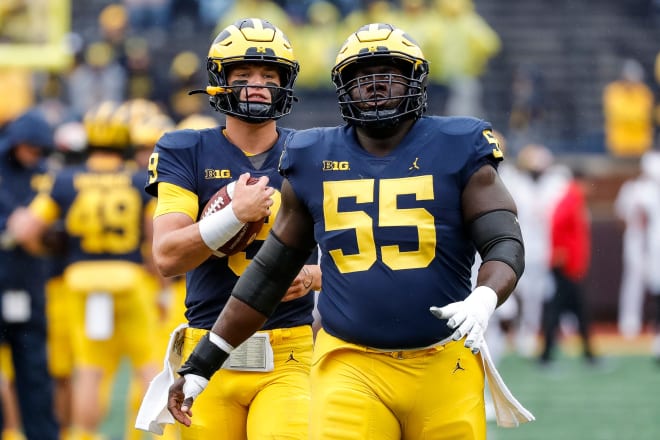 C Olu Oluwatimi
Draft Projection: Second to Third Round
Olu Oluwatimi arrived in Ann Arbor the sky-high expectations and still exceeded them. Finishing his one season at Michigan a consensus All-American and the RImington Trophy and Outland Trophy Award winner.
Some of Olu's measurables may hurt him, like smaller than average hands. You just have to watch the film to know how good Olu's hands are in the pass block or out in front lead blocking. Olu's intuition for a center is off the charts, making him more play ready than most centers entering the NFL draft.
Where Olu will flash at the combine is in agility drills, but where he can make the biggest impact may be in interviews. Olu is a smart football player and the kind of guy you want in your locker room and running your offensive line. If he slides to the third round, someone is getting a steal.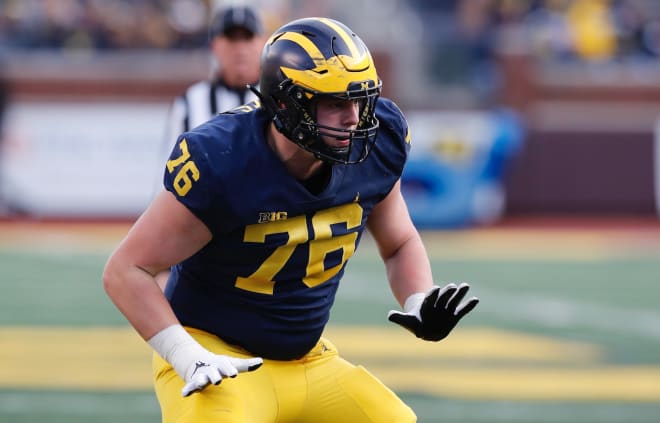 OT Ryan Hayes
Draft Projection Second to Fourth Round
You don't protect the blind side in the best offensive line for two seasons and not get serious NFL consideration. Ryan Hayes has been a reliable constant in Ann Arbor for at least parts of the 4 seasons.
Hayes is an athletic built tackle, not surprising for a former tight end. He excels in the run game, not shocking after playing at Michigan. While he can get the job done in pass protection, he looks at home marching forward and off balance stepping back. He is below average when it comes to length, something that will hurt him for teams looking for a steady pass-blocking tackle.
His 40 time could be one of the best among tackles and a good combine could get him into the second round. A team may consider him at guard, but at 6 foot 7, his future is probably at right tackle early in his NFL career. I think he is crazily underrated in this draft and doesn't get the attention he deserves for his role in this offensive line's success.
TE Luke Schoonmaker
Draft Projection: Third to Fifth Round
I don't want to sound like a broken record calling Michigan prospects underrated, but this one is kind of crazy. Luke Schoonmaker is at worst a top 10 tight end in this draft but has the potential to be top 5. There is this perception Schoon is more blocker than receiver, and I don't understand it.
Arguably like most passing weapons at Michigan, he was underutilized in the Wolverine's offensive scheme. But when he was targeted, he was one of the more reliable receivers in the Big Ten with a 123.6 QB rating on targets. His route tree has no weak spots, he excels in the flat, on digs and short outs, and can be used as a deep threat down the seam or even out of the slot.
His 40-yard dash won't light the boards on fire, but when he is running drills and flashing his hands, a few eyebrows are going to go up. If teams dig into their film they will realize they can immense value in taking Schoon in the third round. In the right offense, Schoon could establish himself as a reliable threat in the NFL for a long time.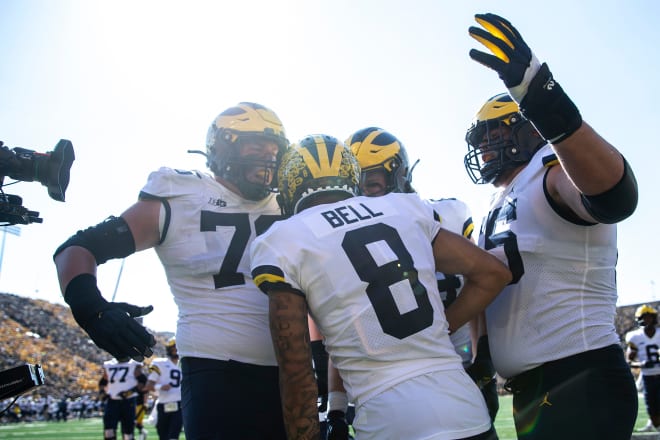 WR Ronnie Bell
Draft Projection: 4th – 6th
What you can't measure at the NFL combine is heart, and Ronnie Bell is all heart.
The heart and soul of the Wolverines for the last two seasons, Bell's impact can go far beyond results on the field. He fares pretty well there too.
Bell is an interesting prospect as he has some of the best hands in this draft, with a decent highlight reel of difficult catches. He also struggles with drops and rarely converts difficult catches when covered, he had the lowest catch-in-traffic rate in the conference.
He struggles to create separation in his route running, but does an excellent job in space and finding gaps for a quarterback on the run. He is kind of an old-school slot receiver, better in the intermediate and catch-and-run scenarios. He has excellent potential as a returner which may get him on the field for an NFL team first. He will doubted as a receiver, but it won't be the first time for the former basketball player. If he can post a low 4.4 40 time, he could rise up draft boards.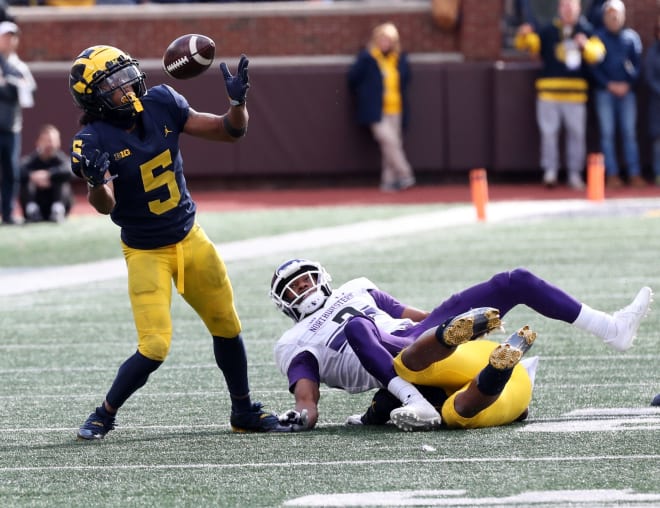 CB DJ Turner
Draft Projection: Fourth to Sixth Round
DJ Turner had sky-high expectations after a breakout season in 2021, with many thinking he could be the best cover corner in the Big Ten. Turner had an excellent season, but one that was overshadowed by a strong first-half performance from teammate Gemon Green and the second-half rise of 5-star freshman Will Johnson.
Turner is a little light for a corner, but he's always been. Turner is an underrated freak athlete, with crazy body control and lightning-fast speed. Your biggest concern with his thinner frame would be his physicality, but Turner is a phenomenal tackler and high-impact defender in the run game.
Turner's rating gap in man vs zone is glaring, as he is far better in press coverage. He struggles with taller receivers, getting beat in jump ball or high-point pass scenarios multiple times in 2023. He played outside in the NFL, but I think he will be a slot corner in the NFL. Turner has a chance to post the fastest time 40-yard dash time from a corner and one of the fastest of the entire combine. His low stats will hurt him in the draft, but his combine could bring him back into the day 2 conversation.
K Jake Moody
Draft Projection: Fifth to Seventh Round
Not many kickers get drafted, but Jake Moody will.
I don't know how to write much of a scouting report on kickers, but I know Moody is good at what matters. He is accurate, can make deep kicks of 50+, doesn't miss extra points, and boots monster kickoffs out of the end zone.
He was the best kicker in the nation in 2021 and arguably one of the three best statistically in 2022. He has made big-pressure kicks and shown consistent fluid mechanics. He could be taken off the board as early as the 5th round, but he will be among a handful of kickers chosen.
P Brad Robbins
Draft Projection: Seventh Round to Undrafted
Brad Robbins was at Michigan for a long time.
He had a difficult journey at times, overcoming injuries and seemingly having to win his job back. In 2021, Robbins was one of the best punters Michigan has ever had. His punt average that season was the second-best in Wolverine history.
Punting has changed so much in the NFL with teams electing to go for it on 4th down far more often when close to or on the opponent's side of the field. Coffin punts seem antiquated at this point.
Robbins is an experienced punter from a big-time program and that alone could help get him drafted. He has shown the ability to have some of the best hang time punts in the country and consistently get 45 yards on punts. He is a class holder and a multi-sport athlete. If all was right in the world, his mustache along would get him selected.
—
Discuss this article with our community on our premium message boards
Not a subscriber to Maize & Blue Review? Sign up today to gain access to all the latest Michigan intel M&BR has to offer
Follow our staff on Twitter: @JoshHenschke, @Berry_Seth14, @TrevorMcCue, @DennisFithian, @BrockHeilig, @JimScarcelli, @lucasreimink, @JaredHalus
Subscribe to our podcasts: Apple Podcasts, Google Podcasts and Spotify
Check out Maize & Blue Review's video content on YouTube
Follow Maize & Blue Review on social media: Facebook, Twitter, TikTok, and Instagram