Staff picks: Pitt takes on Louisville at home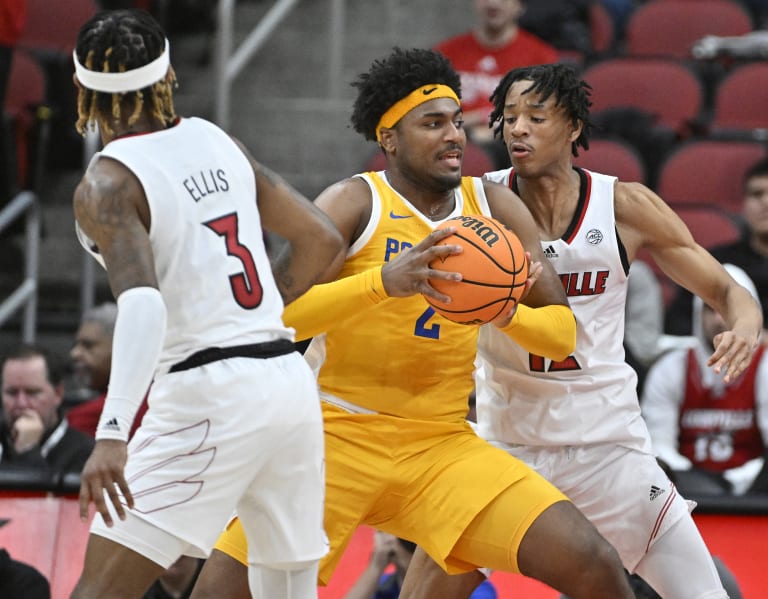 The Pitt Panthers return to action as they play host to the Louisville Cardinals at 7:00 p.m tonight at the Petersen Events Center. Pitt enters this game riding a three-game winning streak after knocking off North Carolina 65-64 last Wednesday. Jeff Capel's team had the weekend off and will look to carry the momentum into tonight despite the layoff.
Louisville comes to town with a dismal 3-20 record. The Cardinals have struggled mightily under first-year head coach Kenny Payne. Louisville finally broke through and won its first ACC game last week over Georgia Tech, but followed that up with a loss to Florida State on Saturday.
The two teams met already back on January 18th in Louisville. Pitt started slow that game, but eventually asserted control on the way to a 75-54 win in the KFC Yum! Center. In that game, Greg Elliott torched the Cardinals for 23 points to lead Pitt.
The Panthers have remained one of the most consistent teams in the ACC all season long. Pitt comes into this game with a 9-3 conference record, and thanks to some recent help in the standings are now in the thick of the race for the ACC regular season title. In order to stay in contention, Pitt needs to take care of business at home, especially against teams like Louisville at the bottom of the standings.
Can Pitt get it done at home tonight? The Panther-Lair.com staff previews tonight's game.
Stephen Gertz (15-8): No reason to overcomplicate this: The Pittsburgh Panthers are a good team while the Louisville Cardinals are not. That does not mean that Pitt can just assume Louisville is coming into town just to roll over. In past years, this is the kind of game that would make me a little nervous. But this Panthers team is focused and the reality for the Cardinals is that they do not do anything really well at all. This is a chance for Blake Hinson to get back on track, for Nelly Cummings to show some consistency with his shot, and for the rotation players to gain some more experience. Of course, all has to go according to plan for that to happen but I just cannot see UL providing that much resistance. They cough up the ball at a very alarming rate, do not shoot the ball well, and basically allow layups.
Prediction: Pitt 80, Louisville 65
Houston Wilson (15-8): After a nice extended break, Pitt is back at home tonight against a very bad Louisville team. Kenny Payne has not had the first year he wanted to have at his alma mater and one of the reasons for that is they simply don't have the right personnel for the ACC. Payne did not do a good job constructing this roster and should have been more active in the transfer portal. With a chance for a tie of the ACC lead tonight, I think Pitt comes out firing on all cylinders and have a chance to win by 15+ tonight. Pitt will have multiple players in double figures tonight with a chance to give even more rest to some of their starters.
Prediction: Pitt 83, Louisville 68.
Matt Steinbrink (10-13): At 9-3, Pitt is in a legit position to make a run at the regular season title. This particular team is an older group with experienced players throughout the roster. They have been locked in now for months, and don't appear prone to mental letdowns. That would be what it would take for the Panthers to lose this one. El Ellis is a scary guard that will likely get his and the Cardinals have recently won a league game and held leads in a couple of others, but this is a tall task for them. Even though they have improved, there is still a large gap between these two teams. It is difficult to play conference opponents multiple times, but this one is favorable this season. Even after a poor start on the road against the Cardinals, Pitt eventually won by 21. Can they win by that margin again and cover the 16.5 point spread? Not sure it will be a blowout, but the Panthers should dominate this one start to finish.
Prediction: Pitt 75, Louisville 61
Jim Hammett (15-8): Louisville simply is not a very good team this season. It's kind of hard to imagine a program like that in a spot like this, but it's been a disaster in year one for Kenny Payne. Despite the 3-20 record, Pitt does need to be mindful of Louisville point guard El Ellis. He averages 17.2 per game, and while he's not overly efficient at times, but he is still dangerous. Pitt still needs to come into tonight with the mindset that they are playing for their NCAA Tournament lives and also a chance to win the conference. Given the maturity and leadership on Pitt's team right now, I see zero reason to think that won't happen with what is at stake for this team. Pitt beat this Louisville team once by 20 points, and they should have their way again in front of the Oakland Zoo tonight. Jamarius Burton will do his thing, and Pitt wins comfortably.
Prediction: Pitt 81, Louisville 64
Chris Peak (16-7): Is this a trap game? Maybe, for other teams, it might be. Louisville has three wins all season and one win in ACC play. The Cardinals are not very good, and Pitt has a revenge trip to Florida State waiting on Saturday; could the Panthers overlook Louisville tonight at the Petersen Events Center? Yes, I suppose anything is possible. But I'm betting on this team and, more relevantly, these players not falling into that trap. I think this month will show the value of this team's experience and veteran leadership. These guys have played enough college basketball to know the danger of overlooking an opponent or assuming a win. I think they'll approach tonight's game against Louisville with as much urgency (or something close) as they took into last Wednesday's game at North Carolina. They know the value of every win they get, and I think they'll apply that focus to this game. Jamarius Burton will get into the high teen's or low 20's in scoring again, and I think Blake Hinson will bounce back from the UNC game with another big performance.
Prediction: Pitt 79, Louisville 60