Labour vows to help 'written off' people with mental health issues back to work
Labour plans to reach thousands of people with addiction or mental health issues "written off" by the Department for Work and Pensions to help them back into employment, with personalised support offered through treatment centres.
Visiting a centre in Nottingham which offers wraparound treatment, benefits and employment support, the shadow work and pensions secretary, Jon Ashworth, said it was wrong to assume those undergoing treatment for drug and alcohol addiction did not want to find ways to work.
He said employment support should start at the beginning of treatment, rather than only as an end goal.
"If you can support people in the first weeks or the first couple of months of the worklessness because of ill health, you're more likely to help those people return to work than if they've been out of work for at least two years. But what's happening at the moment is the government has written off a generation."
A number of clients dealing with alcoholism, drug addiction and mental health crises told Ashworth they felt rejected by the central system, which no longer offered help after a limited capability assessment. All said they would not be able to find work under the current offer from JobCentre Plus.
Two of those using the services at the hub, Daniel and Tom, said they had been assessed by the DWP as not being required to seek work, but said they did not want to be left behind.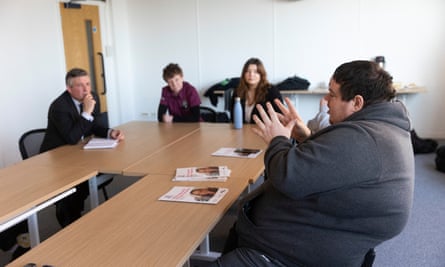 Tom, who had experience of addiction starting from childhood, said he had been in care, prison and a mental health unit but wanted to take steps to find fulfilling work. "I don't want to be part of the street life, I want to have a positive role."
Daniel, who said he had now been clean a number of years, said he wanted to return to work as a forklift driver but needed support to find a job that would make the right adaptations.
One of the support specialists, Lily Cragg, said many of her clients had fallen off the jobcentre's radar. "I have one of my clients actually got a phone call essentially saying, congratulations, you never have to look for work again. But the individual did want to work, just finding work that suited his mental health at the time was difficult."
In the Nottingham Wellbeing Hub, those accessing treatment already get tailored support going back into potential employment or training, without penalties if appointments are missed or steps to take on limited hours in employment do not work out.
Ashworth said there were "potentially millions of people who are out of work either because of reasons of ill health or sickness or because of caring responsibilities … many of whom want to return to work".
"A whole cohort of people, as we were hearing, who feel they are written off. I thought that was very striking when we heard that, who feel like they are not given a chance."
Ashworth has already pledged more security for those with mental health problems or other disabilities who take steps into employment having previously been on long-term benefits which do not require them to look for work.
He said Labour would change the rules to allow people to return to their previous benefits award if a job did not work out for them, without another gruelling capability assessment.
But he also said it was clear that long-term funding settlements were needed for local authorities to develop their own tailored support programmes, rather than competitive pots of cash, which add up to around £20bn.
"They shouldn't be reliant on the whims of ministers. They have to be put on a sustainable long-term footing and expanded," he said.
He said Labour also had the ambition to expand support into workplaces to reach people struggling with addiction or mental health problems before they became unable to work – a support service similar to the retention work done at the Nottingham hub. "We have a responsibility and a duty to keep them well in work and help them stay in work when we know they are struggling."
One of the clients who met Ashworth was Mel, a former pub landlady, who said the pandemic had been a key factor in a growing alcohol problem. Now working in a cafe, she said it was important for her to have continuing support with her recovery and an adviser from IPS [individual placement and support] who could liaise with her employer if she was struggling.
"They can say, we think Mel's a bit quieter than usual and then the specialist asked me if anything is wrong, rather than my employer bring me in and embarrassing me in front of my teammates."
Ashworth said he rejected any accusations that the scheme would force people into jobs when they could not work. "For too long, people have been forced into humiliating assessment processes and we're committed to reforming those processes. But helping people into good-quality work will be an overwhelming ambition of the next Labour government."