Arkansas Baseball 2023 Lineup Projection: No. 6 – Jace Bohrofen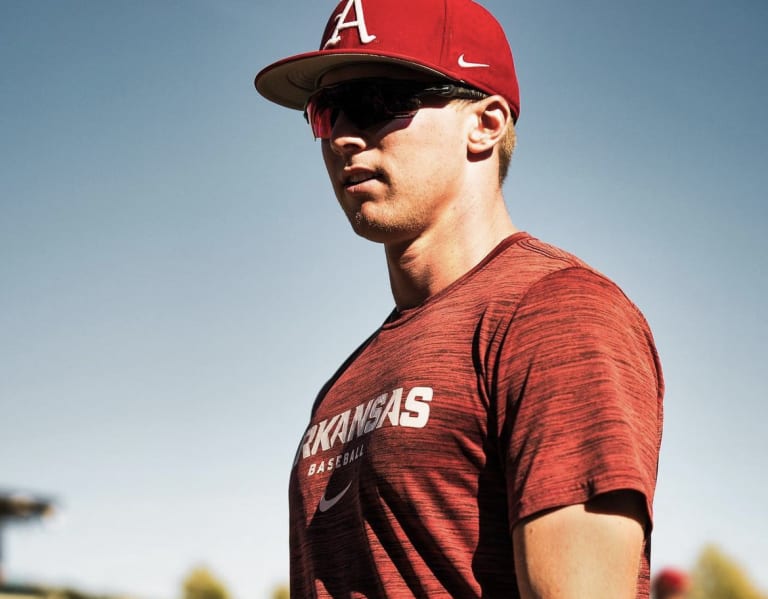 We are 10 days away from Arkansas baseball, and HawgBeat is continuing its lineup preview series for the 2023 Diamond Hogs.
The Razorbacks will return just two starters from last year's lineup, so fans will soon become familiar with all of the new faces.
With scrimmage coverage, weekly notebooks, position previews, the Diamond Hawgs Podcast and more, HawgBeat provides the best Arkansas baseball coverage around.
We continue things with the six-hole spot, which is projected to be filled by junior Jace Bohrofen…
Jr. | L/R | 6′ 2″ | 205
Oklahoma City, Okla. / Westmoore HS / Oklahoma
2022: 32 games, .228/.333/.435, 17 R, 21 H, 8 2B, 1 3B, 3 HR, 17 RBI, 10 BB/22 K
Bohrofen enters his second season in Fayetteville with something to prove after his sophomore campaign in 2022 didn't go as planned.
After being a starter on Opening Day last year, Bohrofen ran into a wall during pregame warmups prior to the first game of Arkansas' series against Illinois-Chicago on March 10. He suffered a shoulder injury that didn't allow him to see the field again until April 1 against Mississippi State, and the rest of the year was filled with ups and downs for him.
"I think he's fed up with what's gone on as far as how much he's gotten to play and how he's played, the injuries," Van Horn said on Jan. 31. "I think he's ready to have a big year for us. The team voted him one of our captains. He didn't even get to play last year, hardly, once he hurt himself when he ran into that wall in a pregame drill, which was unbelievable when you talk about it."
Bohrofen saw at bats during the second half of the Hogs' season, but he could never separate himself from Zack Gregory as Arkansas' starting left fielder. The former Oklahoma Sooner saw just one at bat during the postseason, and it came in a 4-3 loss to Alabama in the SEC Tournament.
After the Hogs fell to Ole Miss in the College World Series, Bohrofen hit the road with Arkansas second baseman Peyton Stovall to go spend the summer playing for the Falmouth Commodores in the Cape Cod Baseball League.
The native of Oklahoma City had a .261 batting average across 69 at bats. He recorded 18 hits, seven doubles, two triples, two home runs and 12 RBIs. He finished his summer with a .923 OPS, which ranked second on the Commodores behind TCU's Brayden Taylor.
Bohrofen said going from playing in front tens of thousands of fans in Omaha to maybe 500 in the CCBL was much different. There was no batter's eye, the fielding conditions weren't great and he was hitting with a wood bat.
"It really just teaches you about just how much do you love the game of baseball," Bohrofen said. "You are out there during the summer, sometimes it can be really hot. You have got to find a different switcher different gear to get yourself ready to play that day. And really what it is all about is competing by yourself out there. Everyone else is tired, no one wants to be out there. You might take it lightly that day, but I thing that really teaches you how much do you love the game of baseball."
Bohrofen is back in Fayetteville and he's primed to make a statement now that he's healthy.
"Last year was freak deal that happened," Bohrofen said. "Sometimes that's just baseball. Everyone has their own journey. I'm just really excited to get on to this season and play and win games and get to Omaha and hopefully win the last game of the season."
As one of three captains, Bohrofen will be looked to for guidance and leadership on and off the field. He put together a solid fall at the plate, ranking second on the team with 15 RBIs in scrimmages attended by HawgBeat. Bohrofen has carried that over to this year, as he's shown power from the left side and solid defense in right field through two weekends of scrimmages.
The Diamond Hogs will start their season on Feb. 17 at the College Baseball Showdown in Arlington, Texas. The first matchup will be against the Texas Longhorns at 7 p.m. CT.