Trevor Noah's 2023 Grammys Monologue Was Both Hilarious and Positive
After a high energy opening performance by Latin music superstar Bad Bunny, Trevor Noah—who looked damn good in that white tuxedo jacket—kicked off the 65th Annual Grammy Awards with a monologue where he shouted out all the famous names in the building.
"My job is to be your eyes, your ears," he said. "I'll be floating around this room. Think of me like a Chinese spy balloon. That's what I'm doing right now, gathering all the information you want."
Trevor started with Beyoncé, because she is the name on everyone's lips right now. He pointed out how influential her album Renaissance was, joking that it may have led to his decision to leave The Daily Show.
"Beyoncé is nominated for her album Renaissance. Which by the way, was better than anything from the actual renaissance in my opinion," he said. "The renaissance was just pictures of grapes and stuff. Beyoncé took it up another level. I was so inspired by the lyrics of "Break My Soul," I actually quit my job. I just wish Beyoncé had also written a song about the importance of having savings before you quit your job."
Something tells me that Trevor is gonna be OK. The Black Panther: Wakanda Forever actor also shouted out pop star Harry Styles, talking about his penchant for defying gender expectations in fashion. He also called Harry the biggest sex symbol in the world, controversial comments when you remember that Michael B. Jordan is still a person who exists.
G/O Media may get a commission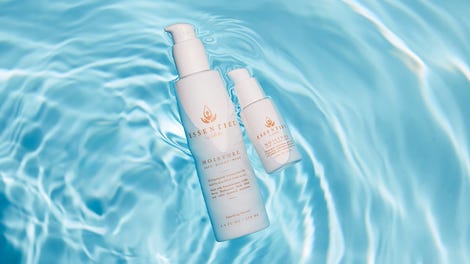 20% off
Essentiel by Adele
Skincare from head-to-toe (literally)
Essentiel by Adele is an all-purpose moisturizer, suitable for body, face, and even the under eye area.
"Women throw their panties at this man, then he puts them on and he looks better in them than they do," Noah said. "Easily the world's sexiest man, there's no competition. Sex symbol of the globe. Especially now that they killed off the green m&m."
Like the rest of us, Noah had thoughts on Kendrick Lamar's much talked about album Mr. Morale & the Big Steppers.
"Man is super talented. He's got Pulitzers, he's got Grammys, his album was a therapy session that earned him multiple Grammy nominations," he said. "All my therapist got me was helping me overcome my childhood trauma. Useless."
Trevor also had nothing but kind words for "About Damn Time" singer Lizzo, celebrating her work ethic, as well as her status as the world's most famous flutist.
"Body positivity, the TV shows, taking over the world, killing the haters on Instagram and Twitter. I love it," he said. "The most famous flute player in the world since…I'm sure there were others. And you want to stick around because Lizzo's performing tonight at exactly bac bitch o'clock."
From introducing Adele and Dwayne "The Rock" Johnson, to his enthusiastic celebration of Beyoncé, Trevor Noah's opening was exactly the fun, positive tone we needed to start the show with.