Tigers topped by Bulldogs on the road, 63-52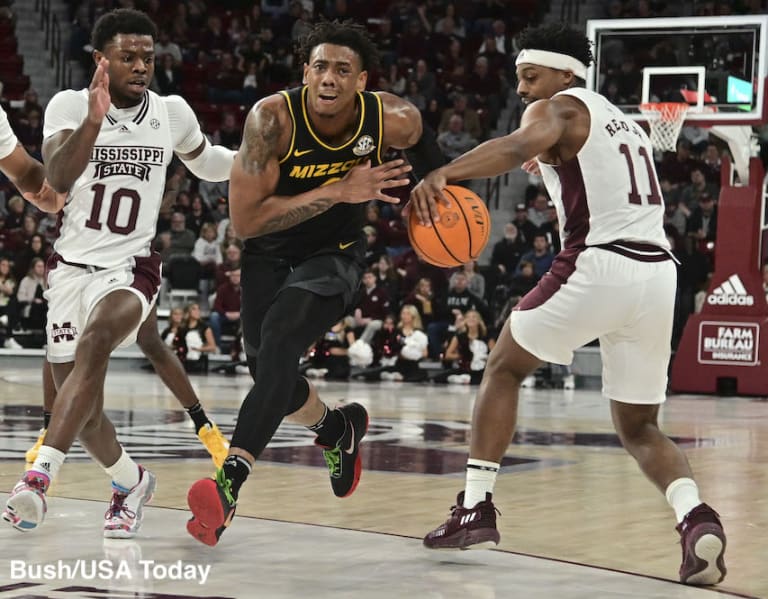 There is no middle ground for the Tigers at the 3-point line. Mizzou is either a flamethrower from distance or a box of wet matches. In each of its past seven games entering Saturday, the team has either shot above 40% from beyond the arc or below 26%.
MU had another frigid night while visiting Mississippi State inside the Humphrey Coliseum, shooting just 6-23 from deep. The Tigers couldn't overcome the misses, finishing the night with a 10-to-15 assist-to-turnover ratio, one of their worst of the season, and falling to the Bulldogs, 63-52.
"I think it was just mental mistakes for us, really," senior point guard Nick Honor said. "I mean, we know it was gonna be physical coming in here. But we gotta just focus on what we can focus on. A couple calls might not go our way. But I mean, it's an SEC road game, so you know how it is. But just mental mistakes, I think it's something we can look at tomorrow and fix."
Mizzou knew it was in for a tough matchup taking on the No. 8 scoring defense in the country. Going into Saturday's game, MSU had held opponents to 31.0% on 3s. All of the Tigers' first three field goal attempts were triples. All three shots missed the mark.
The visitors didn't connect on a trey until senior guard Isiaih Mosley got one to fall off of a stepback. By then, the team was 1-8 from long-range and trailing the hosts, 20-15. Missouri missed three more 3-point attempts by the end of the period.
Mississippi State (15-8, 3-7 SEC) closed out the first on a 7-1 run and went into halftime up 33-27. The Bulldogs then went on a 10-4 run in the first five minutes of the second half to push the lead to double digits. Redshirt senior forward Tolu Smith gave the Tigers the most trouble, posting 25 points and 12 rebounds in the game.
"I thought he finished through contact well, drew fouls. I think the first five minutes of the game, he had eight free throw attempts at that moment," head coach Dennis Gates said. "I think he does a great job of sealing and getting position. I think he's one of the top post players in the country."
Mizzou did pick up its rhythm on offense after falling behind by 14. Gates went to a four-guard lineup that had senior forward Kobe Brown as the only post on the floor. Brown powered his way to the rim to start the run, scoring a layup. Honor knocked down a pair of triples with the team's next two possessions. Brown dropped in another layup to slice the deficit down to 45-41 midway through the second.
But the Tigers couldn't keep it up, losing momentum by failing to convert at the free throw line. D'Moi Hodge missed a pair of foul shots the next time down the floor. Brown earned back-to-back trips to the stripe and went 1-2 both times. The Bulldogs responded with an 8-0 run to for their biggest lead of the night at 61-46 with less than three minutes to play. Mizzou couldn't recover, finishing 14-21 on free throws.
"I thought if we would have adjusted the way we should have to the physicality — meaning execute at the free throw line, win the free throw game — but also being able to get to the basket and get more points in the paint, I don't think we did that enough," Gates said. "But it was still situations where we could have had it to a one-possession game and I don't think we executed on a free throw line."
Senior guard DeAndre Gholston led the team with 12 points, followed by Hodge with 11 and Brown with 10. The loss snapped a three-game winning streak for Mizzou, which is now 1-4 on the road in SEC play. Gates said he's hopeful his team can do a better job the next time out.
"I think ultimately, our guys played well, but not well enough," Gates said. "We just didn't play well enough and play a complete 40 minutes. So we have to get to the drawing board to execute. We've played on the road, we've won games on the road, so I'm not looking at it from that perspective. I just think ultimately, to be able to completely change a season, you have to be able to do both. And ultimately right now, we're being able to do some things at home, but we have to be able to execute on the road, too."
Senior point guard Sean East II earned his first start of the season on Wednesday, replacing Mosley in the lineup. Gates said that, in coming up with a plan for the game, going up against an MSU team that's ninth in the nation with 9.6 steals per game, he wanted to make sure the Tigers leaned on their ball-handlers.
That plan included extended playing time for Kaleb Brown. The sophomore guard was on the court for nine minutes, the most he's seen in conference play. Gates said he did see some positives from the strategy, but was disappointed that Brown, East and Honor combined for five turnovers on the night.
"I would rather have those five possessions back," Gates said. "It's a completely different game if we just have five possessions and an even assist-to-turnover ratio. But ultimately, the rotations, I wanted to go with Sean because I knew, ultimately, what they would do and that was try to stop us. I wanted more penetration and Sean gave us that."
Gates also didn't want to risk Brown getting into foul trouble by matching up with Smith on defense. The head coach still needed someone big enough to check Smith, though — senior forward Noah Carter picked up two fouls two minutes into the first half.
It resulted in 6-foot-10 junior forward Mohamed Diarra playing a season-high 23 minutes, 7-foot-2 walk-on junior forward Mabor Majak playing a season-high five minutes and 6-foot-8 freshman forward Aidan Shaw staying on the bench, missing his second game of the year.
Diarra finished the game with six points and 10 rebounds.
"I thought Mabor was going to be able to give us minutes, which was some positive minutes he gave us, I wish I could have played him more," Gates said. "Defensively, I wanted to make sure Mo's minutes — because he was doing a great job rebounding, you know, this is another game where he finished with double-digit rebounds, that's great. So that's what I wanted to look at, (Brown) and Moe and doing that. So that's where the minutes ate up for Aidan Shaw."
Missouri (17-6, 5-5 SEC) returns to Mizzou Arena to host South Carolina (8-15, 1-9) on Tuesday at 8 p.m.
Everyone on here already has insurance (or they should). Everyone on here also cheers for the Tigers (or they should). In college sports the hot button issue is NIL. A school can no longer compete the way they did just a few short years ago without a robust NIL collective. In our economy, the hot button issue is inflation. Here's your opportunity to see about saving money on something that the state requires you to have on your car and your lender requires you to have on your house. Oh and by the way, just a quote from James's office will get a donation on your behalf to Every True Tiger Foundation, one of Mizzou's NIL initiatives. Blink if you like saving money. Blink twice if you want to do everything you can to position your favorite college program to be as competitive in the SEC as possible. Give James's office a call at 314-961-4800 or get a quote online at carltoninsurance.net.
"If your insurance costs a leg and an arm, call James Carlton State Farm."