Sara Björk Gunnarsdóttir hails landmark maternity pay ruling as 'wake-up call' for football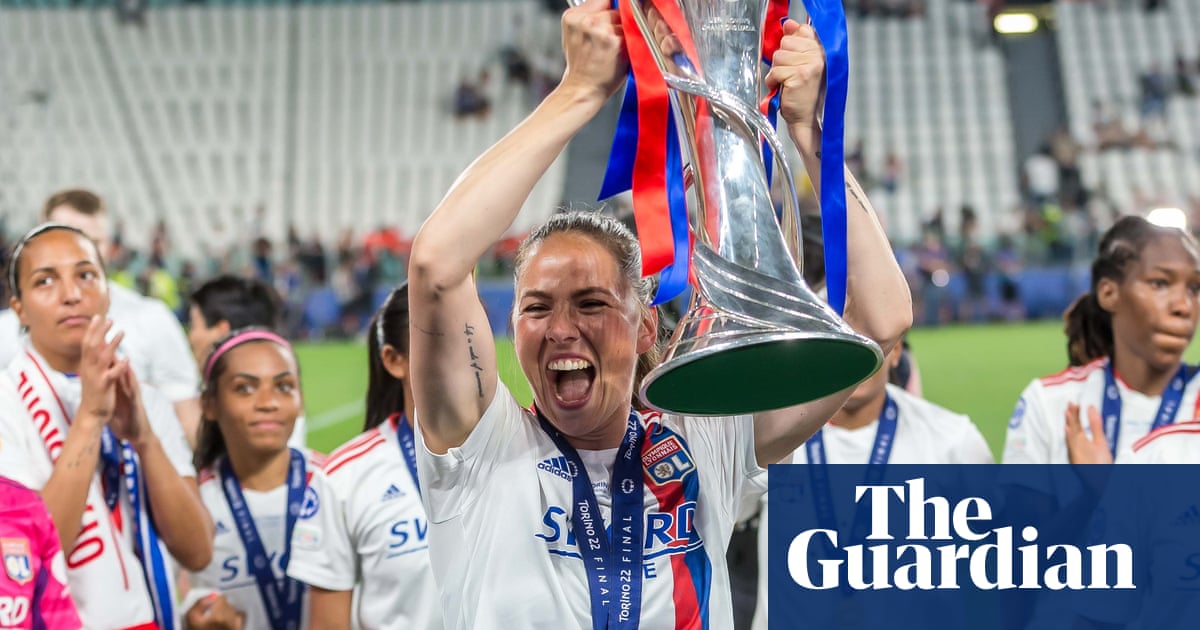 The Iceland captain Sara Björk Gunnarsdóttir has won her maternity claim against Lyon after she was not paid her full salary during pregnancy and has hailed the ruling as a "wake-up call for clubs".
The 32-year-old turned to Fifpro to lodge her complaint with Fifa and football's global body ruled in August last year that the club must pay the full amount owed to Gunnarsdóttir – €82,094.82 (£72,139) – within 45 days of notification of the decision. Fifa said the French club would face a transfer ban if they failed to pay in full.
Fifpro posted on Twitter: "Sara Björk Gunnarsdóttir's landmark ruling against former club Olympique Lyonnais sends a clear message to clubs and footballers worldwide. The strict application of maternity rights is enforceable."
Fifpro described the ruling in a statement as the first of its kind since Fifa's maternity regulations came into force in January 2021. "I was entitled to my full salary … These are part of my rights, and this cannot be disputed, not even by a club as big as Lyon," Gunnarsdóttir, who became pregnant in early 2021, wrote for The Players' Tribune.
"This is not 'just a business'. This is about my rights as a worker, as a woman and as a human being," the midfielder added. "The victory felt bigger than me. It felt like a guarantee of financial security for all players who want to have a child during their career. That it's not a 'maybe,' or an unknown. But I want to make sure no one has to go through what I went through ever again."
She also posted on Twitter: "It's a wake-up call for all clubs and it's a message to all players that if they get pregnant or want to get pregnant during their career they have their rights and guarantees!"
Gunnarsdóttir, twice a Champions League-winning midfielder, moved to Juventus following her departure from Lyon after playing at Euro 2022 with Iceland.
"They did not expect something like this, especially from a club as big as Lyon," said Fifpro's Alexandra Gomez Bruinewoud, who worked on the case and was involved in drawing up Fifa's maternity regulations. "We did not expect such a case when we pushed for these regulations, but we knew there would come a time when these protections would be used. The relevance is that now players will not have to choose between playing and being a mother, they will be able to combine it, it wouldn't be easy of course, but at least they have the legal basis where they have some protections."
Lyon said in a statement: "Olympique Lyonnais has always been a forerunner when it comes to women's football and supporting athletes at every stage of their lives. We have always respected French law, which we have sometimes found too restrictive on these subjects. Thus, we have always campaigned for increased protection of players on these points. We have done everything we can to support Sara Bjork Gunnarsdottir in her motherhood, as well as her return to the highest level."
Lyon also said they were "proud to have counted Sara Bjork Gunnarsdottir in the squad" and that "our paths separated for purely sporting reasons", adding: "If she wishes to help us today to further develop French law, we would be happy to be able to involve her in our efforts alongside Amel Majri (who recently returned to action for the club after having a baby) to enable all athletes to fully experience their pregnancy, as well as their return to the competition."