'It's a spiritual experience': the whirlwind rise of Orchestral Qawwali Project
"Sa, re, sa!" The ethereal voice of Abi Sampa sounds like thunder, as she sings the unmistakable ragas from Dam Mast Qalandar, a Sufi Islamic song known as a qawwali. A piano, a Celtic violin solo, the sigh of a harmonium and the soaring bows of an orchestra reverberate with the gravitas of a Hans Zimmer score. This qawwali was written by the 18th-century Sufi mystic and poet, Bulleh Shah, and later immortalised by the legendary Pakistani singer Nusrat Fateh Ali Khan. Now it has a new lease of life.
Sampa, 37, and Rushil Ranjan, 28, are the electric duo Orchestral Qawwali Project, whose debut album is a confluence of ancient qawwali from the Chishti tradition, and modern European orchestral arrangements. The duo first gained prominence in early 2020 with their debut qawwali, Man Kunto Maula. Their take on this 700-year-old song exploded on YouTube during lockdown two months after its release, gaining over 4m views.
"People come up to us at gigs, and they say, 'That got me through lockdown,'" Sampa says.
Raised in London with Hindu Tamil parents from Sri Lanka who marked all religious holidays, Sampa started playing the veena, a classical Indian string instrument, from the age of seven. When she began singing lessons in Carnatic, south Indian devotional music which evolved from ancient Hindu traditions, Sampa discovered she had a good voice.
Sampa performed at interfaith concerts for several years, where she was first introduced to qawwali by tabla player Amrit Dhuffer, whose rhythms pulsate through the record. She appeared on the second season of The Voice UK in 2013, bringing with her a fusion of pop music and Indian classical influences. But it was in qawwali that she truly found her calling.
Sampa's vocals are complemented by Ranjan's innovative scores. The second-generation child of Indian Catholic parents who migrated to Cyprus, Ranjan is a self-taught musician. His talent was initially spotted by Khan's nephew Rahat Fateh Ali Khan, when they serendipitously performed together at Oxford. It wasn't until 2016, however, that Ranjan met Sampa. At the time the uncertainty of Brexit had forced him to take a law-firm job instead of focusing on his music. But he has since become a full-time composer, transforming the burgeoning troupe into a stunning interpretation of qawwali from the south Asian diaspora experience.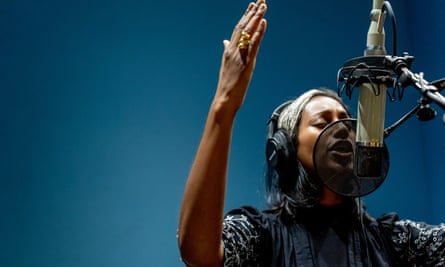 "There isn't really much music out there that captures all the different aspects of who we are as second, third generation immigrants, who have really integrated into the culture here, but still retain part of our identity," says Ranjan.
Unlike the hour-long crescendo of performances for one qawwali by Nusrat Fateh Ali Khan, Ranjan's compositions are 10 minutes long at most, a compromise in length to appeal to digital audiences at the advice of Nitin Sawhney. The orchestra gracefully sweep in and out of the record. But the choral singers, Sampa, the tabla and the harmonium are its beating heart, an equilibrium experimented with by Ranjan so that "people from both sides who are steeped in both traditions can listen, and still find themselves in it".
Unable to afford an entire orchestra, Ranjan enlisted the help of cellist Lydia Alonso, who performed several instrumental pieces for Man Kunto Maula, which he then layered together to create the impression of an ensemble.
Alonso, who is Spanish, draws parallels between qawwali and flamenco's passionate energy, and even its invocation of saints, prophets and God. When Ranjan asked if she could envision combining the cello with qawwali, she answered simply: Why not? "It just clicked together from the very first moment Rushil and I first recorded."
Qawwali remains revered today by millions across south Asia, and around the world thanks to fusion collaborations with artists such as Peter Gabriel and – of course – Bollywood movies. It is, says Irfan Zuberi, an audiovisual archivist and doctoral researcher at the University of Tübingen, "a singularly unique contribution of south Asia to the world … the genre has come to stand for inclusivity, transcending the multi-religious context of the region".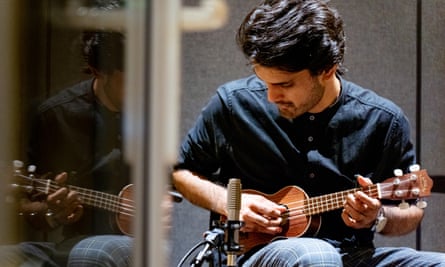 In a male-dominated arena that lionises artists such as the Sabri Brothers, Mehdi Hassan, Nusrat and Rahat, few female qawwali singers enjoy the same adulation, save for Abida Parveen, one of the greatest Sufi singers in history. Sampa is conscious her voice is a disruption to a largely patriarchal tradition. Early on in her career, she struggled to find choral singers who would sing with a female qawwal. But some of the lyrics she sings, originally penned by 14th-century Sufi poet Amir Khusrau, were written using a female persona.
The divine converges with the feminine in the Orchestral Qawwali Project's music, and not just through Sampa's vocals. British-Indian dancer and choreographer Vidya Patel performs the dance inspired by the Sufi whirling dervish in several of the group's music videos. With arms circling like orbiting planets and her white gown undulating at her feet like water, it is a spiritual experience to watch her whirl. "I experience this more as a meditation to let go, finding the stillness within the speed, rather than a performance I am doing for the audience," she says.
For Ranjan, his music is not simply a performance, but an ascension to a higher spiritual state. "My most spiritual experiences that I've ever experienced in my life have been when we're playing qawwali," he says.
Three years since the duo officially formed, and without the backing of a label, they have sold out the Southbank Centre, collaborated with Sawhney, and performed with the Oscar-winning Indian composer, AR Rahman and the all-women ensemble, Firdaus Orchestra.
In January last year, the group opened for Anoushka Shankar and the Scottish Chamber Orchestra at the Celtic Connections music festival in Glasgow. "That auditorium was mostly Caucasian," Sampa says. "People messaged saying they were crying from the start to the end. They didn't understand the lyrics [which are performed in Urdu and Punjabi], but they just felt something."