One Tree Hill at 20: the noughties teen drama that is actually worth revisiting
When I was a teenager, my strict parents vetoed virtually every teen drama that was on television. Gilmore Girls? Loose morals. The OC? Those kids were out of control. Sabrina the Teenage Witch? Blasphemy.
Somehow, One Tree Hill slipped through the cracks. I think maybe the set-up of two brothers vying for their demanding father's attention by striving for excellence (albeit in sports and not academics) appealed to my folks' mindset. More likely it was on at a time that they weren't home. Either way, I became an addict, and eventually owned the first five seasons – the only good ones – on DVD. Times move on; I eventually sold the DVDs and largely forgot about Tree Hill High (though I cherished the memories of Chad Michael Murray's abs).
Now the entire series is available to stream via Seven Plus, so I decided to dip my toe back in, certain that I'd be cringing my way through what would now feel like a very outdated show. Instead, I have found myself genuinely loving rewatching One Tree Hill, and even feel a bit emotional about it.
The series revolves around the Scott brothers, Lucas (Chad Michael Murray) and Nathan (James Lafferty). If you don't spend too long wondering how teenagers could ever have the time to get so ripped, there's something believable about the narky rivalry-cum-brotherhood that Lucas and Nathan share.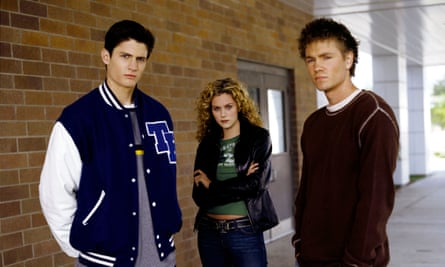 But even more compelling are the friendships that form between the show's female characters. Where the women would ordinarily be pitted against each other while the male characters get the real story, the girls at Tree Hill High are complex and aren't just competing for attention from the boys. Of course, there is a bit of that too, but it isn't the primary focus.
Upon rewatching, I was quickly able to pinpoint what exactly about the show was hitting so well. I watched all of The OC not that long ago, and while I enjoyed the rush of nostalgia, I also remembered the way I felt as a teen when I did manage to sneak the occasional episode. Those rich, beautiful characters were so shiny and perfect, and their only problems were rich, beautiful people problems.
One Tree Hill does something that only a few shows have ever managed: the teenagers are believable as teenagers. Where The OC had its teens hanging out on yachts, heading to clubs, and crying over their father's failed money-laundering attempts, the teens in One Tree Hill live ordinary small-town lives, with working parents, daggy clothes and after-school catch ups on the local basketball court.
One Tree Hill's plotlines do get wilder and spicier over time. Where the first episodes are focused on whether the brothers will be friends and who will win which cheerleader, soon we're dealing with car accidents, comas, shipwrecks, teen pregnancies – and that's just in season one. But what makes such wild narratives work is the authenticity of the character development. These are teenagers you can like. They're three dimensional, funny, complicated and immature. They all genuinely grow over the course of the series.
A big part of this is probably down to the fact that the actors were all living in Wilmington, the town where the show was filmed, and formed their own friendships and relationships off screen. The chemistry feels real. (I recommend listening to the podcast Drama Queens, where the actors who played Brooke, Peyton and Hayley rewatch and commentate episode-by-episode).
Watching the show again in my 30s makes me feel nostalgic about my own teen friendships and escapades. Granted, I never escaped a psycho-stalker posing as my brother with my best friend (we bonded in other ways), but our friendship was as strong as Brooke and Peyton's. And if nothing else, the show's soundtrack is outstanding.