Hakeem Jeffries in pole position as House Democrats pick successor to Pelosi – live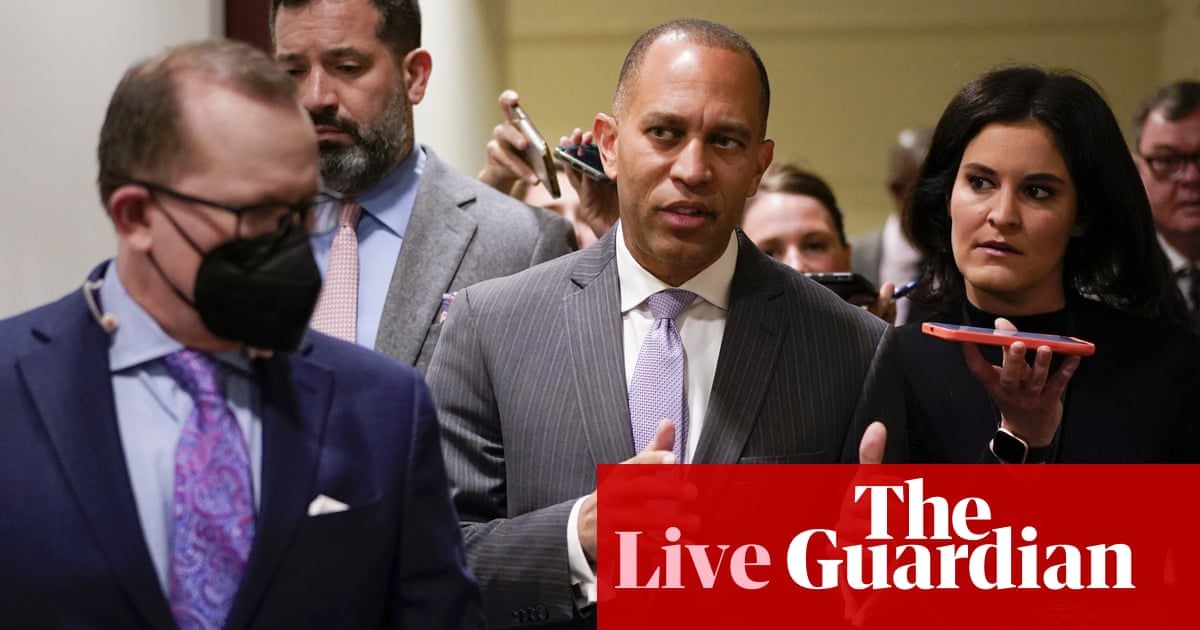 In a closed-door voting session, Democrats are expected to elect Hakeem Jeffries as minority leader, ushering in what will likely be a new era of Democratic leadership.
Jeffries, at 52, is a relatively young Democrat considering the average age of a representative is 58. He will take on the job of unifying the party's liberal and moderate flanks at a moment when Republicans have gained back some power.
Currently chair of the party in the House, Jeffries announced his intention to run for minority leader on 18 November with a letter to House Democrats. In it, he mentioned his intention to empower members regardless of seniority.
"Meaningful policymaking and public engagement opportunities should be robustly distributed regardless of length of service," he wrote. "High-profile leadership assignments should be spread out throughout the caucus."
Democrats seem poised to spread the power to its younger members. Jim Clyburn, 82, currently the third highest-ranking Democrat in the House, declined to run for minority leader.
"I think that it was pretty clear to everybody that Pelosi, Hoyer and myself would be making an exit from the leadership very soon, either under our own, or somebody carried us out," Clyburn said.
"I have studied history long enough to know that evolutions are much better than revolutions, and I think that anybody watching their caucus, our caucus over the years, could see the evolving leadership."
Good morning, and welcome to the politics live blog.
House Democrats today will formally elect new leadership. After nearly two decades at the helm, speaker Nancy Pelosi and majority leader Steny Hoyer are stepping down to make way for a younger, more diverse roster of party leaders.
Hakeem Jeffries, a Democrat from New York, is slated to be elected as minority leader. Katherine Clark of Massachusetts and Pete Aguilar of California are expected to be elected as minority whip and chair, respectively.
While the Democrats will be the minority in the House over the next two years, leaders believe the minority position can help unify consensus among Democrats in opposition to Republicans.
"There's nothing more unifying than being in the minority and having a clear-eyed objective and goal of getting back into the majority so we can continue to deliver big things for everyday Americans," Jeffries said in an interview with reporters on Tuesday, according to the Washington Post.
Here's what else is happening today:
Rail unions are decrying Joe Biden's call to Congress to impose a contract on rail workers after months of labor negotiations. House Democrats indicated a vote on an agreement will take place as early as today.

Congress is also scrambling to pass a government funding bill by 16 December. Democrats are considering how much they can do before they lose their majority in January.

The National Christmas Tree Lighting is set to take place at 5.30pm ET.
Stay tuned for more live updates.