Where are the Sistas in Love is Blind Season 3?
Love Is Blind Season 3 | Cast Announcement | Netflix
However, only 1 of the Black women, Raven Ross, is consistently filmed, the others fading into the background. Not only have we had fewer Black women filmed longer than the pods since season 1, but we have also barely seen diversity in the Black women over the seasons. All of the Black women that have passed the pods have been light-skinned, thin, with loose curls, which is not to make their stories less significant, but where are the curvier, darker-skinned, and 4c hair type-having, Black women?
G/O Media may get a commission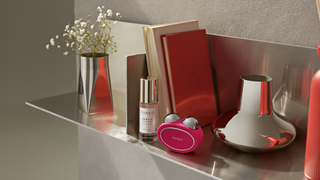 Instant Facelift
Think of the Foreo Bear as exercise for your face, engaging muscles to provide radiance and lift with lasting results.
After the first set of season 3 episodes were released Lauren tweeted her frustrations about the show. It has been revealed from the series veterans that there are more couples that get engaged outside of the ones filmed throughout the season. What if those couples had the diverse Black women we saw in the teasers? Lauren hinted that many times on the show there are couples chosen solely for the entertainment factor, we almost always know from the start who won't make it down the aisle. So as Lauren tweeted, why doesn't the show "force" Black women to have those relationships too, even if they may not work in the end?
We may not get the fairytale story like the Hamilton's but it doesn't hurt to at least see some Black women given a chance to try.
Is giving Black women the chance to be loved so hard to make happen?