Justice department details conclusions from FBI search of Trump's Mar-a-Lago – live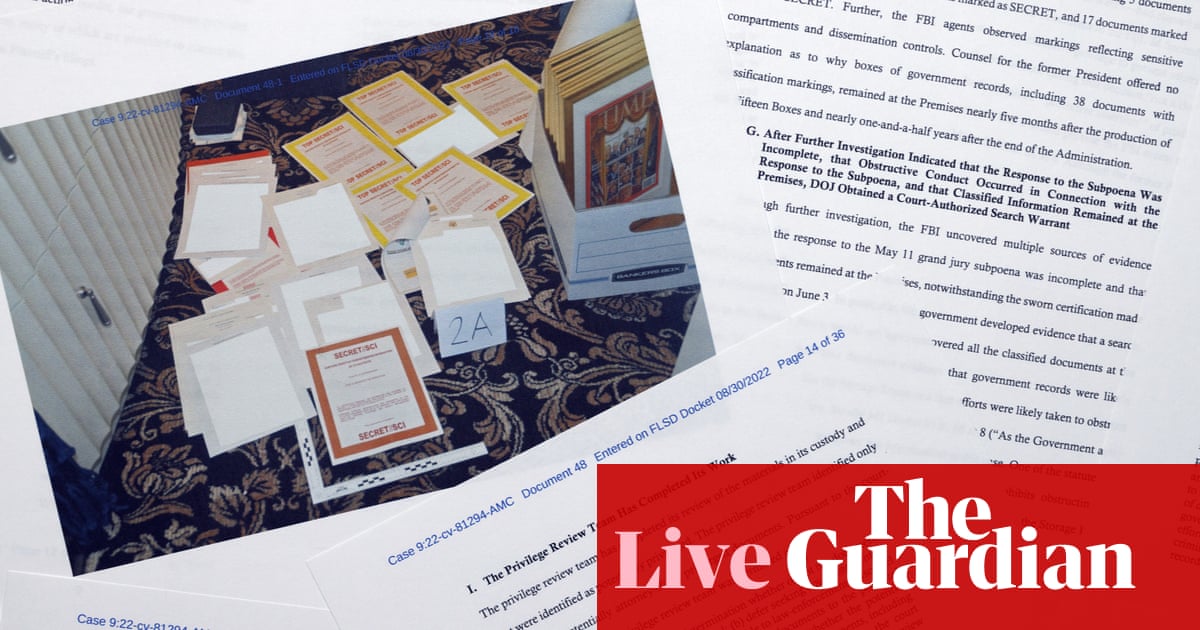 Before we get stuck into the reaction coming in over last night's bombshell justice department filing into former president Donald Trump's retention of classified documents after he left office, here's a look at the 36-page document itself:
Good morning, and welcome to our midweek US politics blog. Anybody tired of Donald Trump news yet?
In a stunning overnight court filing in Florida, the justice department has laid out in great detail their conclusions from the FBI search on the former president's Palm Beach residence earlier this month that garnered a trove of highly classified documents and government records he had no business having.
Among the remarkable findings: some of the documents were found in Trump's desk drawer; it was "likely" efforts had been made to move and hide them; Trump's representatives had falsely asserted all documents were returned to the US government when they hadn't; and that Trump's team had obstructed and delayed at every opportunity efforts to retrieve them.
The cherry on the cake, so to speak, was a photograph accompanying the filing, redacted but showing a variety of documents and folders, at least six marked secret or top secret, laid out on the floor of Trump's Mar-a-Lago mansion.
We'll have plenty of reaction coming through the day. And to get yourself up to speed, read this account by the Guardian's Hugo Lowell.
Elsewhere today:
Trump's legal team has until this evening to file a response to the justice department filing, ahead of Florida district court judge Aileen Cannon mulling his request on Thursday for the appointment of an independent "special master" to oversee the investigation.

It's a quieter day for Joe Biden after his speech in Pennsylvania on Tuesday laying out his Safer America plan on guns and crime, including his declaration to pursue a new federal assault weapons ban. The president has no scheduled public engagements.

Congress is on summer recess. Republicans previously outraged by the FBI raid on Trump's home have become noticeably quiet.

The White House press secretary, Karine Jean-Pierre, will deliver her daily briefing at 2.45pm. She will be asked, but almost certainly deflect, all questions about the justice department filing.

US politicians of a certain age are paying tribute to Mikhail Gorbachev, the former Soviet president and architect of the end of the Cold War who has died aged 91.