No emergency cost of living help for at least a month, says minister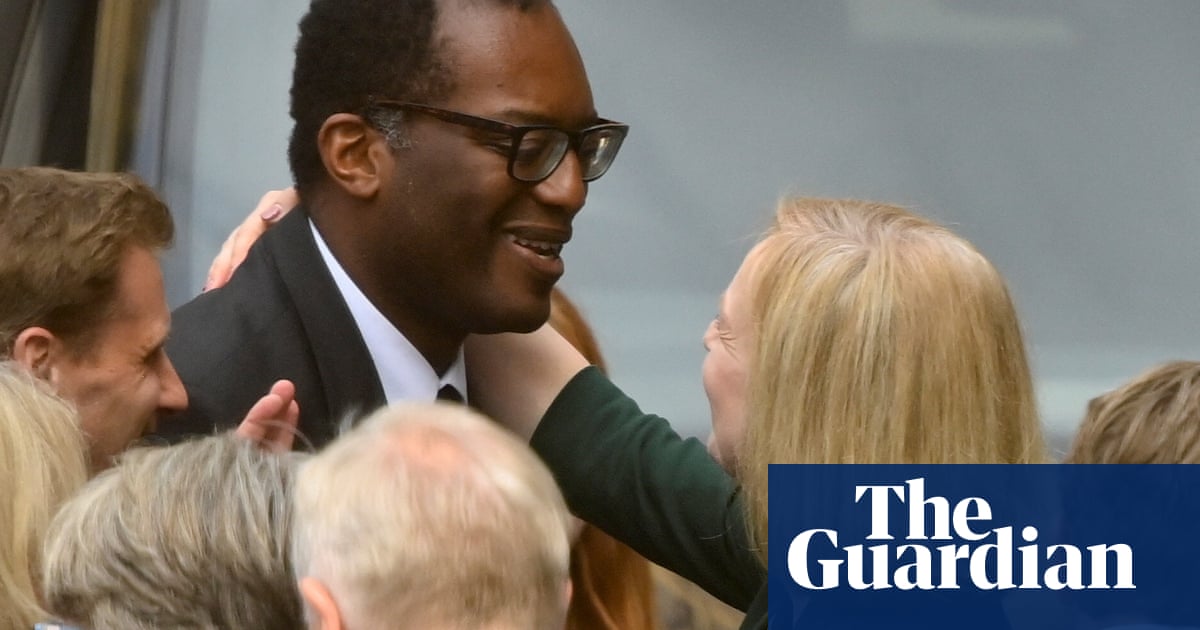 The UK business secretary, Kwasi Kwarteng, has admitted it will be more than a month before ministers can introduce any measures to tackle the rising cost of living.
Kwarteng, who is backing the foreign secretary, Liz Truss, to become the next leader of the Conservative party, said he was expecting a new prime minister to introduce a "support package" in an emergency budget but it could not happen until after they start work next month.
The delay comes as both Boris Johnson and the chancellor, Nadhim Zahawi, are on holiday as the Bank of England warned the economy will enter the longest recession since the 2008 financial crisis. The UK is forecast to suffer an economic downturn lasting more than a year.
Kwarteng said "I don't know where Boris is", but claimed the public would not begrudge the outgoing prime minister taking a honeymoon. He went on to say he was in "regular contact" with Johnson.
Either Truss or Rishi Sunak will take over as prime minister on 5 September, when the results of the Tory party leadership elections are announced. The new administration would then have until 22 September to introduce changes before recess for party conference.
Kwarteng criticised the Bank of England's control of inflation, saying "something had clearly gone wrong" at the institution as prices are predicted to rise by 13%.
As a key supporter of Truss, the frontrunner to be the next Tory leader and prime minister, Kwarteng's comments suggest the Bank's independent mandate to keep inflation at 2% may be re-examined if she takes over at No 10.
Kwarteng told Sky News: "The job of the Bank was to deal with inflation. They've got a 2% inflation target, that's actually their mandate. And now inflation is getting double digits. So clearly, something's gone wrong."
He added: "I think there is an issue about how the Bank is operating because clearly if I say to you 2% is your target, and you say to me, 'Well, actually it's going to hit 13%', I would quite rightly say something's gone wrong. We've got to look at how you're performing."
Kwarteng also said the Bank should have acted quicker to increase interest rates in an effort to control inflation. He said: "I think there is an argument to suggest the rate should have probably gone up slightly sooner."
When asked if the Bank would keep its independence, he said "absolutely" but also described potential interventions.
"We need to look again at what the mandate is and how best they can actually fulfil that mandate," he said, adding: "You've got to look at how the Bank is organised and what the targets are."
However, the Bank's governor, Andrew Bailey, defended its performance, saying it had not acted too slowly to raise interest rates because it was important to defend the economy after Covid.
He told Radio 4's Today programme: "If you go back two years … given the situation we were facing at that point in the context of Covid, in the context of the labour market, the idea that at that point we would have tightened monetary policy, you know I don't remember there were many people saying that."
"There's no question in my mind and the vote of the audience, it was the first time that he had clearly led in a debate," he told Sky News.
He added: "Liz has had the best of the last few days, no question about it, with the series of endorsements from different major personalities. I think what happened last night was there was a stop in terms of the momentum in one direction.
"It won't necessarily have reversed it, but there will be this morning a different sense of messaging that is around."