Lib Dems win Tiverton and Honiton byelection, overturning huge Tory majority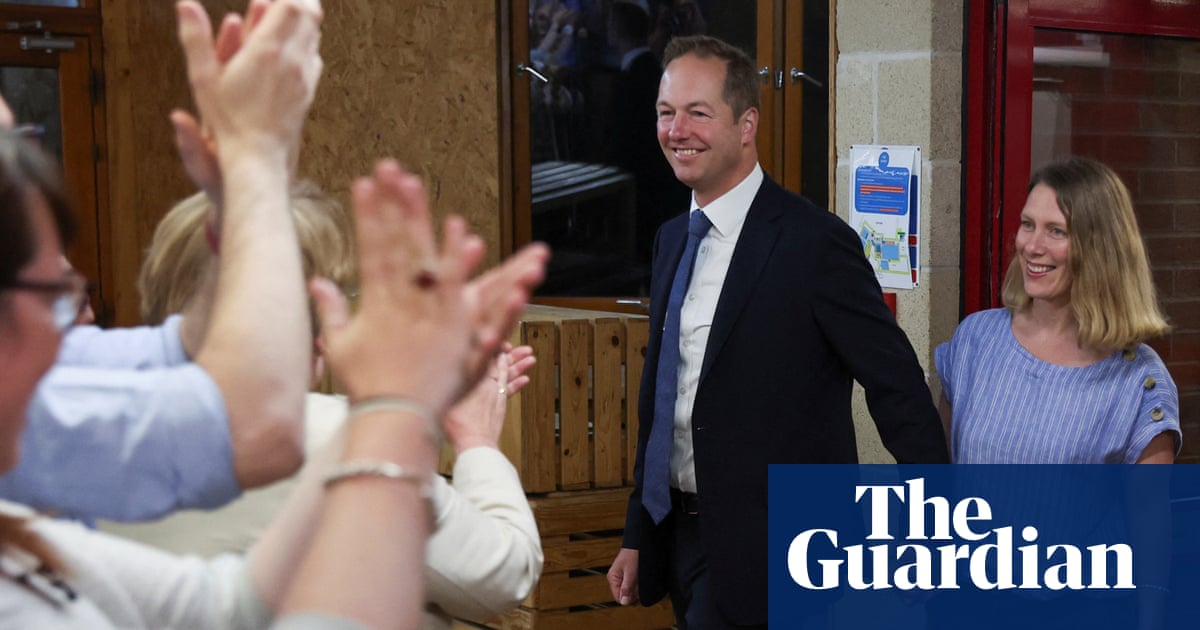 Boris Johnson has suffered a disastrous and historic defeat in the Tiverton and Honiton byelection after the Liberal Democrats overturned a Tory majority of more than 24,000 to win the seat.
The Liberal Democrats won 22,537 votes, with Tories second on 16,393, a 30% swing.
The spectacular loss of the Devon constituency, held by the Tories since it was created 25 years ago, will be seen as a sign of Johnson's diminishing electoral appeal after Partygate and as the cost of living crisis escalates.
Liberal Democrat leader Sir Ed Davey said: "The Liberal Democrats have made political history with this stunning win. It is the biggest byelection victory our country has ever seen.
"This should be a wake-up call for all those Conservative MPs propping up Boris Johnson. They cannot afford to ignore this result. The people of Tiverton and Honiton have spoken for the country. The public is sick of Boris Johnson's lies and law-breaking and it's time for Conservative MPs to finally do the right thing and sack him."
There were bizarre scenes when the Tory candidate, Helen Hurford, arrived for the count at a leisure centre in Crediton but hid in a dance studio that had been set aside for media interviews, refusing to speak to reporters. After the declaration, she left the hall immediately without making a speech.
The new Tiverton and Honiton MP, Richard Foord, a former army officer and prominent local community volunteer, said the win sent a shock wave through British politics.
He said: "The people of Tiverton and Honiton have spoken for Britain. They have sent a loud and clear message that it' time for Boris Johnson to go."
Foord said every day Johnson remained in Downing Street he brought "further shame, chaos and neglect." He continued: "Communities like ours are on our knees. Everyone standing on this stage has felt the pain people are suffering as the costs of living crisis starts to bite. Yet when Boris Johnson could be fighting for farmers, for our NHS and for rural services he will be fighting once again to save his own political skin."
Losing Tiverton and Honiton will be a particular worry to Tory MPs, not only because of the size of the lost majority but also because it is another rural, Brexit-minded Tory stronghold that has shifted to the Lib Dems.
The Lib Dems took North Shropshire, overturning a Tory majority of nearly 23,000 in December after the former MP, Owen Paterson, quit over a lobbying scandal.
The Tiverton and Honiton byelection was also called in the aftermath of a scandal, when Neil Parish resigned after watching pornography in the Commons.
Foord said his message to Tory MPs was: "The Liberal Democrats are coming. If you don't take action to restore decency, respect and British values in Downing Street you too will face election defeats like the one we have seen tonight. You know in your heart your leader is not the person to lead this great country into the future."
He said thousands of lifelong Toires were appalled by Johnson's lies and fed up with being taken for granted. Thousands of Labour supporters had voted Lib Dem as the party with the best chance of beating the Tories.
Foord concluded: "Leadership means acting with decency and integrity". Addressing Johnson directly he said: "Your behaviour makes a mockery of leadership. You are unfit to lead. The only decent course of action is to resign."
Labour finished second at the 2019 election but came a distant third with 1,562 votes this time. The Bristol North West Labour MP Darren Jones said: "Voters irrespective of where they are in the country, whether it's rural villages in the south or towns in the north are fed up with the Conservatives and Boris Johnson. They want them to get a grip on the economy and cost of living crisis. In both byelections they have been sending a message to the Conservative party and Boris Johnson that enough is enough."
Asked if it was better for Labour if Johnson clung on, Jones said: "We want the best for the country. Boris Johnson should resign or the Conservatives should get rid of him. They haven't been able to do that and maybe these results will encourage them to do it better next time."
Such was the margin of the win that the Lib Dems called it more than an hour before the declaration.
Christine Jardine, the Liberal Democrat MP for Edinburgh West and the party's Treasury spokesperson, said: "So many people who voted Conservative all their lives are angry, upset and disappointed in this government. The farmers and pensioners feel let down, families are squeezed, people are afraid that if they have an accident there will not be an ambulance, and they cannot get a dentist. All thees things contributed."
Patrick English, associate director of pollsters YouGov, said: "The result in shows just how far the disaffection and frustration with the Conservatives goes – namely, right into their southwestern heartlands..
"This was not simply a 'Tory voters staying at home' story. The collapse in the Conservative vote share, down by 22 points, should set off alarm bells right across the region; even in the safest of Leave-voting, rural Conservative seats, the party is losing and is losing big. For the Liberal Democrats, this was a victory beyond all expectations and further proof that their byelection winning machine is well and truly back."