Boris Johnson 'will not have to resign' if police interview him under caution – UK politics live news
Normally I'm not big on birthdays, or boasting, but as someone who has played a role in embedding daily live blogs in the media ecosystem, I'd like to point out that today is a special day for the Guardian's Politics Live blog. It's our 2,500th edition.
Politics Live started here, soon after the May 2010 general election. During the campaign I had been writing a daily election blog which was innovative and turned out to be popular, and afterwards I just kept going under the PL banner.
Colleagues who crunch data for the Guardian have been looking at the statistics, and they are remarkable. Since 2016 (the first full year for which we have data), the blog has received just over one billion page views (or hits, as they are more commonly called). That is when someone clicks on a story to read. It's an astonishing figure.
Websites like the Guardian also record how long people spend reading online articles and since 2016 the total amount of time all readers have spent reading the blog comes to 21.4 million hours. I hope that wasn't all the guy who was in touch the other day to recall being distracted by the blog during Brexit while he was meant to be revising for exams.
And since 2016 we've published 17.4 million words in the blog – equivalent to 250 normal novels, or 30 copies of War and Peace.
Not all those words are from me. I quote and aggreggate a lot, so much of that content will have come from somewhere else. And I'm not the only person writing Politics Live. Guardian colleagues regularly write the blog too, particularly in the evening or on Fridays if I'm not around. (You can always check who the actual writer is at any given moment by checking the byline in the top left hand corner.)
And it is not just Guardian journalists who contribute. We only have data on this since 2019, but over the last 30 months we have published 6.7 million comments below the line. Thank you.
A few years ago I discussed what it is like writing the live blog, and why I think it is a valuable contribution to Guardian journalism, in more detail here.
I haven't been ambushed by cake yet, but the day is young. Back to work …
Jacob Rees-Mogg, the leader of the Commons, has just said that the government wants to ensure MPs can spend all day in the Commons today debating Holocaust Memorial Day. He said the government had not tabled any statements that might take away time from the debate, and he thanked the opposition for not tabling urgent questions either. The government wanted to "devote the whole time to debating Holocaust Memorial Day", he said.
He did not categorically say that there would be no Commons statement on the Sue Gray report later, but he might just as well have done. Increasingly it looks as if the Johnson stateement won't come until next week.
Nadine Dorries, the culture secretary and one of Boris Johnson's most diehard ministerial supporters, has backed Jacob Rees-Mogg's claim that the removal of Johnson would lead to a general election. Johnson and his team have been making this argument to Conservative MPs in the hope that, given the healthy Labour lead in the polls, this might help to discourage them from calling for confidence vote in Johnson.
Rees-Mogg, the leader of the Commons, argued on Newsnight earlier this week that, because the UK was moving to a "presidential system", a new PM would have to call an election.
Last night, on ITV's Peston, Damian Green, the former first secretaray of state, became the latest Tory to accuse Rees-Mogg of getting this wrong. He said:
Jacob, bless him, is talking nonsense in that. We have a system of parliamentary democracy, he's leader of the House of Commons, he must have noticed that.

And just, you know, probably the two most presidential prime ministers we have had in my lifetime have been Thatcher and Blair. Both of them left in the middle of a parliament and both of their successors went on for the whole term of that Parliament.

So this idea that every time you change prime minister you have to have a general election is just constitutional nonsense.
As mentioned earlier, the BBC were calling it Grayja vu this morning. A reader has been in touch to suggest that an alternative would be Groundhog Gray.
Boris Johnson has left No 10 and is doing a visit later this morning, Sky News reports. That means the prospect of his doing a statement in the Commons on the Sue Gray report later today is increasingly unlikely. In his Red Box briefing (paywall) for the Times, Patrick Maguire says the planned trip today will take the PM several hundred miles away from London.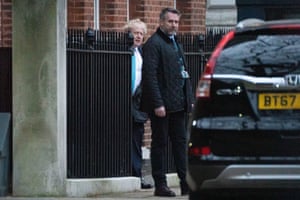 Good morning. As one journalist on the Today programme put it this morning, it's Grayja vu. We're still waiting for the report from the senior civil servant Sue Gray into partygate that could determine whether or not Boris Johnson gets to stay on as prime minister. Earlier this morning it still had not formally been submitted to No 10. Johnson says he wants to publish it soon after he gets it, and make a statement to MPs too, and it is possible that this could happen today. But many MPs are not at Westminster. The business is light, with a debate on Holocaust Memorial Day the main attraction, and Tory MPs are on a one-line whip, which means they don't have to attend. As the Telegraph's Christopher Hope reports, a delay until next week is looking increasingly possible.
Thérèse Coffey, the work and pensions secretary, was on the interview round this morning. Asked when the Gray report would come out, she replied: "I genuinely don't know."
Boris Johnson is still trying hard to shore up support among Tory MPs, and I will post more on that later. But in interviews last night at least one new line emerged: ministers say that, even if Johnson were interviewed by the police under caution, he would not have to resign.
When Tony Blair was PM, and the police wanted to interview him about the cash-for-honours affair, he made it known to them that, if they interviewed him under caution (ie, as a suspect, not a witness), he would feel obliged to resign. The police backed off, and interviewed him without cautioning him first. (In the event, no one was charged at all.) If Blair thought he was establishing a precedent, it is not one Johnson intends to follow. In an interview on Channel 4 News last night Jacob Rees-Mogg, the leader of the Commons, was asked if Johnson would resign if the police felt the need to read him his rights before taking a statement from him on partygate. Rees-Mogg replied:
No, of course that wouldn't be a resigning matter because people are innocent in this country until proved guilty. And it is worth bearing in mind the police themselves have said that the fact that they are investigating something doesn't mean that any crime has necessarily been committed. They are investigating because that is what the police do.
(Rees-Mogg was wrong about this. On Tuesday Dame Cressida Dick, the commissioner of the Metropolitan police, said the police were only investigating these "after the fact" lockdown incidents because they appeared to be "serious and flagrant" breaches of the rules and there seemed to be no "reasonable defence".)
And later, on ITV's Peston, Kwasi Kwarteng, the business secretary, was also asked if being interviewed under caution would be a resignation matter for the PM. He replied: "No I wouldn't go that far." He also implied cash for honours was a more serious scandal, saying it raised "very serious questions about propriety and ethics".
Here is the agenda for the day.
9.30am: Nadine Dorries, the culture secretary, gives a speech at the advertising industry's annual conference.
After 10.30am: Jacob Rees-Mogg, the leader of the Commons, takes questions in the Commons on next week's business.
11.30am: Downing Street holds a lobby briefing.
12pm: Nicola Sturgeon, Scotland's first minister, takes questions from MSPs.
I may cover some UK Covid developments here, but there is more on our global live blog, including details of this morning's announcement that restrictions on visiting people in care homes in England will be eased from Monday.
I try to monitor the comments below the line (BTL) but it is impossible to read them all. If you have a direct question, do include "Andrew" in it somewhere and I'm more likely to find it. I do try to holdinanswer questions, and if they are of general interest, I will post the question and reply above the line (ATL), although I can't promise to do this for everyone.
If you want to attract my attention quickly, it is probably better to use Twitter. I'm on @AndrewSparrow.
Alternatively, you can email me at andrew.sparrow@theguardian.com