Australia live news updates: Novak Djokovic case before court; Victoria reports 23 Covid deaths and NSW 20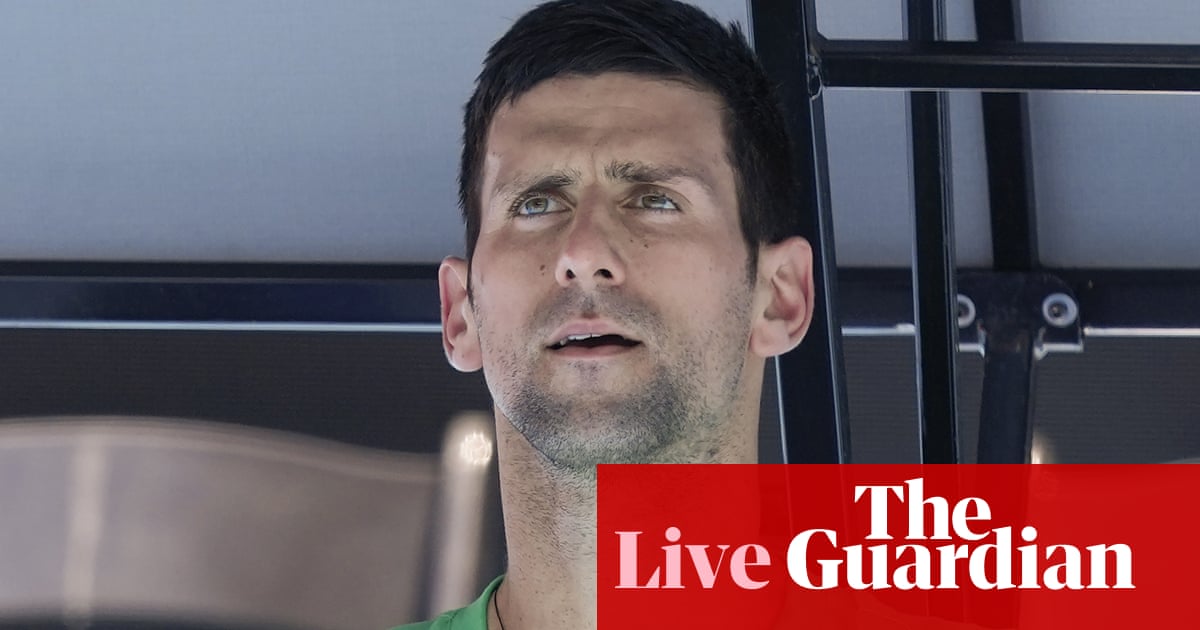 And we are done. The hearing for today is finished. We are waiting to see the application and submissions from Novak Djokovic's legal team – due by midday, and the government's submissions – by 10pm tonight.
There, we will see the arguments that are going to be put forward for Djokovic staying in the country (why the minister's decision to cancel his visa was unreasonable), and the government's case for removing him.
We know some of what the government will argue – that Djokovic's continued presence in the country has the potential to "excite anti-vaccination sentiment" in Australia. It was argued in court on Friday that kicking him out of the country would do much the same.
The judge is going to consider ordering the matter before the full bench of the federal court (three judges) and will advise today on that.
We're underway. Justice David O'Callaghan has raised the possibility of Djokovic's hearing tomorrow coming before a full court of three judges in the federal court, rather than being heard by a single judge.
"A full court can be convened commencing tomorrow morning," the judge said.
Djokovic's legal team is happy for the matter to come before a full court, three judges. The immigration minister opposes a full court hearing.
We are about to get underway in the federal court. Novak Djokovic's attempt to stay in the country has been brought before a new judge, Justice David O'Callaghan, this morning.
A final outcome is not expected today (though nothing would surprise in this case). Today's hearing will deal with Djokovic's transfers between meetings with border force officials, his lawyers and detention, and any procedural matters concerning the hearing, which will take place tomorrow.
But we are expecting submissions from Djokovic's lawyers today, which will outline his case to stay in the country. Essentially, he has to argue why the immigration minister's decision to exclude him from the country on public health grounds is unreasonable.
For those playing along at home:
Ahead of Novak Djokovic's last-ditch legal bid to stay in Australia to defend his Australian Open title, his homeland Serbia has swung behind him in vociferous support.
A court hearing in the Federal Court begins in less than half an hour. We are expecting to see submissions from Djokovic's legal team on why he should be allowed to stay in the country before lunchtime.
On Instagram, Serbian president Aleksandar Vučić said the world number one was being harassed by the Australian government for its own political advantage:
If you wanted to forbid Novak Djokovic to win the trophy for the 10th time, why didn't you return him immediately, why didn't you tell him that it was impossible to get a visa?

Why do you mistreat him, why do you harass him, as well as his family and a nation that is free and proud?

Is all this necessary to win some elections and please your public?
In nationalistic overtones, Vucic said Serbia would continue to defend Djokovic:
We will fight for Novak Djokovic and the fact that you will harass him for a day, two or five more or less will not change the sentiments of our people towards the people of Australia that we highly respect and appreciate, but also our opinion of Novak Djokovic.

You can write hundreds of thousands of the worst articles about him, he will remain the greatest tennis player of all time, and he will always be in our hearts.
Serbia's royal family also spoke out in defence of their "brave brother". Prince Filip and Princess Danica Karađorđević, are the son and daughter-in-law of Aleksandar Karadjordjevic, the Belgrade-based Crown Prince of Yugoslavia:
When tyranny shows its ugly face then it is our duty to speak out. Many will not recognise we are heading down this dangerous path since tyranny has a cunning way of disguising itself as an act of good, therefore, those who speak out are often met with disapproval and outrage, as is the case of our brave brother Novak Djokovic.