UK Covid live: Boris Johnson makes Scotland visit despite concerns over whether trip 'essential'
Labour leader Keir Starmer said the UK's supply of vaccines should not be interrupted to divert doses to the European Union, adding that increasing global production was the way to resolve the row.
Starmer told LBC radio:
I don't want to interrupt the supply of vaccines into the United Kingdom… But we do need to resolve this, it is a war of words, it has got to be resolved and there is no interest in other countries not getting the vaccine because unless this is dealt with globally we will simply reintroduce variants across the world.

I want to resolve this by ramping up manufacture across the world, I don't want to interrupt the way we are doing it in this country, I don't want to push that 12-week gap (between doses) back any further.
The SNP has said Boris Johnson's trip to Scotland today is evidence of a "prime minister in panic", after 20 consecutive polls have shown a majority support for independence.
Keith Brown, the SNP's Depute Leader, has accused Johnson of mimicking Donald Trump's attempts to block democracy.
Keith Brown MSP said:
Clearly, Boris Johnson is rattled. By branding this campaign trip as 'essential', this is clearly a Prime Minister in panic, who knows the Tories are losing the argument on independence. Twenty polls in a row have shown that a majority of voters believe Scotland's future should be in Scotland's hands – not Boris Johnson's.

Scotland didn't vote for this Tory government, we didn't vote for Brexit and we certainly didn't vote for Boris Johnson. Yet, in the middle of a global pandemic, we've been ripped out of the world's biggest single market against our will causing havoc for businesses and piling even more pressure on our NHS. No wonder that more and more people in Scotland want the right to choose their own future. The longer Boris Johnson reads from the Trump playbook of democracy denial, the more support for Scottish independence will grow.
Some more on the Sir Desmond Swayne's story (see earlier post). PA media have managed to get hold of the New Forest West MP for an interview.
They report that he is refusing to apologise for telling vaccine sceptics to "persist" with their campaign against lockdown restrictions, arguing he was unaware of their position on jabs. He has insisted, though, that any such sceptic campaigner should stick to the rules.
He said:
I have always had a great deal of respect for Michael but I'm not sure precisely what I'm being asked to apologise for. I'm evangelical in my support for the vaccination programme. As for my complaints for masking and the use of data, I'm on the record, I've said all of those things in the House of Commons. My remarks to them on those subjects mirror what I've said in the House of Commons. I was completely unaware that any of them had any traction on anti-vaxx and no anti-vaxx entered into the conversation I had with them.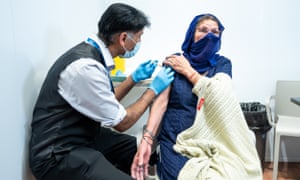 Asda has hosted the first dose of vaccine to be administered at a supermarket in England, as a 78-year-old woman was given the jab by in-store pharmacy staff.
Vaccinations with the Pfizer/BioNTech injection were being rolled out from the superstore in Cape Hill, Smethwick, in the West Midlands, on Thursday, with up to 240 jabs a day set to be given, PA media reports.
First to receive the vaccine was local resident Harbans Kaur (pictured up top), Asda confirmed.
Roger Burnley, Asda CEO and President, has previously said:
We are incredibly proud to provide this service and are keen to do all we can to help the NHS and Government accelerate the rollout of the vaccination programme.
Senior Tory Sir Desmond Swayne has been condemned as "completely out of order" by cabinet minister Michael Gove after claiming that Covid statistics have been "manipulated".
Sir Desmond, who represents New Forest West, was interviewed by a US anti-vaccine campaigner and urged an anti-lockdown group to persist with their efforts, suggesting official data should not be trusted, according to PA media.
Gove called for the former minister, who has described himself as a "most enthusiastic vaccinator", to issue a full retraction and apologise for his "unacceptable" comments.
Sky News reported that in November Sir Desmond told the anti-lockdown group Save Our Rights UK that the figures were "bouncing round at the typical level of deaths for the time of year".
He said:
It seems to be a manageable risk, particularly as figures have been manipulated… We're told there is a deathly, deadly pandemic proceeding at the moment. That is difficult to reconcile with ICUs (intensive care units) actually operating at typical occupation levels for the time of year and us bouncing round at the typical level of deaths for the time of year.
Sir Jeremy Farrar, a Sage member, has warned that Covid vaccines must be made available around the world in an effort to keep cases down and prevent new mutations which could escape the effects of the jabs.
He says that "vaccine nationalism" is a reality that "we have to avoid".
Cabinet minister Michael Gove has said there "will be no interruption" to UK vaccine supplies from AstraZeneca after the European Union demanded doses from British plants during a row over supply shortages.
Gove said on Thursday the "first and most important thing" is that the supply schedule agreed with the UK-based pharmaceuticals giant is honoured so the domestic vaccine rollout can be delivered before neighbouring nations are aided, PA media reports.
Here is the latest on Keir Starmer's reaction to the quarantine proposals from LBC's political editor Theo Usherwood:
Covid cases may be rising in the East Midlands despite the lockdown, and infections could be merely plateauing in some other regions, the director of the React study has warned.
PA media reports:
Prof Paul Elliott said there does "seem to be a little bit of a downturn in the prevalence but not the large reductions we'd like to see", with a "sharper decline in the South, in the South West in particular, and also fortunately in London from very, very high rates and also the South East".

"But things are pretty flat or even increasing in some of the other regions, so it's a bit of a mixed picture," he told BBC Radio 4's Today programme.

"We are unfortunately seeing a rise in the East Midlands and a flattening off in the other regions, in the West Midlands and the North of the country."
Scientists have said that Covid cases have started to fall in England but must drop faster to relieve pressure on the NHS, my colleague Ian Sample reports.
The cabinet office minister, Michael Gove, has said a list of nations from which travellers must quarantine in hotels on arrival in the UK is to be reviewed.
He told BBC Radio 4's Today programme:
We will be reviewing today how extensive that list of countries needs to be and we will be guided by advice from our scientific advisers and we will be reporting back later on where the line will be drawn.
Questioned on whether more stringent border controls should have been imposed in March, he said:
There has been a lively debate about what we should or should not have done then. I don't intend to add my voice to that debate. I think there will be an appropriate moment to review all the decisions this Government and others have taken during the pandemic.
In the same interview, Gove said people should not travel abroad to attend a wedding.
Good morning everyone. I will be running the blog today, so feel free to send me a message on Twitter with any coverage suggestions or story tips.
Yesterday, Boris Johnson confirmed that UK travellers will be interrogated at the border on their reasons for going abroad, as he said that British citizens returning from high-risk countries must quarantine in hotels at their own expense.
Johnson, who has faced criticism for rejecting a more comprehensive hotel quarantine system, added that no one should be travelling except for a narrow range of reasons.
Nicola Sturgeon has stepped in to question whether the prime minister's planned visit to Scotland today to argue the benefits of the Union amid growing calls for a second independence vote is "genuinely essential".
Scotland's first minister suggested his trip makes it harder to convince the public to stick to travel restrictions.
But cabinet member Michael Gove has defended the trip, telling BBC Radio Scotland this morning:
He's the Prime Minister of the United Kingdom, it's absolutely essential that the Prime Minister is there to see how on the front line we are progressing in our vaccine delivery and rollout programme. It's critically important that the Scottish Government and the UK Government are working together to do everything we can to support the rollout and see what we can do to improve it.
We will keep you updated with the developments of the trip as they come. Johnson is expected to argue the Union has been integral in administering the coronavirus vaccine, providing Covid testing and giving economic support north of the border during the pandemic.
Below is the rest of the agenda for the day:
09:30am: NHS England weekly data on hospital activity.
11:00am: Weekly Test & Trace figures for England.
14:00pm: Weekly Public Health England Covid-19 surveillance report and vaccination figures.
Here is our global coronavirus live blog for the latest developments from around the world: