GameStop surges further 40% amid frenzy; global stock markets slide – business live
NEWSFLASH: The US economy grew at an annual rate of 4% in the fourth quarter, following 33.4% growth in the previous quarter, when the economy bounced back after sharp declines earlier in the year caused by the coronavirus pandemic, according to the advance estimate from the US Commerce Department.
German inflation in January came in at 1.0% year-on-year, from -0.3% in December. The harmonised index, relevant for European Central Bank policymaking, surged to 1.6%.
Carsten Brzeski, global head of macro at ING, explains:
This was the largest monthly increase in a long time.

Before anyone gets too scared, this surge is mainly the result of the reversal of last year's VAT reduction, higher energy prices and the new carbon tax.

Interestingly, the prices for clothing increased sharper than justified by higher VAT, probably another result of the lockdown comparing fictive prices of closed retailers with winter sale prices from last year.

Looking ahead, today's inflation number is just the beginning of a period of significantly higher headline inflation in Germany. The full impact of higher energy prices compared with last year will show in the coming months. Also, the full base effect from the VAT cut reversal will only be reflected in inflation numbers after the summer. Together with price mark ups in some sectors once the economy starts to reopen again, headline inflation in Germany could be pushed above 2% after the summer.
The US video games retailer GameStop has reversed last night's after-hours losses, and jumped a further 40% in pre-market trading as the frenzy continues, with an army of small investors buying the shares. The shares are trading around $490, after briefly venturing above $500. The shares were worth $40 a week ago, and $3.25 in April.
The US Securities and Exchange Commission and the White House both said yesterday that they were "monitoring" the moves.
Let's have a look at some of today's stories.
Lidl's British business fell £25m into the red last year after spending heavily on new stores, despite ringing up strong sales growth.
Tesla shares fell in pre-market trading after the electric carmaker's profits fell short of expectations, despite recording its first annual profit, after a bumper payout to its chief executive, Elon Musk.
The Guinness and Smirnoff maker Diageo reported a fall in profits in the second half of 2020 but largely weathered the storm of the coronavirus pandemic as supermarket and online alcohol orders helped to offset the closure of pubs, bars and restaurants.
Stock markets remain firmly in the red.
UK's FTSE 100 down 0.99% at 6,501
Germany's Dax down 0.64% at 13,533
France's CAC down 5,452
Italy's FTSE MiB down 0.37% at 21,580
Turning to the other highlight in the US today, the first estimate for GDP growth in the fourth quarter…
Michael Hewson, chief market economist at CMC Markets UK, says:
Today's Q4 GDP numbers are likely to be much weaker. Personal consumption accounts for over two thirds of US GDP and the slowdown in November and December is likely to reflect a rather weak end to 2020. Expectations are for annualised Q4 GDP to come in at 4.3%, a sharp slowdown from the 33.4% seen in Q3.
Daiwa America chief economist Mike Moran expects the national accounts to reveal a further 3.0% annualised rate lift in GDP, building on the 33.4% rebound in Q3, but strikes a more upbeat note.
Robust business, housing and inventory investment, together with moderate growth in consumer spending, should readily more than offset downward contributions from net exports and public spending.
This afternoon, we'll also be getting US trade data, new home sales and the Conference Board leading indicator (all for December), as well as the weekly jobless claims report.
The GameStop frenzy continues. It briefly went over $500 in pre-market trading. You can see the latest value in pre-market trading here.
The GameStop share price is yo-yoing, after the recent dizzying rises prompted the US regulator and the White House to say that they would "monitor" developments.
GameStop and other shares fell 20% after the Reddit WallStreetBets online discussion forum was closed for about an hour last night, but then rose again. The stock surged as high as $377 in pre-market trading. Last night, the shares had closed 134.84% higher at $347.51 –- an extraordinary rise from $3.25 in April.
The share price surge has been fuelled by an army of small investors who have been pitted against hedge funds on Wall Street.
You can read more here: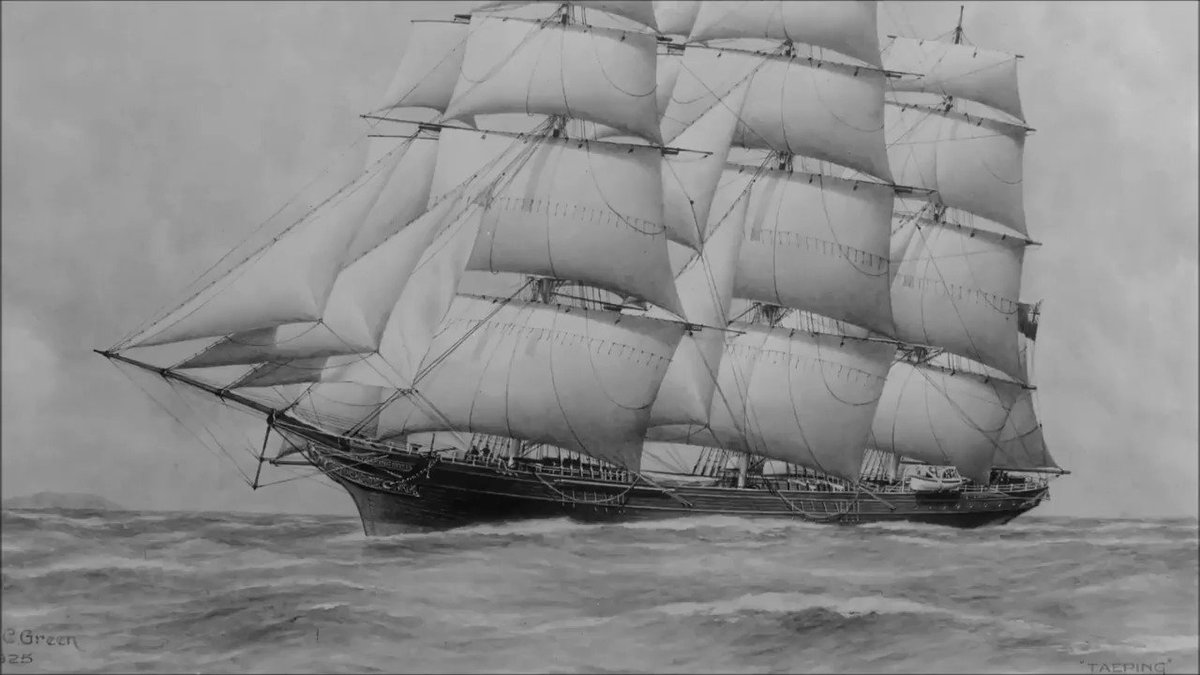 In the eurozone, the final reading for consumer confidence from Eurostat is -15.5, the same as the preliminary figure. Economic confidence came in at 91.5, better than the 89.6 expected.
Justin Low, currency analyst at Forex live, says:
Economic confidence beat estimates but eases slightly from the higher revision towards the end of last year. Tighter virus restrictions being prolonged are still tempering with optimism in the first quarter in general but the outlook for the rest of the year remains somewhat intact.
Ashik Musaddi, an analyst at JPMorgan Cazenove, says:
Given that Prudential is de-merging Jackson as opposed to IPOing Jackson, it now plans to raise around $2.5-3bn fresh equity, which we believe they would have got by IPOing Jackson.

On the one hand it looks like negative news, but on the other hand it is more or less the same strategy to get some cash flow flexibility for Asian operations following the disposal/spin-off of Jackson. In our view, this additional capital will help it reduce debt leverage at the holding company while maintaining liquidity for Asian inorganic growth prospects.
Prudential shares are are the biggest faller on the FTSE 100, down 7.7%.
The British insurance and savings firm said it would spin off its US business Jackson to focus more on its fast-growing Asian and African businesses, and is also mulling plans to raise $2.5bn to $3bn in new equity.
Prudential now plans to demerge Jackson, after initially planning to float a minority share in the business. It has come under pressure from the activist investor Third Point, and said today that a demerger would be quicker than a minority IPO and future sell-downs.
Shares in Jackson will be handed to Prudential shareholders after the demerger, which is expected in the April to June quarter. The Pru will retain a 19.9% interest in Jackson.
Chief executive Mike Wells said the demerger would "significantly accelerate Prudential's transformation into a business purely focused on profitable growth in Asia and Africa."
While stock markets are tumbling, Diageo is the biggest riser on the FTSE 100 this morning, up 3.6%. Strong sales of tequila and bourbon in the US, and a recovery in China, contributed to organic net sales growth of 1% in the six months to December.
Analysts had expected a 4.6% drop. In North America, its largest market, sales jumped 12.3% despite the pandemic.
William Ryder, equity analyst at Hargreaves Lansdown:
Diageo has recorded organic sales growth in the second half of the year, which is no mean feat given the disruption coronavirus has inflicted on the hospitality industry. Unfavourable exchange rate movements mean this underlying growth didn't show up in the headline numbers, but it's the figure to focus on.

Almost all the growth was driven by North America, which posted a healthy 12% organic sales growth. A chunk of this was retailer and distributor restocking, but it's still a strong performance. Other markets have been weaker, but overall the group has done a good job pivoting towards new sales channels this year.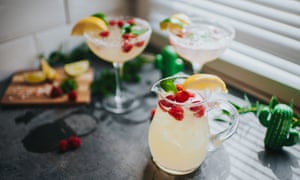 Fever-Tree, the drink mixer company, saw its shares rise 2.4% after it said would beat revenue forecasts for 2020. It now expects revenues of £252.1m, more than it had expected in September (but down 3% from 2019).
It has been promoting long mixed drinks as an everyday affordable treat at home. During the pandemic, more people have been making cocktails at home, and some companies have offered their staff online cocktail-making classes in lieu of Christmas drinks.
Consumer confidence in Italy worsened at the start of the year. The National Institute of Statistics' consumer confidence index slipped to 100.7 in January from a downwardly revised 101.1 in December.
The gauge measuring personal situation (106.5 vs 107 in December); economic climate (83.4 vs 83.5) and future climate (103.2 vs 105.3) all deteriorated. On the other hand, sentiment improved regarding current conditions (99 vs 98.3).
As for the business confidence climate, the index improved slightly from 87.7 to 87.9. The manufacturing confidence index fell to 95.1 in January from a downwardly revised 96 in the previous month.
The composite business morale index, combining surveys of the manufacturing, retail, construction and services sectors, edged up to 87.9 in January from 87.7 in December. This reflects a more buoyant construction sector, where the confidence index rose from 136 to 138. You can read more here.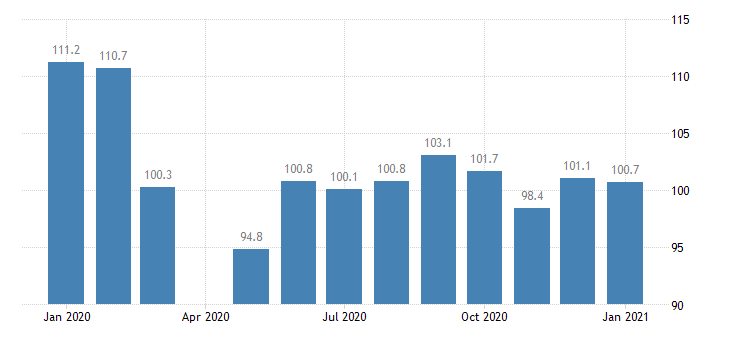 The BBC reported earlier this month that bookings at easyJet's holidays arm were up 250% on last year, after talking to its chief executive Johan Lundgren.
An easyJet spokesperson told me today:
Some customers are making plans for their summer holidays now, with easyJet holidays bookings for Summer 2021 currently significantly ahead of last year, although it is evident that many customers are looking for further certainty around quarantine rules prior to booking.
Here is our full easyJet story:
The share sell-off is gathering pace, as worries over extended coronavirus lockdowns and issues with the vaccine rollout in Europe come to the fore again.
UK's FTSE 100 index down 1.43%, or 93 points, at 6,473
Germany's Dax down 1.52% at 13,413
France's CAC down 0.84% at 5,413
Italy's FTSE MiB down 1.17% at 21,410
Oil prices are also lower, amid expectations of lower demand. Brent crude has lost 39 cents, or 0.7%, to $55.42 a barrel while US crude is trading 48 cents lower at $52.37, a 0.91% drop.
US futures are indicating a lower open on Wall Street later, with the Nasdaq futures down 1.2%, the S&P 500 futures 0.8% lower and the Dow futures down 0.4%.
Over here, easyJet had another grim quarter at the end of last year when revenues slumped almost 90%, but the budget carrier is still planning for a surge in travel later this year if Covid-19 restrictions are relaxed in the wake of mass vaccination.
Global air travel collapsed when the pandemic started just under a year ago and tough restrictions on travel were imposed, but airline executives are hopeful that vaccination programmes in the UK, US, Europe and other countries will allow governments to ease the current lockdowns.
EasyJet shares fell 2.1% after it revealed that revenues between October and December declined by 88% year-on-year to £165m. Passenger numbers fell by 87% to just 2.9 million.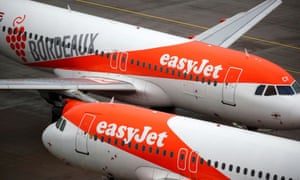 Wizz Air, the Hungarian low-cost airline, reported 77% declines in revenues and passenger numbers in that quarter, to €149.9m and 2.27 million respectively. It made a statutory net loss of €77.7m, versus a profit of €3.3m in the year-earlier period.
Jack Winchester, analyst at the research firm Third Bridge, says:
Wizz Air's management continues to roll out an aggressive expansion plan. With historical roots in the Eastern European business, Wizz Air has announced a slew of new base openings in 2020 and aims to become the biggest carrier at Gatwick within five years.

The results today reflect that ambition as well as the airline's cost flexibility: While revenue numbers disappointed against expectations, with a 76.5% reduction year-on-year, Wizz beat expectations on profitability. EBITDA, a proxy for cash flow, hit negative €41m for the quarter.

One of the biggest questions facing Wizz Air is how it will stand up to pressure from the Ryanair scale advantage.
The latest penny stock to jump in the rally fuelled by the online US discussion group Reddit is BB Liquidating Inc., the final remnant of the bankrupt video-rental company Blockbuster, as Bloomberg reported.
The share price surged as much as 302% yesterday and closed 120.88% higher, following Tuesday's whopping 774% spike.
Blockbuster filed for bankruptcy in 2010 when rivals like Netflix shook up the world of video rental. Only one Blockbuster store survives, in Bend, Oregon.
And we're off! European stock markets have recorded chunky losses at the open. The UK's FTSE 100 index, Germany's Dax and Italy's FTSE MiB all lost about 1% in the first few minutes of trading.
Good morning, and welcome to our rolling coverage of the world economy, the financial markets, the eurozone and business.
The extraordinary surge in the share price of the ailing US video games retail GameStop and other companies has drawn the attention of the White House and the US regulator, the Securities and Exchange Commission, which both said they were "monitoring" the situation.
There has been a surge of bets by small investors, who are discussing their investments in online forums such as Reddit. GameStop's shares have soared this year, from $3.25 in April, to $347.51 last night. The three largest shareholders in GameStop have made more than $2bn from the company's astronomic recent share rise.
It has turned into a David-and-Goliath style battle between small investors and Wall Street firms. Yesterday, a US hedge fund that had invested heavily betting on the failure of the struggling video game store – a practice called 'shorting' – pulled out. Melvin Capital Management, one of a number of Wall Street firms that stood to make money for investors if GameStop's shares plummet, told CNBC it had closed out its short position after taking a huge loss.
Michael Hewson, chief market analyst at CMC Markets UK, says:
While few people are shedding many tears about large scale hedge fund losses, after all if you play with fire, be prepared to get burned, the market turmoil is highlighting a number of areas within the market, that might prompt regulatory scrutiny in the future, namely the monitoring of retail trade chat forums and message boards, and how they drive markets.

With large numbers of small investors swarming over heavily shorted stocks in what looked like a coordinated move, the frenzy raises all sorts of questions with respect to possible market manipulation.

It is already illegal for institutions to coordinate in the manner currently being seen in moving prices on these stocks, raising questions about the legality of what is currently taking place right now on these forums. Regulators have already said that they are monitoring what is going on, raising the possibility of further action if it causes further market instability.
Global stock markets took a bit of a battering yesterday, with the Dow Jones posting its biggest one day fall since October, and European markets are set to open lower this morning. Asian shares were also in the red, with Japan's Nikkei closing 1.53% lower and Hong Kong's Hang Seng losing 2.36% and the Australian market shedding 2.02%.
The US Federal Reserve issued a slightly more downbeat assessment when it left its policy stance unchanged last night, with interest rates near zero, and monthly bond purchases of $120bn.
The Fed acknowledged in its post-meeting statement that the economic recovery weakened in the final two months of last year, but balanced that near-term pessimism with greater optimism that vaccines had reduced the medium-term risks to the outlook.
Paul Ashworth, chief North America economist at Capital Economics, said:
We don't expect the Fed to begin tapering its asset purchases until early next year and think the first interest rate hike could be delayed until 2024.
Economists at ING said:
If the vaccination program gains momentum and consumer spending rebounds sharply on re-opening, QE tapering will increasingly become a theme for markets.

In the press conference [Fed chair Jerome] Powell again argued that the economy is a long way from being healed and by implication that withdrawing the stimulus too early outweighs the risks from withdrawing it later.
Apple and Facebook announced better-than-expected results after the market close while Tesla's figures were mixed. Apple had its most profitable quarter ever.
Tesla sold 35% more electric cars in 2020 and revenues rose 37%, faster-than-expected, but earnings missed forecasts due to an increase in cheaper model sales and the massive $267m pay award to its founder and chief executive Elon Musk. Tesla shares fell 5% in the after-market.
In the UK, car production slumped to its lowest level since 1984 last year as the coronavirus pandemic wreaked havoc on the industry, and Nissan overtook Jaguar Land Rover as the biggest carmaker in Britain.
The Agenda
9am GMT: Italy Business and consumer confidence for January
10am GMT: Eurozone Consumer confidence final for January (forecast: -15.5)
1pm GMT: Germany inflation for January (forecast: 0.7%)
1.30pm GMT: US GDP advance for fourth quarter (forecast: 4%), trade for December, weekly jobless claims
3pm GMT: US New Home sales for December