Biden turns attention to climate crisis with new executive orders today – live updates
The Washington Post this morning have a piece to tee-up some of the climate crisis action expected from Joe Biden later today. They say that the president "plans to make tackling America's persistent racial and economic disparities a central part of his plan".
As part of an unprecedented push to cut the nation's greenhouse gas emissions and create new jobs as the United States shifts toward cleaner energy, Biden will direct agencies across the federal government to invest in low-income and minority communities that have traditionally borne the brunt of pollution.

Biden will sign an executive order establishing a White House interagency council on environmental justice, create an office of health and climate equity at the Health and Human Services Department and form a separate environmental justice office at the Justice Department, the individuals said.

At the heart of Biden's executive action Wednesday is an effort to improve conditions in Black, Latino and Native American communities targeted for hazards that others did not want: power plants, landfills, trash incinerators, shipping ports, uranium mines and factories.
Read more here: Washington Post – Biden to place environmental justice at center of sweeping climate plan
There were 142,511 new coronavirus cases recorded in the US yesterday, and 3,990 further deaths. That's the fifth highest daily death toll recorded in the US since the pandemic began.
In a more positive sign, Covid hospitalizations in the US fell again for the 14th consecutive day. They stand at 108,957, the lowest level since 13 December, according to the Covid Tracking project.
At least 19.9 million people in the US have received one or both doses of the vaccine. There have been 44.4 million doses distributed. This still leaves the Biden administration three weeks behind the schedule set out by the outgoing Trump White House, which had promised to vaccinate 20m people by the end of December, and which did not. Yesterday, Biden vowed to vaccinate 300m people in US by end of summer or early fall.
Alaska, West Virginia, New Mexico and Connecticut have become the first states to deliver at least one vaccination dose to over 8% of their population.
The Biden administration's climate policies aren't just facing opposition at home, as Leyland Cecco in Toronto reports:
US president Joe Biden's move to cancel a controversial pipeline project has hit Canada like "like a gut punch", according to one political leader, and left the country to weigh the future prospects of its ailing oil and gas industry.
On 20 January, one of Biden's first executive orders was to reverse approval of the Keystone XL pipeline, making good on a campaign promise to kill the project as a broader strategy to address the climate crisis.
Environmental groups in Canada have applauded the decision, but the cancellation has left the country's western provinces in disbelief.
"The Biden administration refuses to give this country sufficient respect to hear us out on this pipeline. In that policy context then, yes, there absolutely must be reprisals," Alberta premier Jason Kenney told CBC News. "We need to stand up for ourselves."
The outspoken provincial leader, who called the decision a "gut punch", has largely tied his province's prosperity to the success of oil and gas projects – and demanded that Prime Minister Justin Trudeau move swiftly to reverse the decision.
"Obviously the decision on Keystone XL is a very difficult one for workers in Alberta and Saskatchewan who've had many difficult hits," Trudeau told reporters last week, adding that it would be a top priority in his first call with president Biden. But Trudeau has stopped short of endorsing Kenney's calls for "economic sanctions" against Canada's largest trading partner.
Read more of Leyland Cecco's report here: Alberta leader says Biden's move to cancel Keystone pipeline a 'gut punch'
Mark Meadows, Trump's former White House chief of staff, has a new job. Well according to what Axios are labelling a scoop this morning, anyway,. They report:
Former White House chief of staff Mark Meadows is joining the Conservative Partnership Institute, a group run by former South Carolina Sen. Jim DeMint that operates as a "networking hub" for conservatives.

Meadows, who is still in frequent contact with former President Trump and has been advising him ahead of his impeachment trial, will now operate behind the scenes to help create more members like Jim Jordan, Ted Cruz, and Josh Hawley — conservative firebrands with strong networks and staffs.

The House Freedom Caucus founder will also play a key role in gathering grassroots support to oppose Biden nominees and policies in the first 100 days, sources said.

DeMint founded CPI because he felt the conservative movement did a lousy job at helping members of Congress be effective legislators once they get to DC.
Read more here: Axios – Mark Meadows' new gig
One concern overnight was that Vermont Sen. Patrick Leahy was taken to hospital "out of an abundance of caution" after being taken ill in the Capitol, hours after the 80-year-old Democrat began presiding over the impeachment trial of former president Donald Trump. He's now at home.
Leahy, who'd been in his Capitol office, was taken to George Washington University Hospital after being examined by Congress' attending physician, Leahy spokesman David Carle said.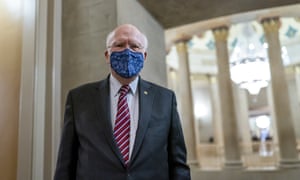 Associated Press remind us that Leahy is presiding because he is the Senate's president pro tempore, a largely ceremonial post. The Senate president pro tempore job normally goes to the longest-serving member of the Senate's majority party. Chief Justice John Roberts presided over Trump's first impeachment trial a year ago when Trump was still president.
Here's a reminder of what happened in the Senate last night. After Senators were sworn in as the jury for Trump's second impeachment trial and signed the oath book – each using a different pen due to coronavirus precautions – Republican Rand Paul of Kentucky challenged the legitimacy of the trial.
Chuck Schumer, the Democratic majority leader, dismissed Paul's theory as 'flat-out wrong', but 45 Republican senators went on to vote to dismiss the entire trial. The move failed, but it suggests that a vote to convict the former president is unlikely.
Welcome to our coverage of US politics for Wednesday. Here's a catch-up on where we are and a little of what we might expect from today…
President Joe Biden vowed to ramp up vaccination programs so that most of the US population is inoculated by the end of summer or early fall."This will be enough vaccine to fully vaccinate 300m Americans by the end of the summer," the US president said.
There were 142,511 new coronavirus cases recorded, and 3,990 deaths, the fifth highest daily death toll recorded in the US since the pandemic began. In a more positive sign, Covid hospitalizations in the US fell again for the 14th consecutive day.
There will be a Covid task force briefing from Dr Anthony Fauci and team at 11am EST (4pm GMT), and they will also participate at a CNN "Town hall" event in the evening.
Yesterday Biden signed more executive orders in an effort to advance US racial equity. Domestic policy chief Susan Rice said "every agency will place equity at the core".
Attention will turn today to the climate crisis – Biden will speak about the environment ahead of signing executive orders related to climate change at 1:30pm EST (6:30pm GMT).
Jen Psaki will give a press briefing at 12:15 EST (5:15 GMT) where she will be joined by climate envoy John Kerry and White House national climate advisor Gina McCarthy.
Senators were sworn in for Trump's impeachment trial. Afterward, 45 Republican senators voted to dismiss the trial. That move failed, but it did signal that Democrats are extremely unlikely to win over enough Republicans to convict the former president.
The Senate voted to confirm Biden's nominee for Secretary of State, Antony Blinken. And Kamala Harris swore in Janet Yellen as the nation's first female Treasury secretary.
White House press secretary Jen Psaki said Biden held a phone call with Russian president Vladimir Putin. She said Biden pressed Putin on a litany of contentious issues, including election interference, the arrest of opposition leader Alexei Navalny, and the country's "ongoing aggression" to Ukraine, among other topics.
Bernie Sanders and progressive lawmakers in both chambers unveiled new legislation to raise the minimum wage to $15 per hour. Sanders called it a "moral imperative".
Pete Buttigieg, Jennifer Granholm, Denis McDonough and Linda Thomas-Greenfield will all be up before the Senate today as the process of confirming Joe Biden's cabinet contiues.
Joe Biden will address the nation about the climate crisis later today, and sign further executive orders aimed at environmental impacts. Those directives include spelling out how US intelligence, defense and homeland security agencies should address the security threats posed by worsening droughts, floods and other natural disasters under global warming. Biden's appearance is due at 1:30pm EST (6:30pm GMT).
Before that, White House press secretary Jen Psaki will also hold an event, joined by climate envoy John Kerry and White House national climate advisor Gina McCarthy.
Kerry has already been laying the ground for today's environmental announcements since taking up his role. Ellen Knickmeyer writes for the Associated Press that he has been trying to make clear that the US isn't just revving up its own efforts to reduce oil, gas and coal pollution but that it intends to push everyone in the world to do more, too.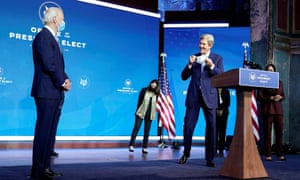 Kerry's diplomatic efforts match the fast pace of domestic climate directives by the week-old Biden administration, which created the job Kerry now holds.
At 77, Kerry is working to make a success out of the global climate accord that he helped negotiate in Paris as president Barack Obama's secretary of state and that he then saw rejected by president Donald Trump
Success for Kerry is hardly assured. At home, he faces pushback from the oil and gas industry and loud Republican concerns that jobs will be lost.
Internationally, there's uncertainty about whether Biden's climate commitments can survive the United States' intensely divided politics, let alone the next presidential transition. Meanwhile, environmentalists are pushing Kerry to be more aggressive – demonstrating outside his house on his first full day on the job.
Already Kerry has spoken virtually with US mayors, foreign presidents and premiers, government ministers and others. His message is: put your big one-off Covid economic recovery funding into projects that boost cleaner energy. Get green projects going fast in Republican-leaning U.S. states to prove renewable energy can mean jobs and build needed political support. Get everyone to talk to China about things like stopping the building of dirty-burning coal-fired power plants.
If China and the US, as the world's No. 1 and 2 top carbon emitters, don't spell out exactly how they will curb climate-damaging emissions more quickly, "we're all going to lose credibility," Kerry told an online gathering of American mayors last weekend.
The US has to have the "credibility to go to the table, show people what we're doing and push them to do more," Kerry said then. "So everybody can can understand it's not fake, it's not a phony, empty promise it really is getting real. They're not going to believe it when we just say it. We have to do it."