The Weekly Planet: Why Biden is Buying 645,000 New Cars
At least … I'm pretty sure that's the right way to think about it. I'm still figuring out how to judge the Biden administration. One of the tics of my profession is that when a presidential administration turns over, so do we. I mean this literally, in a personnel sense—the networks appoint new White House reporters—but also in a broader and more conceptual sense. Mainstream American journalism always has an adversarial relationship with the presidency, but the content and context of our rivalry changes. Finding the bounds of that new relationship takes time.
I'll admit that, in some ways, covering the Trump administration was pleasantly straightforward. I believe, and The Atlantic believes, that (1) climate change is real and (2) dealing with it will require federal action. Many senior Trump officials were foggy on the first axiom and hostile to the second. Their policy reflected it. As a reporter, I just had to find out what they were doing, consider whether it did anything about climate change, and then publish my conclusions. Easy!
Biden is trickier: His administration seems intent on actually doing things. It has already outpaced Donald Trump's standard. So what new standard should it meet? The goal of international climate policy might be atmospheric stabilization, but that exceeds the ambit of any one country or president.
For now, my lodestar is net zero by 2050, which Biden has laid out as a national goal. According to a recent landmark study from the ZERO Lab at Princeton, meeting that goal in the U.S. would require, by 2030, closing virtually all coal plants, expanding the power grid by 60 percent, and making sure that at least half of all new cars sold are EVs. That 2030 goal is close enough in time for us to have a sense of how much work remains to be done. And it shows why, for Biden's federal-fleet plan to get results, it must happen quickly. Turning over the federal fleet by 2035, for instance, is not enough.
---
Someone Else's Weather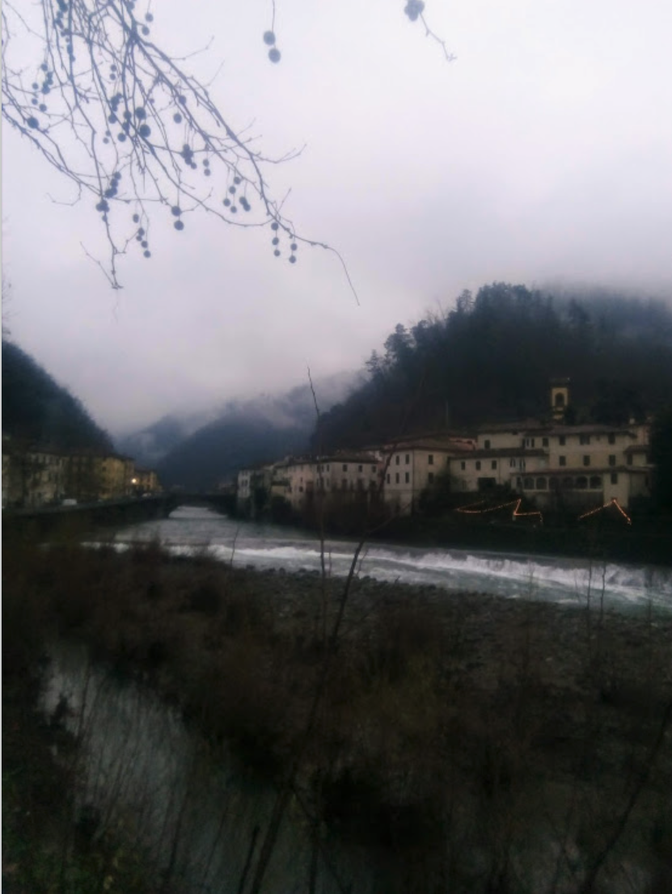 Our reader Karen Buczynski-Lee captured this swollen river coursing through Bagni Di Lucca, a town of 6,100 in Tuscany, earlier this month.
Every week, I feature a weather photo from a reader or professional in this part of the newsletter, because the climate is someone else's weather. If you would like to submit one, please email weeklyplanet@theatlantic.com.
---
3 Hazy Things
1. How hard will it be to—as I wrote above—retire virtually every coal plant by 2030? Harder than you might think, if you know only about the coal industry's public collapse. The country's 50 most fossil-fuel-intensive utilities plan to retire only a quarter of their coal power by the end of this decade, according to a new Sierra Club report. Even though many of these utilities claim to have net-zero-by-2050 goals, their renewable plans are insufficient to meet future demand: On average, their planned solar and wind construction amounts to only a fifth of their existing coal and natural-gas capacity. In a recent edition, I wrote that power has faded as the leading cause of U.S. emissions, but don't mistake that for complacency: There are a lot of coal plants in the country and we are not doing enough to replace them.
Because all utility stories are local, the Sierra Club report lets you see whether your utility's net-zero plan meets its standard. (For those of us who live in the Northeast or mid-Atlantic, none of our utilities merited inclusion in the report.)2. A lot has happened in the electric-car world recently! Tesla's stock price went up so much that Elon Musk became the world's richest person. Yoinks. Tesla was also added to the S&P 500, and immediately became the fifth-largest company in that index, worth more than Disney and Netflix combined. In the past month, too, General Motors unveiled a new ad campaign touting its "all-electric future"—completing the company's big ol' flip-flop on EVs since the election. Before November, GM supported Trump's fuel-efficiency rollback and was suing the state of California to block its EV policy. (Ford, however, took California's side from the beginning and opposed the rollback.) Now GM says it's all in on Biden's vision.
Corporate vacillation aside, I will confess a professional interest in these new GM ads. They trumpet the arrival of "Generation E," which stands for "Everybody In" and also, presumably, "Electric." "We emit optimism, not exhaust," a youthful voice blurts at one point, over a montage of tanned Millennials and retirees in suspiciously good shape. But the ad's lead pitchman is no Millennial at all. He's a magazine writer—just like me! It's Malcolm Gladwell, the podcast host and staff writer for The New Yorker.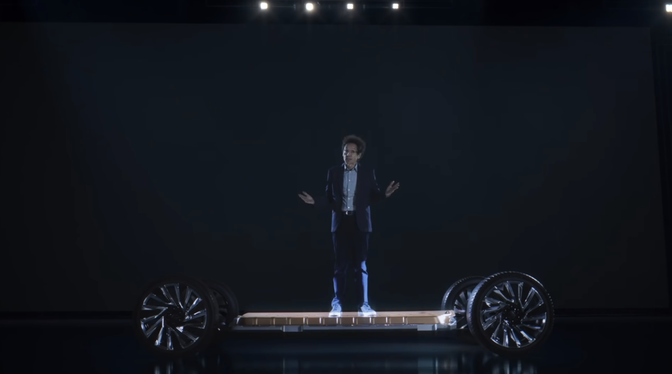 "Change," Gladwell utters on a black stage. "You can resist it and be left behind—or embrace it and move forward."