UK inflation rises to 0.6% as transport and clothing prices pick up – business live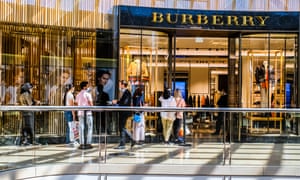 A "highly successful festive campaign" featuring campaigning England football star Marcus Rashford has helped luxury fashion chain Burberry ride out the pandemic.
Burberry reported a 9% drop in "retail comparable store sales" in the three months to Boxing Day, partly due to reduced tourism during the pandemic.
Sales were particularly weak in Europe, the Middle East and Africa, as Covid-19 restrictions continued.
Asia Pacific: +11% with strong growth in Mainland China and Korea
EMEIA: -37% due to fewer tourists and COVID-19 related store closures
Americas: -8% as mid-teen increase in full-price sales was more than offset by planned reductions in markdown activities
But Burberry also benefitted from "new, younger clientele", and reports that teaming up with Rashford was a success:
In November, we launched our Festive campaign, partnering with Marcus Rashford MBE, the English international footballer who has taken a prominent role against child poverty during the pandemic, and global charities championing youth-related causes.

The consumer response to the campaign was exceptional, with engagement on our Instagram campaign posts more than double our Q2 average, and imagery featuring Marcus becoming our most liked Instagram post of all time. Marcus' work to support the UK's youth sits at the heart of our partnership and embodies our commitment to community and going beyond.
Shares in Burberry have jumped 5% this morning, with CEO Marco Gobbetti saying the company is 'well placed' for the pandemic to ease:
"Despite the challenging external environment, we made good progress on our strategic priorities in the quarter. We saw a strong increase in full-price sales as our collections and communication resonated well with new, younger clientele as well as existing customers.

Our localised plans and digital capabilities helped drive growth in rebounding markets and we implemented our planned reduction in markdown. While the short-term outlook remains uncertain due to COVID-19, we are well placed to accelerate when the pandemic eases."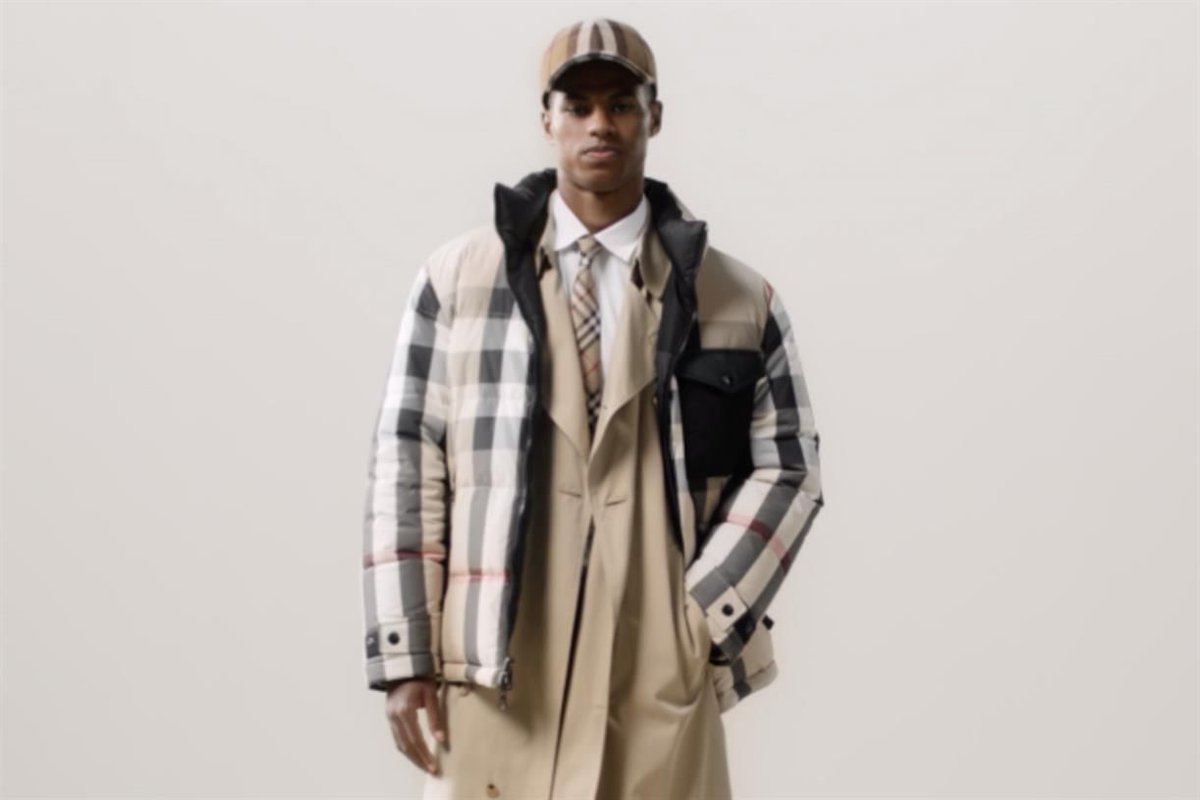 Despite picking up last month, UK inflation is still relatively low – having hit a five-year trough in September.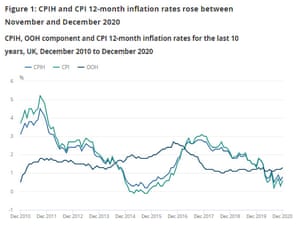 Several economists are predicting that inflation will keep rising as the UK economy reopens later this year, following December's increase.
Thomas Pugh of Capital Economics suggests CPI inflation could rise over the Bank of England's 2% target by the end of this year, before dipping in 2022.
Inflation will probably start to rise more sharply from April when the temporary VAT cut for the hospitality sector is reversed and the recent rises in agricultural and energy commodities start to make themselves felt. T

Together these forces could lift inflation to more than 2% by the end of the year. But ample spare capacity means it will probably settle at close to 1.5% by the end of next year. Further ahead, inflation may creep higher if the authorities keep monetary and fiscal policy loose after all the spare capacity in the economy has been absorbed.
Suren Thiru, head of economics at the British Chambers of Commerce, says prices could also rise if 'the current post-Brexit disruption persists':
Tom Stevenson, investment director for personal investing at Fidelity International, says investors should prepare for a more inflationary environment:
"The doubling in the CPI measure of inflation in December to 0.6% is a reminder of the need to remain vigilant about the price threat. Inflation never seems to be a problem until suddenly it requires firm action to tame it again. The combination of unprecedented government spending, pent up consumer demand and low productivity is a recipe for rising prices. Transport, recreation and clothing were the biggest contributors.

"The challenge facing UK policy makers is that historically high debt levels will make it hard for us to rein in inflation with higher interest rates as and when they become necessary. Servicing our high borrowings is expensive enough with rates on the floor.
Meat and vegetable prices dipped during December, the ONS reports, with cooked ham and cauliflowers having the largest downward impact.
But today's inflation report won't capture the impact of shortages caused by disruption at UK ports last month:
The December 2020 price collection was completed on or around 15 December 2020, so our price quotes were not influenced by the reported stock shortages in supermarkets as we approached the end of the year.
Computer game downloads also nudged inflation up last month, along with "smaller upward contributions from computer game consoles, equipment for sport, and plants and flowers".
But the prices of pre-school activity toys and board games fell in the run up to Christmas, the Office for National Statistics adds.
Good morning, and welcome to our rolling coverage of the world economy, the financial markets, the eurozone and business.
The reflation trade is one of the key drivers of the markets right now, as investors bet that stimulus packages and a post-lockdown boom will drive prices higher.
And the latest figures show that inflation across the UK rose in December.
The UK consumer prices index rose by 0.6% in the year to December, up from 0.3% in November, the Office for National Statistics reports.
Transport costs picked up during the month — as restrictions on travel were briefly lifted over the Christmas period (before the latest lockdown was brought in).
Clothing prices were also higher, along with recreation activities (such are possible during a pandemic, anyway).
The ONS says:
Rising transport costs contributed 0.11 percentage points to the monthly change, while increasing prices for clothing, and recreation and culture items both contributed 0.10 percentage points to help increase inflation; these were partially offset by a downward contribution from falling food and non-alcoholic beverage prices.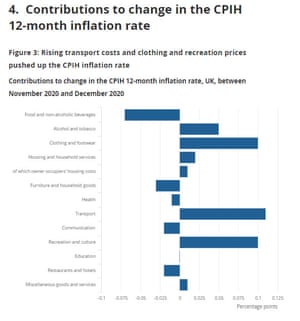 Air fares rose by more than usual during November and December, the ONS reports, with fuel prices also picking up –prices at petrol pumps rose by 1.5 pence per litre last month.
Women's and men's clothing prices also rose, as the Black Friday discounts ended.
Technology prices were also higher than usual, the ONS adds:
The largest upward contribution [in the recreation and culture grouping] came from data processing equipment, where prices for computer software, PC peripherals and laptops were overall largely unchanged between November and December 2020, but fell between the same two months in 2019.
Food prices fell by 0.4% during December, though, bringing some help to households suffering from the impact of the Covid-19 lockdown.
Inflation is still below the Bank of England's 2% target, but this move could be a signal that prices are going to keep pushing higher in 2021, as the Covid-19 lockdown eases.
We also get eurozone inflation figures later this morning, plus the latest UK house prices and US mortgage figures.
Investors will also be watching Joe Biden be sworn in as America's 46th president, and assessing his chances of 'going big' with a new stimulus package and green energy policies.
Kyle Rodda of IG says:
The conversation in the market has generally remained on US politics and the incoming Biden-administrations fiscal stimulus plans.

Subdued price action in bond markets suggest little new information has come about on either front in recent days. Nevertheless, ahead of President-elect Biden's inauguration this evening, where there remains some concern regarding civil unrest and violent protests, the drama enveloping US politics and the US economy remains the most attention grabbing news.
The agenda
7am GMT: UK inflation report for December
9.30am GMT: UK house price index for November
10am GMT: Eurozone inflation report for December
Noon GMT: US weekly mortgage applications
3pm GMT: Bank of Canada interest rate decision