The 3-2-1 Column: Needed improvements, the OL, hoops and more
In this week's 3-2-1 Column, we're thinking about the biggest thing Pat Narduzzi needs to do, the offensive line, the basketball roster, recruiting and more.
THREE THINGS WE KNOW
The key to improvement
It has been almost a week since Pitt's 52-17 blowout loss at Clemson, and that has given us all time to process that game and, perhaps, put it in perspective.
Here's the big conclusion I came to:
That game, like the 45-3 loss to Notre Dame a month earlier, was a brutal, ugly loss. You can't rationalize your way out of it: Pitt got beat like an FCS team in both of those games, and that says something about where the program is right now in relation to the upper echelon of college football.
But…
Those blowout losses are not the biggest problem facing Pat Narduzzi right now. Nor are they the biggest indictment of where the program is in Year Six of the Narduzzi era.
No, those games are not what's calling into question the direction of Pitt football under Pat Narduzzi. The games that call that direction into question happened earlier this season. And last season. And the year before that.
If you've read these columns or listened to my podcast or interacted with me on the message boards at Panther-Lair.com in the past, you know what I'm going to say.
Boston College. N.C. State. Boston College again. Miami. Stanford. North Carolina.
Those six games are looming really large right now in how I perceive, evaluate and ultimately judge the Narduzzi Era. Six games over three years. All winnable opportunities for Pitt. All blown opportunities for Pitt.
And when the Panthers were UNC's only FBS win in Larry Fedora's swan song season, when they couldn't get past a depleted Stanford squad, when they only scored a dozen against a 6-6 Miami team, when they couldn't keep the offense on the field against a 6-6 Boston College team, when they couldn't score just two more points against N.C. State or Boston College this year, there was more lost than just a game.
What was lost in that sequence of a half-dozen games went beyond the events of those afternoons/evenings, because those games – those losses – were the difference between seasons that were judged as disappointing rather than respectable.
In 2018, Pitt won the Coastal Division, an accomplishment that should be more acknowledged than it is. But the Panthers went 7-7 that year, and while they weren't good enough to beat Penn State or UCF or Notre Dame or Clemson or even Miami, they certainly should have defeated UNC and Stanford.
That's the difference between 7-7 and 9-5.
In 2019, Pitt got back to eight wins but couldn't get past middling Miami and Boston College teams, who both snuck into bowl games with .500 records in the regular season and then lost in those bowl games – Miami fell to Louisiana Tech and Boston College lost to Cincinnati.
Pitt couldn't beat those teams, and that was the difference between 8-5 and 10-3.
This season, Pitt obviously had some tough opponents in Notre Dame and Clemson, and if you want to tell me that the Panthers probably wouldn't have beaten Miami even if they had Kenny Pickett, I'll buy that. That's three difficult games. But N.C. State and Boston College? Those teams are better than we gave them credit for in the preseason, but not so good that Pitt shouldn't have an expectation of victory.
And those games are the difference between 5-5 and 7-3 (with the potential to get to 8-3 if Pitt beats Georgia Tech next week).
Put that all together, and you've got a three-year record of 20-17 that very much should have been 26-11. Add in a win over Georgia Tech, and you'd have 27 wins over three seasons.
How different would things look right now if the last three seasons went 9-5, 10-3 and 8-3 instead of 7-7, 8-5 and 6-5?
It seems like a pretty stark contrast to me – and it seems like the biggest issue that Narduzzi has to figure out: how to beat the teams you're supposed to beat and win the winnable games.
The ultimate goal, of course, is to get to Clemson's level or Notre Dame's level and compete with those teams on a regular basis. But in the meantime, a program like Pitt can achieve a pretty respectable level of success just by winning the winnable games. Look back at that list of six games I mentioned: not one would have been some unbelievable, shock-the-world victory for Pitt. Nobody would have been clamoring for a contract extension for Narduzzi if they had won those games.
But then pull the camera back and look at the bigger picture of what the last three seasons would have been with those six extra wins – unremarkable as they were. Instead, Pitt lost those games and Narduzzi is facing considerable questions about where the program is going.
This is all a very long-winded way of saying something I've said many times before:
Win the games you're supposed to win. That's all. Do that, and you'll be fairly successful at Pitt.
And if you're not doing that, you need to figure it out right quick.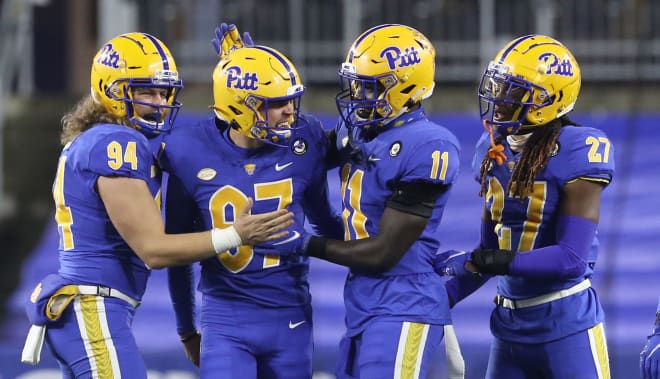 A little less consternation, a little more MAC-tion
After the disaster of Saturday's loss at Clemson, there was some good news to come for the football program in the form of two new commitments.
The first was Gavin Bartholomew, a big tight end from eastern Pa. who committed on Sunday. Then came Kyle Fugedi, an offensive lineman from Michigan who committed on Monday night and announced on Tuesday.
Bartholomew and Fugedi have a few things in common. They're both relatively recent offers, with Fugedi getting his Pitt offer in early November and Bartholomew getting his last week. They both also committed to Pitt after backing off from previous commitments.
Fugedi decommitted from Miami (Oh.) last Friday; Bartholomew flipped directly to Pitt from Buffalo.
That's a pair of MAC commits that the Pitt staff flipped, and – naturally, inevitably, predictably – some Pitt fans had a few thoughts on the fact that the Panthers are flipping kids from the MAC. No, those fans aren't MAC partisans who were aggrieved at a Power Five school poaching a Group of Five conference. Rather, they're Pitt fans who prefer to see the Panthers flipping Power Five commits rather than MAC commits.
"If you target MAC recruits," the thinking goes, "then you'll play at a MAC level." And I can see where that conclusion gets drawn, but I think it's superficial for a few reasons.
First of all, there are good players in the MAC and other non-Power Five conferences. 56 players from the Group of Five conferences were taken in the 2020 NFL Draft, and there are talented MAC players – and former MAC commitments who flipped to Power Five schools – all over the NFL.
Second, Bartholomew and Fugedi aren't the linchpins of the 2021 class for Pitt. I mean, they might end up being the best players in the class – anything is possible – but Bartholomew is the Panthers' second tight end commitment and Fugedi is the sixth offensive lineman. If Bartholomew was the only tight end or Fugedi was one of only two or three offensive linemen, it might be a little more concerning, but as additions to an already strong class, I think they're just fine.
And third, I actually think they're more than just fine. Bartholomew is kind of hidden at Blue Mountain High School – can you find Schuylkill Haven on a map? – and he moved from tight end to quarterback this season, which probably further clouded his recruitment. But he's a big pass-catcher who can run pretty well. And Fugedi has had a fair amount of interest coming in after his strong senior season.
Ultimately, these latest commitments represent two more players in a class of 22 who will add depth at positions that need it. After signing seven high school offensive linemen in the last three classes combined, Pitt now has six o-line commitments in the class of 2021. And we all know about the issues at tight end; I can't imagine anyone taking issue with the Panthers signing a few more at that spot.
So Pitt landed two recruits at positions where numbers were needed, and the coaches flipped those two recruits from other schools after they had strong senior seasons. It seems like a pretty solid haul to me.
A brighter future on the offensive line
The matter of whether or not Pitt's offensive line will improve has more than a few moving parts. It's also really, really important when discussing the future of Pitt football in the big picture and, in the more narrow view, the future of the Pat Narduzzi era of Pitt football.
For the past two years, the Panthers have gotten by with a less-than-effective offensive line. You could probably go back even further than that, but the unit in 2018 was really good at run-blocking; while the lines of last season and this season were better at pass-blocking than they were at run-blocking, they still weren't great at either.
That's been a major concern, and while the failures of Pitt's offense in the last two seasons can't be placed entirely on one unit – lots of people get to own that mess – the offensive line is certainly among the chief culprits.
Whether it's pass protection or establishing the run, Pitt's offensive line has struggled in Mark Whipple's offense. I thought it would get better this season, simply by virtue of experience, since every player projected to start in 2020 logged significant playing time and multiple starts in 2019.
That's got to be worth something, right? Aside from natural, God-given talent, the most important thing for an offensive lineman is experience. And when that experience comes from playing next to the same guys for a season, that's huge.
At least, it's supposed to be. But Pitt's offensive line in 2020 didn't look a whole lot better than it did in 2019, despite having all that experience and cohesion. In some respects, the numbers for the line – based on the numbers from the offense as a whole – are actually worse. Pitt has averaged fewer rushing yards and more sacks allowed per game this season than it did last year.
I didn't see that coming.
But maybe we got a glimpse in the last few weeks of what's to come in the future. With Carter Warren, Jake Kradel and Gabe Houy all sidelined (presumably due to COVID protocols), Pitt had to turn to some reserve linemen and the results were…not terrible.
I mean, last Saturday at Clemson was pretty bad, what with Kenny Pickett getting sacked six times and being under pressure on 42% of his drop-backs, according to Pro Football Focus. But the individual performances were somewhat encouraging.
Like Matt Goncalves. The redshirt freshman stepped in for Warren at left tackle and played every snap in the last two games. PFF recorded him giving up just three pressures and no sacks on 112 pass block snaps against Virginia Tech and Clemson.
I don't know about you, but that seems pretty good to me.
On the other end of the line, Carson Van Lynn took the reps at right tackle, and while he allowed four pressures and a sack against Clemson, he gave up just two pressures in the win over Virginia Tech and matched that with a really strong performance blocking for the run.
Between Goncalves and Van Lynn was redshirt sophomore Blake Zubovic, who lined up at right guard and played 156 snaps in the last two games. He allowed six pressures and no sacks.
It's a small sample size for those three reserves who got their time in the spotlight, but I think it was generally encouraging. Put them together with the returning experienced linemen – Warren, Kradel, Houy and reserve center Owen Drexel – and I see seven players who should be able to form a solid five-man unit in 2021. Pitt will have to figure out the center position with Jimmy Morrissey gone, but Kradel has practiced there in the past and Drexel was solid in his start at Boston College.
Plus, Houy and Goncalves have both played guard, giving the Pitt staff plenty of versatility in how it puts next year's line together.
Look, I expected the 2020 offensive line to be an improvement over 2019 and it wasn't, so I'm not predicting anything about what next season's group will do. But I liked what I saw from the backups – especially Goncalves – and that's a good sign for 2021.
TWO QUESTIONS WE HAVE
How much can Sibande help?
Flipping over to hoops, there's potentially some good news coming for Jeff Capel and his crew.
Sources: The basketball oversight committee expected to recommend that the NCAA allow ALL transfers to get waiver to play this season. This would be proposed to the D-1 Council — which next meets on Dec. 16. There is a chance it could be voted on prior to the 16th.

LONG OVERDUE

— Jeff Goodman (@GoodmanHoops) December 3, 2020
That tweet was from Wednesday night, and it obviously has some ramifications for Pitt since one of the Panthers' more notable offseason acquisitions was Nike Sibande, a guard transfer from Miami (Oh.).
Sibande's story has been told often, so we'll just hit the highlights: Sibande transferred and applied for a waiver to be granted immediate eligibility. Miami (Oh.) didn't support the waiver. The NCAA denied the waiver.
There were formal appeals and public appeals and whatnot, but the long and short of it is that Sibande is not, at the time of this writing, eligible to play. Given that Capel and company seem to have expected that they would have Sibande available this season, the NCAA's decision impacted the makeup of Pitt's roster and left the Panthers with one fewer guard than they were planning for.
That's why Jeff Goodman's tweet is significant for Pitt: if it comes to pass, then the Panthers could get that extra guard they were banking on.
But if that does happen, what does it mean for Pitt this season?
The first thing Sibande would add is depth, and having him available would give Capel options in the backcourt. Right now, Pitt is rolling with Xavier Johnson and Ithiel Horton as the starters and freshmen backing them up. Putting Sibande in that mix adds a crucial influx of experience; it doesn't have to automatically mean that the freshmen – Femi Odukale and William Jeffress – don't play at all, but it could mean that Capel isn't forced to use them as much as he has been in the first two games.
I say that as someone who has gotten more and more enamored with Odukale and Jeffress after their first two games. Both guys look more advanced than I expected; they're still freshmen, but I like what I've seen. I just have to imagine that Capel would prefer to not have to use them the way he has so far.
In terms of on-court attributes, Sibande averaged 15.1 points, 5.1 rebounds and 1.2 assists per game over the course of three seasons at Miami. His strength is mostly in his ability to drive, which is a good skill to have, even if Pitt already has one guard whose strength is in his ability to drive.
What Pitt will continue to need is more of an outside threat. Sibande is a career 33.6% three-point shooter and averaged 1.9 made three's per game over the course of his career at Miami. He's willing to put the shots up – 5.7 three-point attempts per game – but not a lot of them have gone in.
So I'm not sure if Sibande is going to help a lot in that regard. Really, Horton is supposed to provide that element, but his shot hasn't started falling just yet.
Ultimately, though, the simple truth of this team is that the Big Three – Johnson, Justin Champagnie and Au'Diese Toney – are still the key. Everyone else who can contribute, be it Sibande or Horton or Jeffress or Odukale or Aboul Karim Coulibaly – everyone else does so in the context of what Johnson, Champagnie and Toney are doing.
And whatever success Pitt has will come from the play of those three guys.
How much impact would some of the departed players mark?
Johnson, Toney and Champagnie can form a strong nucleus for this year's Pitt team, but one question that has been getting asked more and more in the early part of this season is what benefit these Panthers could gain from having a few former players on the roster.
No, this isn't one of those hypothetical games where you pick any player from the past to add to the roster, because the correct answer to that question – at least from this century – is always Dejuan Blair.
(It always is, no matter how much you try to talk yourself into Brandin Knight or Sam Young. It's always Dejuan Blair.)
We're not playing that game. What we're doing is thinking about some guys who very well could be on Pitt's 2020-21 roster but aren't.
We're thinking about Marcus Carr and Parker Stewart.
Carr is the starting point guard at Minnesota where, after three games this season, he is averaging 29.7 points, 5.3 rebounds and 5 assists per game for the 3-0 Gophers. He's also shooting 54.4% from the floor and 45% from three, and he hit a game-winning three-point shot against Loyola Marymount with 2.7 seconds left on Monday night (oddly enough, that was Minnesota's second consecutive game against LMU).
Stewart was at Tennessee-Martin but entered the transfer portal as a graduate transfer after his father, UT-Martin head coach Anthony Stewart, passed away unexpectedly last month. Stewart had a pretty outstanding 2019-20 season at UT-Martin, playing 36.2 minutes per game and averaging 19.2 points, 4.6 rebounds and 3.8 assists per game while shooting 41.2% from the floor and 34.8% from three on 204 attempts.
According to his bio on the UT-Martin website, he was the only Division I player to average at least 19 points, 4.5 rebounds, 3.5 assists and 2.5 made three-point field goals per game last season. That seems like a highly-specialized subset of NCAA players, but it also seems like a pretty good stat line.
Of course, we're thinking about these two guys because both were at Pitt. They joined the Panthers as members of Kevin Stallings' nine-man recruiting class in 2017, and they were easily the highlights of the group (which also included Jared Wilson-Frame, Terrell Brown, Shamiel Stevenson, Khameron Davis, Samson George, Peace Ilegomah and Kene Chukwuka).
Carr and Stewart played one year at Pitt and then transferred after Stallings was fired, but they've been on the minds of Pitt fans lately because of Carr's hot start to the season and Stewart's transfer plans.
Not to mention the fact that Carr is looking like a top-flight point guard and Stewart is a legit three-point shooter – two things that the Panthers seems like they could use this season.
I don't want to go too far down the road of debating Carr vs. Xavier Johnson. I think Johnson can be really good, but the numbers favored Carr last season and are mostly heading that way this season.
Now, that's all a very small sample size from this season, of course, and I fully expect Johnson to round into form as the season progresses. But the point remains: Carr looks pretty good, and I can't fault Pitt fans for daydreaming about what he could add to this roster. The same goes for Stewart; Pitt has desperately needed an outside shooting threat, and Stewart would be the best shooter on the roster, without question.
The problem is, Jeff Capel was fighting a losing battle in trying to keep those guys at Pitt when he took the job. Carr, Stewart and Ryan Luther had all more or less made up their minds to transfer after Stallings was fired, not necessarily because they disliked Capel but rather because they were pretty turned off by how the dismissal of Stallings was handled.
It's a shame. Carr and Stewart were impressive guys on and off the court – really nice kids who have grown into fine basketball players. Capel knew he could have used them, and we've seen that quite a bit over the last two seasons.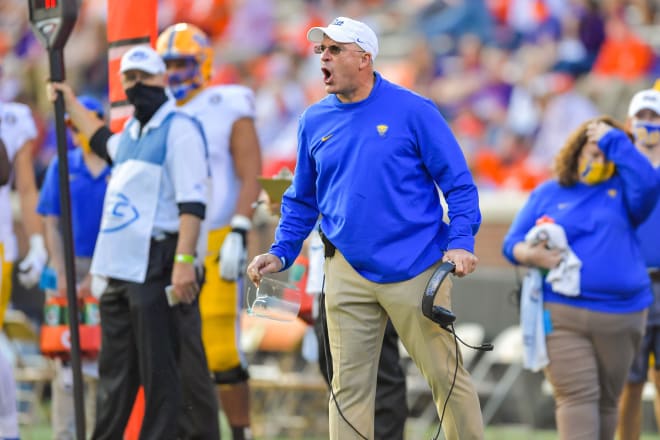 ONE PREDICTION
Signing Day is going to happen
That's my prediction: an event that has been formally scheduled for the last year will still happen. Wild, right?
Look, we're all constantly looking for "normal" right now, aren't we?
Well, something normal is on the horizon: Signing Day. And that seems like a good enough reason to talk about recruiting in the final section of this week's column.
National Letter of Intent Signing Day is scheduled for Wednesday, Dec. 16, and it's at least a little bit of a surprise that it's still on track. There was a time when I thought the December Signing Day might get pushed back to January or canceled altogether for a throwback-to-the-good-old-days February Signing Day. I really thought that was coming when the NCAA extended the recruiting dead period through the end of the year: if recruits couldn't take visits, I thought, how could they sign?
I was sure the NCAA would have to make a corresponding move with the December Signing Day so that recruits could take visits when the dead period ended. Instead, the NCAA extended the dead period beyond February, meaning nobody in the class of 2021 will be able to take an official visit – regardless of whether they sign in December or February.
And that kept the December Signing Day alive.
I think coaches generally like the December Signing Day because they can get their class assembled and take a full review of where they stand heading into the new year.
For Pitt, in December 2020, I think the staff should like where they're at.
The Panthers currently have 22 commitments after Bartholomew and Fugedi got on board this week, and as of this writing, I'm pretty confident about most of that group signing on Dec. 16.
The big question mark is Khalil Anderson. The cornerback prospect from Georgia is one of the best recruits in Pitt's 2021 class, and his strong senior season hasn't gone unnoticed. Ole Miss and Miami offered him last month, and while the big concerns would be if Clemson or Georgia offered – yes, he's that good – those other new offers are worth monitoring.
I don't think Anderson is a lock to flip away from Pitt, but I do believe the coaching staff is going to be working pretty tirelessly to hold onto him between now and the 16th. If I had to place odds, I would say Pitt is the favorite to sign him, but like I said, it will be a battle.
Other than Anderson, though, the big recruits in this class seem to be solid. That includes nine players who plan to enroll in January, which has to be some kind of record.
We'll obviously break down this class quite a bit more over the next two weeks, but as we sit here at the end of this week, things look to be in pretty good shape.