A look at Jermar Jefferson's numbers this season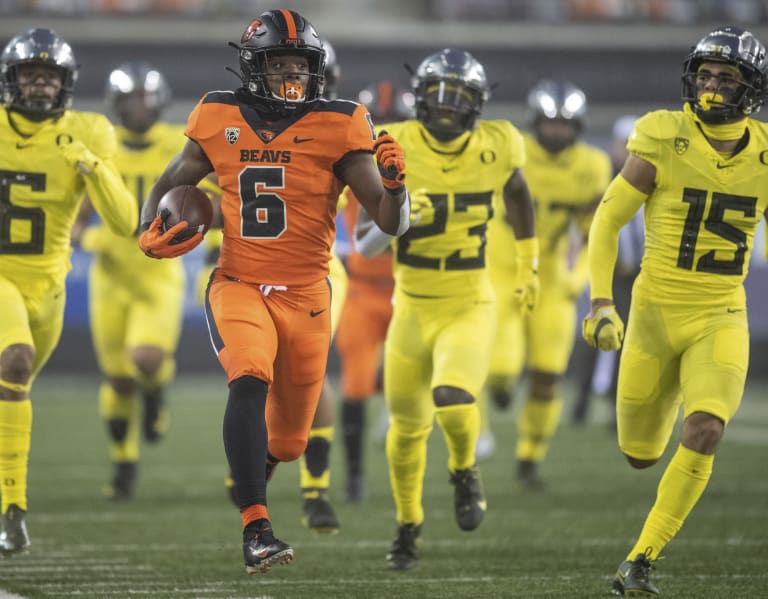 PROMO: Join BeaversEdge.com and get 30 DAYS FREE!
MORE: Tuesday Notebook | 2022 QB Justyn Martin Talks Virtual Visit
Oregon State junior running back Jermar Jefferson is taking the Pac-12 and national college football landscape by storm.
After helping lead the Beavers to a 41-38 victory over Oregon this past week and recording 226 yards and two touchdowns on the ground, Jefferson has been getting a lot more recognition than he's typically used to.
"I really don't feel like I get much of the recognition I deserve," Jefferson said following the win over Oregon. "I just have to keep putting my head down and keep working hard. I've been underrated my entire life and I'm used to it."
The 5-foot-10, 217-pound back has been the Beavers' focal point on offense throughout the first four games of the season, and he certainly hasn't disappointed. With the OSU passing game still a work in progress, the ball has been given to Jefferson and he's running with the opportunity, raising eyebrows around the conference, and nationwide.
Jefferson leads the Pac-12 in total rushing yards (675), touchdowns (seven), yards per game (168.8), and has the longest rush (82 yards) on the season. In terms of his national ranking, he checks in 24th nationally in total rushing yards, 10th in yards per carry (7.4 yards), and is tied for 34th in total touchdowns.
Additionally, Jefferson ranks fifth amongst Pac-12 running backs in terms of total PFF score for the season as he's sporting a 77.7 rushing grade.
"We've got a special running back that makes a difference," head coach Jonathan Smith said after the Oregon win. "He deserves recognition because he's a big-time back. Everybody sees it, and a lot of people say it. He's a guy we value in our locker room not just because of what he brings on Saturday's, but the way he goes about things and how hard he works. He deserves a lot of recognition."