Michigan Debuts For Brown, Dickinson Go Down As A Smashing Success
It was a very successful night for Michigan basketball players making their Wolverine debuts, with senior guard Chaundee Brown, freshman center Hunter Dickinson and fifth-year senior guard Mike Smith highlighting the list.
Brown led the team in scoring with 19 points, Smith checked in third with 16 and Dickinson wrapped up his night with 11 points and eight rebounds.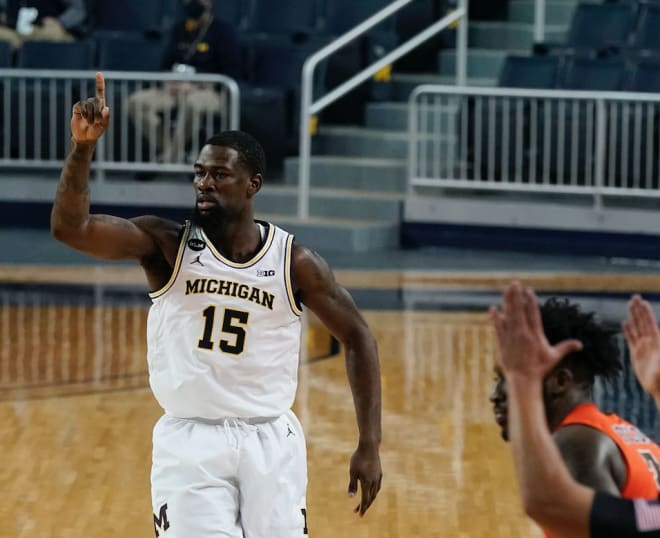 "I was a little nervous because it was my first game as a college player," Dickinson admitted afterward. "That goes away as soon as you get in, and it's just a basketball game with four other guys you've been playing with for months.
"I've played in big games on ESPN before, so having it on TV wasn't a big thing for me. It was so fun finally playing another team; we'd been waiting to play someone else."
"I'm happy I'm here," Brown exclaimed. "I have a great group of guys. As soon as I committed, the coaches and players were just excited to have me. I can't wish for anything more — it's a great academic school and a great basketball school.
"I also get to play for [head coach] Juwan Howard, who is a legend here. The players buy into each other's success and we're learning one another's strengths and weaknesses."
Both Brown and Dickinson actually came off the bench tonight for the Wolverines, a role they hadn't been in in a long, long time. Brown was a three-year starter for the Wake Forest Demon Deacons, while Dickinson was a multi-year starter for DeMatha Catholic in Hyattsville, Md., en route to becoming one of the most sought-after high school centers in the country.
"It's a different role for me," the 6-5 senior guard admitted in the postgame. "Coach Howard told me he needs me off the bench to inspire the group like I have been in practice.
"I started it on the defensive end, making the opponent with the ball in front of me uncomfortable. I come off the bench with energy and intensity, and I feel like I did that today."
"Coach Howard told me he'd start [fifth-year senior forward] Austin [Davis], and that was perfectly fine with me," Dickinson added. "I trust him 100 percent and see eye to eye with him.
"Everything is transparent and I felt comfortable with it. I'm trying to play as well as I can and make the most out of my minutes."
Even though he didn't start, Dickinson played more minutes than Davis (18, compared to 13 for the fifth-year senior). One of the aspects that stood out most in the 7-1 center's game was his passing abilities, with the freshman making several impressive passes out of the post to find the open man.
"My passing abilities have always been pretty good," Dickinson admitted. "It's something Coach Howard told me in his recruiting pitch — to not only score, but also to pass.
"We've really worked on it — making reads, especially in the press. We did a good job preparing for Bowling Green's press, and that helped me find my offensive players out there."
Dickinson wasn't the only newcomer who put a surprising aspect of his game on display (passing), with Brown doing the same as well. He was known as a slasher and a player who could get to the rim upon transferring in from Wake Forest, and not necessarily as a shooter.
The Orlando native instead connected on five of his seven three-pointers, all of which came in the second half and helped kick the Michigan blowout into gear.
"I stayed in the gym all summer worked on my shot," he recalled. "I knew I had to be able to shoot the ball way better than last year in the offense we run here at Michigan. My injuries [from last season] are out of the way, so all I could do was get in the gym.
"I've been working on my shot all the time and it showed tonight. The coaches here knew I had a good form and a good shot, and it was about moving to the open spot when people drive.
"I have to shoot the ball with confidence."
The Maize and Blue will likely be in outstanding shape this season if Brown can connect on even a respectable amount of his threes (he only hit 32.2 percent last year), in what would be an unexpected attribute to his game.
Even if he doesn't though, the leadership qualities and veteran presences both he and Smith have brought to the team as newcomers has been/will continue to be invaluable.
"They're both amazing," Dickinson gushed of the two new Wolverine guards. "They've seen it all and have been in so many battles before. Nothing phases them. Us freshmen look up to them for guidance and leadership.
"I can learn a lot from them and try to ask them a ton of questions."