Coronavirus live news: China has given 1m people Sinopharm vaccine; US CDC warns against Thanksgiving travel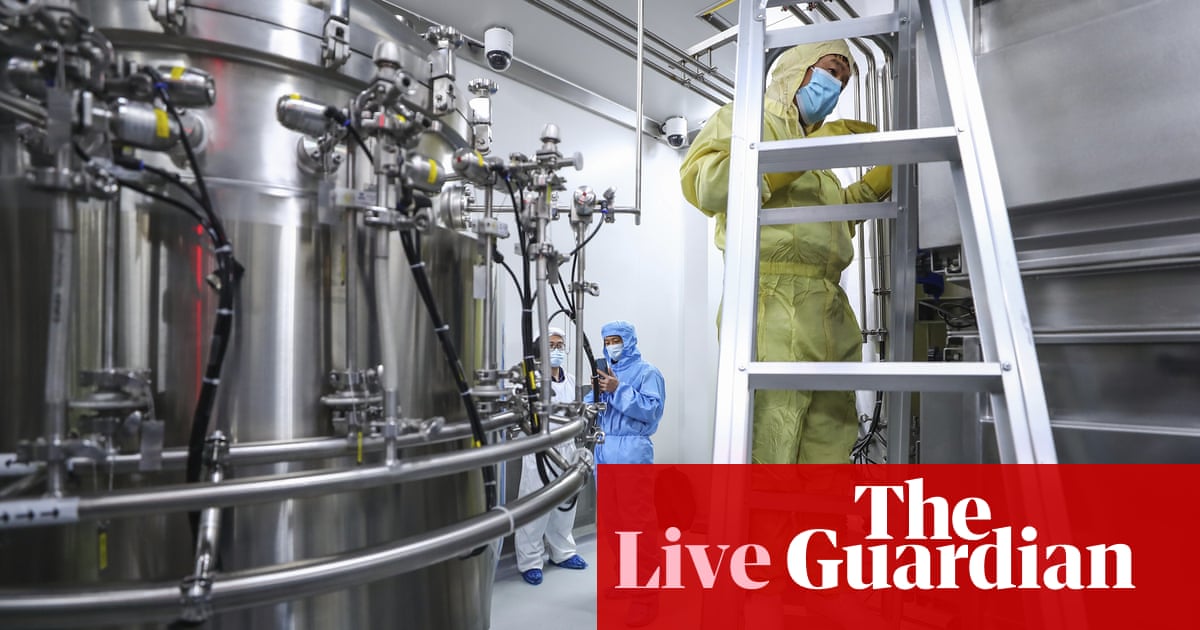 Chinese President Xi Jinping is calling for closer international cooperation on making a vaccine for the coronavirus available, as his government announces that the vaccine developed by state-owned pharmaceutical company SinoPharm has been administered to 1m people.
Xi spoke Thursday in an address delivered via video at an event at the Asia-Pacific Economic Cooperation forum.
Xi said: "To beat the virus and promote the global recovery, the international community must close ranks and jointly respond to the crisis and meet the tests."
He said cooperation would include closer coordination on policies for development and distribution of a vaccine.
Chinese companies Sinovac and Sinopharm are in the late stages of testing vaccines, putting them among nearly a dozen companies at or near that level of development. That has introduced both commercial and political competition among countries and companies to be the first to offer a solution to the pandemic.
"To justify its authorisation of an unproven vaccine, Beijing said the products' use had been restricted to high-risk individuals, though that included not only obvious groups like frontline health professionals, but also school, supermarket and public transport workers."
The South China Morning Post reports that SinoPharm's CEO has said there have been "no adverse effects" in any of those who have received the treatment. The paper reports:
Besides the recipients of the Sinopharm jabs, authorities in Zhejiang said they had made a Covid-19 vaccine developed by the privately owned pharmaceutical company Sinovac Biotec available to high-risk groups in the east China province under the emergency use scheme.

Exactly how many citizens have received the jabs is unknown, but local and foreign media reports showed images of people lining up outside disease control and prevention centres to receive them.

…

To justify its authorisation of an unproven vaccine, Beijing said the products' use had been restricted to high-risk individuals, though that included not only obvious groups like frontline health professionals, but also school, supermarket and public transport workers.
Hello and welcome to our rolling coverage of the coronavirus pandemic.
My name is Helen Sullivan and I'll be bringing you the latest from around the world. I am on Twitter here if you need me.
The South China Morning Post reports that China has administered an experimental vaccine developed by state-owned company Sinopharm to 1 million people under the government's emergency-use scheme. We'll have more on this shortly.
Meanwhile authorities at the US Centres for Disease Control have told Americans not to travel next week for Thanksgiving celebrations, and not to spend the holiday with people who aren't in their household.
Here are the key developments from the last few hours:
Northern Ireland faces two weeks of tougher lockdown restrictions from the end of next week, as non-essential retail will also close. Health minister Robin Swann had warned colleagues that a delayed lockdown risked seeing the country's health services overwhelmed
Spain has announced 16,233 new cases and 252 more deaths from the virus. It takes Spain's death toll to 42,291 since the start of the pandemic.
France's health minister, Olivier Veran, has admitted that the mental health of the French was deteriorating during the second lockdown. The admission came as the French death toll from coronavirus increased by 429 to 47,127 people.
Italy's prime minister, Giuseppe Conte, warned Italians they would have to shun "hugs and kisses" at Christmas. The health ministry recorded 653 further coronavirus fatalities, taking Italy's death toll from the virus to 47,870.
The US government will extend a ban on non-essential travel at land borders with Canada and Mexico until 21 December. The rules were first introduced in March to stop the virus' spread, and will be in place for another 20 days. They were due to expire on Saturday.
A new mutated strain of coronavirus from mink farms in Denmark is "most likely" extinct, the health ministry said, following a cull of the animals. But the authorities in Sweden are investigating number of cases of Covid-19 among people who work in its mink industry.
The latest post Brexit trade talks between the UK and EU have been paused at a crucial stage after one of the EU team tested positive for Covid. The health of Brexit negotiators is the top priority, Britain's chief negotiator David Frost, said after his EU counterpart, Michel Barnier announced the suspension of the talks.
Ireland's department of health has recommended a cull of mink to stop the risk of the mink mutation spreading to Ireland. Ireland also announced that its R rate has increase from 0.6 to 0.7 to 0.9.
Hungary's plans to import and possibly use Russia's Sputnik V vaccine raise safety concerns and could damage trust in potential shots, the European Commission has warned. Meanwhile, trials of the Sputnik V vaccine have resumed after a temporary suspension in Russia.
Iran's death toll from the new coronavirus outbreak has risen to 43,418, with 476 deaths in the past 24 hours. Ahmed al-Mandhari, director of WHO's eastern Mediterranean region, expressed concern that countries in the Middle East are lowering their guard after tough lockdowns imposed earlier this year.
Poland reported a new daily high of 637 coronavirus-related deaths. There were 23,975 new cases reported on Thursday, the health ministry said.
Japan is on "maximum alert" after logging a record number of daily coronavirus infections, its prime minister has said. The comments came as Tokyo raised its alert level to the top of its four-tier system, with local media saying the capital would report a record number of infections for a second day running.
Russia has surpassed 2m coronavirus cases after reporting a record 23,610 infections and 463 deaths related to Covid-19.
The total number of coronavirus infections on the continent of Africa also surpassed 2m.