Novak Djokovic v Daniil Medvedev: ATP Tour Finals – live!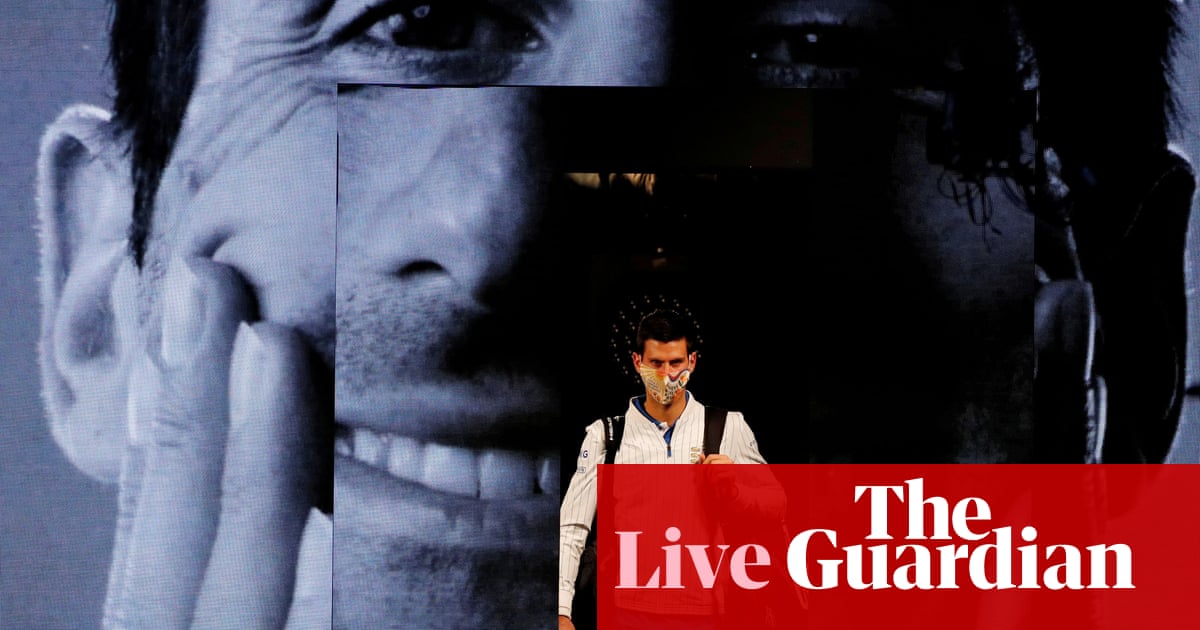 Novak Djokovic *2-2 Daniil Medvedev
After Djokovic's first deuce game, Medvedev comes through a 7 minute hold of his own, taking it on his 6th game point. Each time he moved to within a point of holding serve, Djokovic landed an absurd return or crushed an easy forehand down-the-line.
Finally, Medvedev found an unreturned serve at deuce to bring up game point No 6, closing it off with a great forehand winner from a Djokovic drop shot. This is tough.
Novak Djokovic 2-1* Daniil Medvedev
Djokovic overcomes the first challenge of the day, surviving a 15-40 deficit to hold. Djokovic fell down 15-40 after Medvedev swept up a poor drop shot at 15-15 and then Djokovic sprayed a forehand well long. Djokovic saved both break points with authority, winning the second after an absurd 30 shot rally. Two forehand errors from Medvedev followed, allowing Djokovic to skip to his seat having won the first mini-battle.
Novak Djokovic *1-1 Daniil Medvedev
No problems for Medvedev in his opening service game. He slammed down two unreturned serves and a quick serve-forehand combo en-route to a quick hold to 15.
Novak Djokovic 1-0* Daniil Medvedev
Djokovic eases through his opening service game with a hold to 30 behind some solid serving. After reaching 40-15, he just dropped a loose backhand into the net. He responded with an easy ace down the T.
The players have arrived on-court. Novak Djokovic will serve first.
Q. One thing I was impressed with today was your defense. Would you say you won more points by playing great defense today and that might help you against Novak in your next match?
DANIIL MEDVEDEV: Yeah, I'm looking forward to match with Novak, because I think in these conditions we have here we can have a lot of long rallies. We are both going to run well. I like to play against Novak. We have tough matches, you know, I think. Looking forward to it.
Yet, as I say, no, it's very strange because when we are practicing on center court, I was practicing with Dominic, with Rublev, it felt really fast and the serve was going fast, so there were not so many rallies.
And today I felt like even the many, many of my good shots or his good shots they were like so easy to reach. That's why I was good in defense. I was all over the court just because I had the opportunity. Felt really slow the conditions today, so, yeah, that's why I could be good in defense and that helped me of course to win the match.
Q. Can you elaborate please on the strangeness of having no crowd here at the O2? And why did you celebrate to the empty stands like you normally did? I thought you might skip that because there are no fans here.
NOVAK DJOKOVIC: Well, it was very strange, to say the least. I mean, it felt like a practice session, in a way.
But of course chair umpire calling the score, you already feel you're part of the official match. My mindset hasn't changed much in terms of my approach to the match and what I need to do and how I focus.
But I do miss the crowd. I think that's one of the most important aspects of professional tennis of why we play this game and why we travel so much.
You know, hopefully this is only temporary. It's unfortunate that there is no crowd in the O2 Arena for the last year of the ATP Finals here. This has been one of the most exciting arenas to play for a tennis player. The atmosphere was always electric, and the crowd was always loud and really into matches.
It's unfortunate. I really miss them, of course probably as anybody else.
Why I celebrated? Because that's my celebration. I mean, that's my also gratitude to the court and to this opportunity to be able to compete. You know, even though it might sound like a phrase, but I try to remind myself that don't take things for granted, and that's kind of one of the routines that reminds me of the things that I have to be aware of.
So even though there was no crowd in stands, I know there was a lot of people watching it on TV, so that was me sharing that emotion with them.
Head to head:
Novak Djokovic leads Daniil Medvedev 4-2.
Since 2019 the pair are tied at 2-2
Medvedev has won two of their last three meetings.
This match-up is always interesting, particularly because it provided one of the early clear glimpses of what Daniil Medvedev is all about. Ranked 19th, he faced Novak Djokovic in the fourth round of Roland Garros and he decided he was just going to see if he could irritate Djokovic for as long as possible.
What followed was a long, exhausting four set match filled with absurd, endless rallies as Djokovic looked tired by set two. He went on to win it in four sets and would win the title, but it was a clear message from the Russian. He won the next two times they faced each other.
Hello! Welcome to day 4 of our coverage at the ATP finals, where we have a big match between Novak Djokovic and Daniil Medvedev on the agenda today as both players look to finish top of their groups. The two men arrive in their second match of the tournament in top form with Djokovic eviscerating Diego Schwartzman on Monday before Medvedev brushed aside Alexander Zverev with ease.
For Medvedev, the past few weeks have been a long time coming. After a wildly impressive breakthrough year in 2019, Medvedev had fallen into a bit of a sophomore slump this year, his run to the US Open semi-final previously the only result that really lived up to the standard he set in 2020. 10 days ago in Paris, things slipped into place as he won his third Masters 1000 title, establishing a 6 match winning streak.
If there was any doubt about Djokovic's form after he t̶a̶n̶k̶e̶d̶ lost 6-2 6-1 to Lorenzo Sonego, he scuppered them with his dominance over Schwartzman on Monday. This is a strange year and a couple of his results reflect that, but he clearly remains the best player in the world by a considerable distance on a week to week basis. We'll see if Medvedev can match him for one day.