UK coronavirus: Boris Johnson to give press conference on a new lockdown in England – live news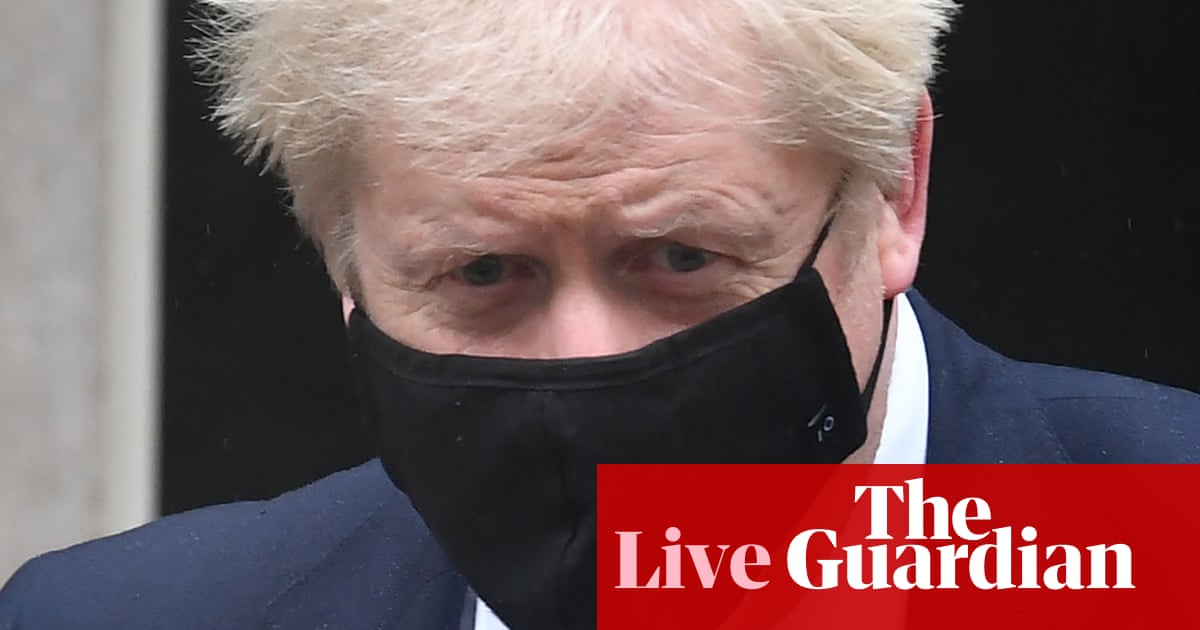 Universities must move all non-essential teaching online if England goes into another national lockdown, a union has said.
The University and College Union (UCU) said it would be "incomprehensible" if teaching continued in person if England faces tighter restrictions from next week as expected.
Figures put together by the union suggest that there have been more than 35,000 cases on campuses since term started last month.
UCU general secretary Jo Grady said:
The health and safety of the country is being put at risk because of this government's insistence that universities must continue with in-person teaching.

It would be incomprehensible if universities were allowed to continue to do this after the outbreaks we have seen on campuses across the country this term.

Ministers must tell universities to move all non-essential in-person teaching online as part of any national lockdown.
The union has been campaigning for a total shift online for some time, and previously launched a petition demanding that the switch was made "where possible".
It is thought that educational settings will be told that they can remain open if another lockdown is announced.
Local and regional and authorities across the UK are sending out different messages over Halloween celebrations tonight.
In some places, notably Scotland and tier 3 areas on England, trick or treating is being actively discouraged.
In other areas parents and children are being urged to respect their neighbours and be aware they have Covid.
Prof Sir Simon Wessely, the director of King's College London's health protection research unit in emergency preparedness and response, says there is no right time for a lockdown.
He said:
Great harm results from not locking down, and great harm results from locking down. Either option is a dreadful one, and we should refrain from saying 'I told you so', and accept that lockdown is a political, and not solely a medical, decision.

The costs of a full lockdown are by now predictable – a further deterioration in mental health, greater and more long-lasting damage to people's livelihoods and future prospects, especially if they are young, and further damage for those with other illnesses, both mental and physical.

Nor does it seem that our close neighbours have a magic formula that has somehow eluded us. All we can do now is support each other, which might include those who find it harder to comply with new restrictions at all times, and trust that, come the spring, there is more hope from either vaccines, an effective track-and-trace system, or sufficient (even if temporary) immunity, because otherwise this whole ghastly saga will repeat itself once more.
PA Media has a useful preview of today's press conference:
Boris Johnson will host a press conference with his chief medical and scientific advisers on Saturday afternoon, amid speculation he will impose a national lockdown in England next week.
The prime minister is expected to be joined by Prof Chris Whitty and Sir Patrick Vallance in Downing Street at 5pm, following a meeting of his Cabinet earlier in the afternoon.
Johnson has so far resisted pressure to introduce nationwide restrictions, opting instead for a localised tier system, but he is reportedly considering closing everything except essential shops and education settings for a month from Wednesday.
The policy shift comes after new data showed the extent of cases across England. The Office for National Statistics estimated that 568,100 people in households were infected with coronavirus in the week ending 23 October.
Members of Sage have backed the introduction of more stringent measures.
The Sage member Prof Calum Semple told BBC Radio 4's Today programme: "For the naysayers that don't believe in a second wave, there is a second wave.
"And, unlike the first wave, where we had a national lockdown which protected huge swathes of society, this outbreak is now running riot across all age groups."
Prof John Edmunds said the only way to have a "relatively safe" Christmas was to take "stringent" action now to bring the incidence of the virus "right down".
It comes after a senior government scientific adviser said it was "definitely too late to think that the two-week circuit breaker on its own will sort this out".
"It would bring it down a bit but it wouldn't be enough to bring (the R value) right down. A two-week circuit breaker would have an effect but now almost certainly it would need to go on for longer to have a significant effect."
They said the R value needs to be brought below one in many places to "get it down to levels that don't run the risk of breaching health service capacity", while in other regions the growth needs to flatten for that to happen.
The "longer you leave it", they warned, "the more difficult it is to turn this around".
The proposed restrictions have led to fresh calls for more financial help for affected businesses, on the day the furlough scheme closes and is replaced by the chancellor's job support scheme (JSS).
Kate Nicholls, the chief executive of UK Hospitality, said a national lockdown would be "absolutely devastating" for the industry and called for the sector to receive "significant additional help in order to get through this".
France and Germany announced national lockdown restrictions earlier this week, while in Northern Ireland pubs and restaurants were closed for four weeks starting on 16 October, with the exception of takeaways and deliveries. Schools were closed for two weeks.
Wales is currently under a "firebreak" lockdown, with leisure, hospitality and tourism businesses closed, and in Scotland the majority of people will be under level 3 of a new five-level system from Monday.
The Trades Union Congress has called on Johnson to extend 80% furlough wages which are due to end today.
The timing of the press conference has been put back until 5pm, lobby journalists have been told.
Welcome to a special Saturday edition of our UK coronavirus live blog as new lockdown measures are expected to be announced.
Boris Johnson is due to hold a press conference at 4pm, amid warnings that infections are "running riot".
An announcement had reportedly been scheduled for Monday, but has been brought forward to today. Johnson appears to have bowed to pressure from his scientific advisers, after they warned him that local measures were no longer enough and that the virus could kill 85,000 people this winter.
Here's what a new English lockdown could entail:
Scotland's first minister, Nicola Sturgeon, has already urged Scots not to travel to England.
Writing on Twitter she said: "People should not travel to or from level 3 areas in Scotland and for now, we are asking people not to travel to or from England at all, except for essential purposes."
The Welsh first minister, Mark Drakeford, has his cabinet will meet on Sunday to "discuss any potential border issues for Wales in light of any announcement by No 10". He also confirmed the firebreak lockdown in Wales would end on 9 November as planned.
Members of the Scientific Advisory Group for Emergencies (Sage), have welcomed the apparent U-turn by Johnson.
Sir Jeremy Farrar, the director of the Wellcome Trust, said new measures should be introduced as soon as possible.
He said:
This isn't a decision any government would want to make. No one envies the job ministers have right now. The evidence is stark but this is still a very tough call and the government deserves credit for changing its approach in the light of a very fast-moving epidemic.
But some backbench Tories are anxious about the plan. Jon Redwood has called for a vote in the Commons.
Labour says Johnson should have acted sooner, when Sage and Labour called for a two-week "circuit breaker" over half term.