Double-dip recession fears weigh on markets – business live
Anxiety over the Covid-19 pandemic weighed on some Asia-Pacific markets today.
Australia's S&P/ASX 200 index slumped by 1.7%, while South Korea's Kospi 200 fell 0.5% and the Hong Kong Hang Seng lost 0.6%.
Fiona Cincotta of Gain Capital said:
Investors are unnerved by the surging number of covid cases which are dampening the economic recovery outlook. News on Monday that talks over a coronavirus relief package have slowed could keep the lid on gains, although House Speaker Nancy Pelosi remains upbeat that an agreement can still be made before the US elections.

Given that talks have been deadlocked for months and that the elections are less than a week away this seems a rather ambitious expectation.
Berenberg Bank has predicted that Europe's economy could shrink again in the current quarter if tighter measure are imposed to combat the pandemic.
In a new report, they warn that the situation has worsened considerably since late August. Economic stagnation in October-December already looks likely – with near-term risks "ever more tilted to the downside" in the coming weeks.
As the days are getting shorter and colder, the Eurozone and the UK are reporting record numbers of confirmed SARS-CoV-2 infections and a much slower but still serious rise in medical complications and deaths.

In response to renewed restrictions and rising nervousness, forward looking surveys and some concurrent indicators of economic activity have started to come down, ending the rebound that had commenced in May…..

If virus trends do not start to stabilise in early November, the Eurozone economy will likely contract in Q4. If so, however, we would expect the setback to be largely offset by a stronger rebound in 2021.

Ongoing medical progress, the impact of restrictions and – at the latest – the advent of spring should then cause the second wave of infections to subside.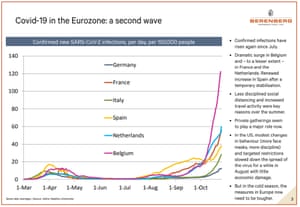 Here are the key points:
For the second time, Europe has turned into an epicentre of the Covid-19 pandemic. The partial curfews and other restrictions to contain the spread of the virus are casting a dark shadow over the near-term outlook.
In response to the second wave of infections, we have already lowered our call for Eurozone growth in Q4 from 2.8% qoq in August to just 0.5% now. In its impact on annual GDP in 2020 and 2021, this downgrade has been offset by upgrades to Q3 2020 and to our calls for early next year.
If the restrictions that have been imposed in recent weeks do not suffice to slow down the spread of the virus by early November, further waves of harsher restrictions would probably cause a temporary contraction in Eurozone GDP in Q4.
A more pronounced setback in late 2020 would likely be followed by a stronger rebound in 2021 once the second wave subsides, helped by ongoing medical progress, the impact of restrictions and – at the latest – the advent of spring. This underpins our cautiously positive view on risk markets and the euro for 2021.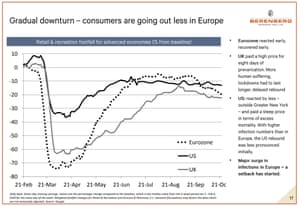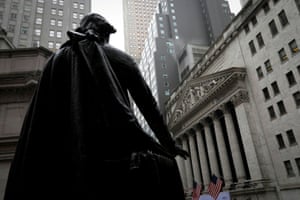 Good morning, and welcome to our rolling coverage of the world economy, the financial markets, the eurozone and business.
The markets are notably edgy this morning after Wall Street racked up its worst day in over a month.
The Dow fell 2.3%, or 650 points, yesterday – its biggest one-day decline since early September – amid growing concerns that the Covid-19 pandemic could drag the global economy down again.
Investors ditched stocks and scampered for the safety of government bonds after the United States reported a record daily total of cases on Friday (at 84,244), and then nearly surpassed it on Saturday.
With the US presidential election just a week away, no agreement on a stimulus page, and Covid-19 cases rising alarmingly fast in Europe, investors have a lot to worry out.
The tighter Covid-19 restrictions imposed across Europe is now hitting visits to cafés, restaurants, retail and other hospitality and leisure venues, raising concerns that the recovery runs out of steam.
Jeffrey Halley, senior market analyst at OANDA, explains:
The surge in Covid-19 cases around the world, notably Europe, has also sapped confidence, increasing fears of a "double-dip" scenario….
America's recovery could also falter, Halley adds:
Exploding Covid-19 infections across the country could yet dent the American fourth-quarter comeback. Looked at in conjunction with Europe's situation, there are severe threats to the consumption side of the global recovery.

For all the talk about China, it is essential to remember when America gets Covid-19, the rest of the world gets sent to the isolation facility.
After chunky falls yesterday, European markets are expected to open a little higher.
But today's docket of economic data could change things – with Spanish unemployment figures this morning, and US durable goods, house-price data and consumer confidence later.
It won't take much to unnerve the markets, as Stephen Innes, chief global markets strategist at Axi, explains:
It's risk-off because Covid cases are rising and with curfews across Europe meaning economic dangers now lurk in the dark.

So, with the governments worldwide under pressure to tighten social mobility restrictions after a pick-up in new daily covid-19 cases, an effective vaccine candidate and even a partial stimulus bill and then topped up post-election cannot come quickly enough.
The agenda
8am GMT: Spanish unemployment for Q3 2020: expected to rise to 15.9%, from 15.3%
11am GMT: CBI distributive trades survey of UK retail sales
12.30pm GMT: US durable goods orders for September: expected to rise by 0.5%, from 0.4%
1pm GMT: S&P/Case-Shiller index of US house prices for August
2pm GMT: US consumer confidence figures for Ocober: expected to rise to 102, from 101.8