UK coronavirus live: Johnson promises no child will go hungry as he faces free school meals backlash
Wales' health minister Vaughan Gething has said supermarkets have discretion to sell non-essential items to customers "in genuine need" during the firebreak lockdown.
Welsh government ministers were meeting retailers on Monday afternoon to review the regulations and guidance and ensure "that it is being applied fairly and consistently", he said.
If there are anomalies, we will look at whether the guidance needs to be revised or strengthened to make it clear that supermarkets have some discretion to sell to people who are in genuine need.
Gething said public health advice about the effectiveness of the firebreak would have to be "revisited" if non-essential retail was opened.
If we want to unravel that now we'll be in a very different place, a less effective measure, and that's not what this government is going to do.
It comes amid confusion and controversy over the ban on supermarkets selling certain items. Earlier today, Tesco had to apologise after a customer in one of its Welsh stores was told that period products were not essential items.
About 60,000 people have signed a petition to the Welsh parliament calling for the ban to be reversed immediately, and the policy is now under review.
Nicola Sturgeon has said she has "no plans" to reduce the two-week self-isolation period in Scotland.
The first minister was asked about reports that the UK government was considering reducing the length of time people with coronavirus symptoms or close contacts of people who test positive should isolate.
We have no plans at the moment to reduce the period of self-isolation. We keep all of this under review; we don't want people to live under the most severe restrictions for longer than is absolutely necessary.
Scotland's national clinical director, Jason Leitch, said he was not aware of any scientific advice in any part of the UK that would support a reduction from the current 14-day period, or 10 days from the date a person's symptoms end.
We have no plans with the present clinical advice to change that in any way. As far as I know, there is no clinical advice in the other three UK countries.

There's no present plan, but we keep it under constant review globally and locally and if we think the incubation period has changed or we think the risk has changed in some way, then we will of course advise appropriately. But for now, I'm afraid it's still a 14-day self-isolation.
Andrew RT Davies, the Conservative shadow Welsh health minister, said the ban on supermarkets in Wales selling non-essential items during the country's firebreak lockdown "must be dropped today".
Davies said the "chaos and confusion" of a woman incorrectly being told she could not buy sanitary products at a supermarket was a direct result of the ban.
This ludicrous policy has caused real anger and it's not fair on staff working in our supermarkets and the general Welsh public who are now at their wits' end with Labour ministers.

The Welsh Labour government has rushed out a policy that was not even understood by the country's largest supermarket and that's the fault of the first minister and his colleagues.
Wales's health minister, Vaughan Gething, has said he was "saddened" to hear of an incident in which a woman was incorrectly told she could not buy sanitary products at a Tesco store due to the firebreak lockdown (see 11.23am.).
Tesco has apologised over the error and said an aisle selling sanitary items at one of its stores was temporarily closed due to a break-in.
Gething told a press conference in Cardiff:
I was very saddened to see this particular exchange on social media this morning from a supermarket telling a woman she could not buy period products. This is simply wrong.

It's an incorrect reading of the regulations and the guidance. I am very sorry that this woman was given this information.

Supermarkets are open and trading as are many other shops and are able to sell the wide range of everyday items that we all need.

But there are some other items that won't be on sale for the next two weeks. These are items that other high street shops, which are currently closed, can't sell at the moment.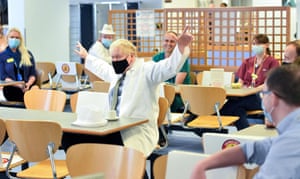 Speaking at her daily press briefing, Nicola Sturgeon has said details of what lockdown level will apply to different parts of Scotland will be announced ahead of a coronavirus debate in the Scottish parliament on Tuesday.
The first minister announced last week that a new five-level approach would be introduced across the country from 2 November and the level will depend on the spread of Covid-19 in local authority areas.
She explained that areas in the central belt which are currently subject to stricter local restrictions are likely to be classified as level three, while other areas may be equivalent to level two.
Sturgeon said a "sustained" fall of virus transmission will be needed for an area to move down tiers.
The best way of moving to a lower level of restrictions and of living more freely is to have a lower level of transmission of the virus. The best way we have of driving transmission lower and keeping it low is for all of us to stick to the rules that are in place at any given time. And that, of course, is a collective responsibility for all of us.
Boris Johnson insisted that no children would go hungry due to "inattention" by his government as he faced a backlash over the refusal to provide free school meals in England over half-term.
The prime minister hinted at extra support, promising to do "everything in our power" to tackle holiday hunger over the winter and the upcoming Christmas break.
Dozens of organisations, including Conservative-led councils, have stepped in to help, but Johnson insisted government support to local authorities and charities had helped.
A petition from footballer Marcus Rashford has attracted almost 900,000 signatures, piling pressure on the government to act.
Johnson praised Rashford's work as "terrific" but confirmed he had not spoken to him since June. Speaking during a visit to a hospital in Reading, Johnson said:
We don't want to see children going hungry this winter, this Christmas, certainly not as a result of any inattention by this government – and you are not going to see that.
He added that councils had been given extra cash and universal credit had increased.
We will do everything in our power to make sure that no kid, no child goes hungry this winter during the holidays, that's obviously something we care about very much.

We support the local councils – indeed we fund the local councils and many of the organisations that are helping in this period – but we are also uplifting Universal Credit by £1,000 and we think that is one of the best ways you can help families in this tough time.

I totally understand the issue of holiday hunger, it is there, we have to deal with it. The debate is how do you deal with it. We are very proud of the support we have given, I have said repeatedly throughout this crisis that the government will support families and businesses, jobs and livelihoods, across the country. We're going to continue to do that.
Hundreds of thousands more people are expected to be placed under the toughest coronavirus restrictions this week as ministers opened up on how areas could exit their lockdown measures.
Parts of Nottinghamshire look set to be the next to enter the highest tier 3 alert level in England after discussions carried on through the weekend. Local politicians have indicated that they expect the new measures could come into force as early as Wednesday.
The council in Warrington in Cheshire has already said it will be joining tier 3 on Thursday, with Downing Street saying discussions are still "ongoing".
It comes as the health and social care secretary Matt Hancock said areas would have to prove that their infection rate was "coming down", especially among those aged 60 or over, before they could be removed from the strictest measures.
He has also refused to rule out bringing in a tougher set of tier 4 impositions following reports another level is being considered to tackle England's rise in infections.
Over the weekend, South Yorkshire became the latest region to come under the highest tier of controls following Liverpool city region, Greater Manchester and Lancashire.
Asked about the criteria for an area to exit tier 3, Hancock told BBC Radio 4's Today programme:
The first thing that's most important is that the case rate has to be coming down, and in particular we look at the number of cases amongst the over-60s because that's the number that is likely to translate into hospital admissions and sadly into deaths.
This is from my colleague Aaman Mohdin, who is at Hillingdon foodbank in the prime minister's constituency, which reported a record number of donations over the weekend following Marcus Rashford's campaign on free school meals.
The Welsh government has tweeted a clarification on its firebreak guidance on the sale of non-essential items in supermarkets after a Tesco store had to apologise for barring the sale of period products.
On Sunday, the first minister Mark Drakeford said supermarkets have "discretion" over the ban on selling non-essential items during the nation's firebreak lockdown. But customers seeking period products in St Mellons, Cardiff, said they found the pharmaceuticals area of their local Tesco blocked off.
In a now-deleted tweet, a response from the Tesco Twitter account mistakenly suggested to another customer, who claimed they were told they couldn't buy the items at a store, that this was in line with the guidelines. It read:
We understand how frustrating these changes will be for our Welsh customers. However, we have been told by the Welsh government not to sell these items for the duration of the firebreak lockdown.
As the tweet garnered attention, the health minister Vaughan Gething and the Welsh government both acted to correct Tesco, stating that this was not and had never been the case. It clarified that hygiene products are essential and that supermarkets can still sell items that can be sold in pharmacies.
Tesco has now apologised, adding that the issue was localised to one store and is being urgently rectified. A spokesperson said:
Of course sanitary products are essential items and are available to customers in all of our stores including those in Wales. The reply to this customer was sent by mistake and we're very sorry for any confusion caused.
The Welsh government is due to discuss the ban with supermarkets today, after it was heavily criticised over the weekend, in a bid to ensure greater clarity in how the rules are applied.
The new restrictions, which began at 6pm on Friday and will end on 9 November, halted the sale of items including clothing, toys, books and electronics in supermarkets, to limit the amount of time individuals spend in-store, which has created confusion for retailers over what can and can't be sold.
I'm grateful to my colleague Elena Morresi for flagging this.