Joe Biden criticises Donald Trump for renewed Fauci attack over Covid – US politics live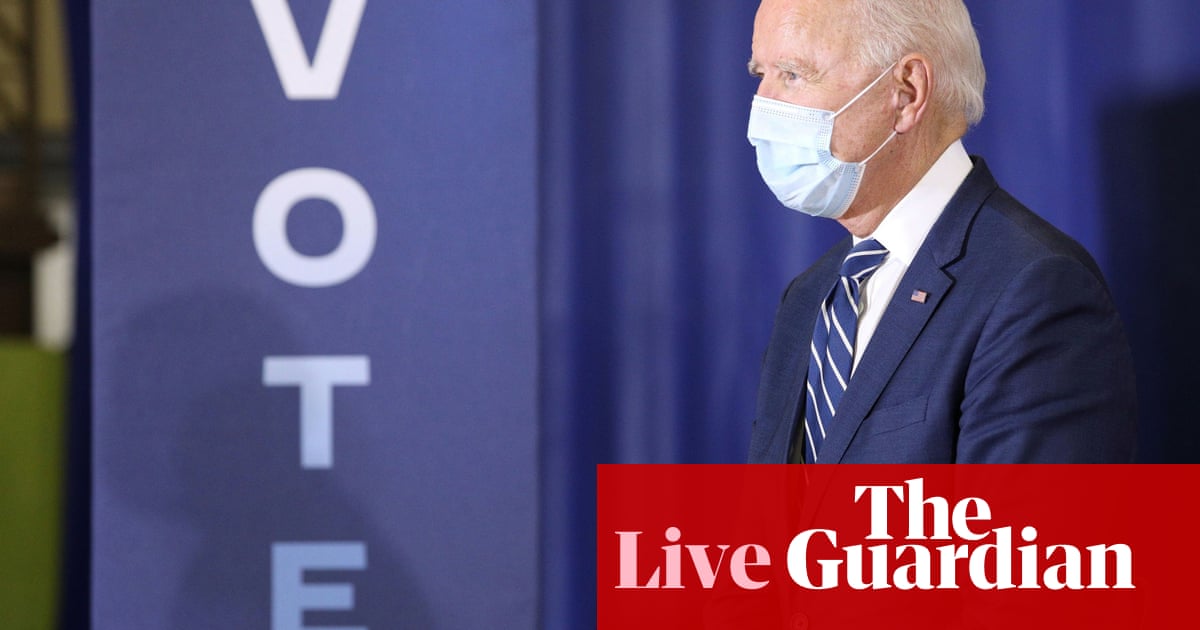 If you fancy getting your ears around something this morning, Lauren Gambino, our political correspondent, is on our award-winning Today in Focus podcast discussing which states Biden will need to win to take the White House, and what Trump will need to do to retain the presidency
California's Gov. Gavin Newsom has been criticised by Republicans for politicising the issue of coronavirus vaccines after he announced yesterday that California won't allow any distribution of coronavirus vaccines until they are reviewed by the state's own panel of experts.
"Politicizing the efficacy of a vaccine is shameful," Republican Sen. Melissa Melendez tweeted.
Newsom is "suggesting we can't trust the FDA (but) of course, we'll continue trusting the FDA for every other drug whose distribution doesn't threaten his hold on power," tweeted Assemblyman Kevin Kiley, who has a court hearing this week challenging the governor's authority to impose virus restrictions.
Vaccinations for the pandemic "will move at the speed of trust," said Newsom, a Democrat, and the state wants its own independent review no matter who wins the presidential election next month.
"Of course we won't take anyone's word for it," Newsom said as he named 11 doctors and scientists to review any rollout of vaccines by the federal government or vaccine developers. The board members hail from top California universities and medical providers, along with state and local public health officials.
The pledge raises the possibility that California residents might not receive a vaccine as distribution begins in other states, though, the Associated Press report, the governor said widespread vaccinations are unrealistic until sometime next year.
New York Gov. Andrew Cuomo last month appointed a similar independent task force.
Donald Trump attacked his top public health expert yesterday, using a call with campaign staff to deride Anthony Fauci as "a disaster" and to claim "people are tired of hearing Fauci and all these idiots" discussing ways to combat the coronavirus. Here's an update on the latest coronavirus figures from across the US.
A coronavirus outbreak has killed 10 residents in a nursing home in a northwestern Kansas county that proportionally already had the nation's largest increase in cases over two weeks, reports John Hanna for the Associated Press.
The health department in Norton County reported Monday night that all 62 residents and an unspecified number of employees at the Andbe Home in Norton had tested positive for the novel coronavirus. The agency also said one Andbe Home resident was hospitalized, while the remaining 51 were being treated at the home.
"Steps are being taken to prevent any further outbreak, including quarantining residents in their rooms and not allowing outside visitors into the facility," the county health department said in a statement Monday evening.
Kansas is seeing an average of more than 700 new confirmed and probable coronavirus cases a day, its largest numbers since the pandemic reached the state in early March.
But northwestern Kansas has been hit hard by coronavirus in recent weeks, and Norton County had the largest number of new cases per 100,000 residents of any county in the U.S. for the two weeks ending Sunday, according to data collected by Johns Hopkins University.
Meanwhile, Gov. Laura Kelly and Wichita State University officials celebrated the opening of a new laboratory that can run 32,000 coronavirus testing specimens a week. Kansas has averaged about 29,000 tests a week over the past month, according to data from the state health department.
Kelly said the high-capacity lab will help the state identify coronavirus hot spots so that its residents can avoid them. "We can help provide certainty that our schools and our businesses can stay open safely," Kelly said in a statement.
Good morning and welcome to Tuesday's coverage of US politics, with just two weeks to go before the election. Here's a catch-up on the latest…
Joe Biden criticized Trump for attacking Fauci, arguing Americans are "tired of your lies about this virus." Biden said of Trump in a statement, "We need a leader to bring us together, put a plan in place, and beat this virus — but you have proven yourself yet again to be incapable of doing that."
Trump had called Dr Anthony Fauci a "disaster" on a call with campaign staff. "People are tired of coronavirus," the president said. "People are tired of hearing Fauci and all these idiots."
As of 10:25pm EST yesterday, the US had recorded 8.2m cases of coronavirus, causing 219,945 deaths. There were 48,210 daily new cases and 388 new fatalities.
The presidential debate commission adopted rules to mute microphones on Thursday. Candidates will be muted while the other has the floor and any interruptions will count toward their time, but rule changes have angered Trump camp, who have also complained about the topics selected.
Trump's campaign manager Bill Stepien said: "President Trump is committed to debating Joe Biden regardless of last-minute rule changes from the biased commission in their latest attempt to provide advantage to their favored candidate."
The supreme court blocked Republican efforts to stop an absentee ballot deadline extension in Pennsylvania. The ruling will likely mean thousands more votes are counted in one of the most critical swing states in the election.
Early voting begins today in Hawaii, Louisiana, Utah and Wisconsin. It's the deadline to apply for mail/absentee ballot in Maryland, Nevada and New Mexico.
Some Los Angeles ballots were damaged yesterday after suspected arson attack on official drop box.
We're hosting an online discussion panel on the US election today at 2pm EST (that's 7pm in the UK), featuring our senior political reporter Daniel Strauss, political correspondent Lauren Gambino, columnist Richard Wolffe, chaired by Jonathan Freedland. There's more details and tickets here.
I'm Martin Belam and I'll be with you for the early stint – you can get in touch with me at martin.belam@theguardian.com.