Biden tells white supremacist groups to 'cease and desist' after Trump's debate 'embarrassment' – live
Athletes reacted with bemusement and dismay after Donald Trump refused to condemn white supremacists during the US presidential debate on Tuesday night.
Stephen Curry, one of the biggest stars in the NBA, noted Trump appearing to speak to the far-right Proud Boys. "Stand back and stand by??????????? No further questions your honor! #vote," he wrote on Twitter.
NBA All-Star Kyle Lowry noted Trump refused to condemn white supremacy: "And he still didn't say it," wrote the Toronto Raptors guard on Twitter. NFL wide receiver Randall Cobb tweeted: "He was asked about racism and responded about law enforcement…"
Others highlighted the dismal tenor of a debate between two of the most powerful people on the planet. "This debate is the best sitcom of the year. This is pure comedy and the level of disrespect is off the charts. #Truth #LordHelpus," wrote NFL hall of famer Deion Sanders.
For many athletes, the takeaway from the evening was that Americans need to ensure they vote in November's election.
"After watching the adventurous #2020PresidentialDebate and not really being able to hear anything… if nothing else, make sure you're heard," wrote WNBA star Renee Montgomery.
LeBron James, perhaps the most famous athlete in America, kept his message brief. "PLEASE VOTE!!!!!," he tweeted.
In a bar-room brawl, who wins the fight? The guy swinging his fists or the guy clutching his drink?
From the very first minute of the first presidential debate, the 45th president behaved as he has for the last four years: as unpresidential as possible.
He heckled. He bullied. He blustered and he lied. He came out swinging and didn't mind where his fists landed: his opponent, the moderator, the Biden family, the microphones. It didn't much matter.
"Will you shut up, man? This is so unpresidential," gasped Joe Biden at the end of a chaotic discussion about the supreme court. "That was a really productive session. Keep yappin', man."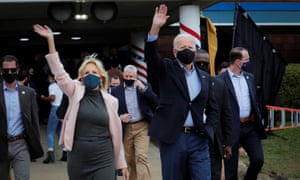 Biden sounded unsettled by the first round of the Trump onslaught. He lost his train of thought as Trump never ceased to talk over him.
If Democrats were hoping that Biden would box Trump in, they were surely disappointed. Biden's most effective response was to laugh at the brawling around him.
But something funny happened on the way to Trump's next swing of the fists: a pandemic. Covid-19 stopped the presidential yapping, briefly. Then Biden made a statement of the obvious, by questioning whether Trump was smart enough to handle the coronavirus.
"Did you use the word smart," the un-president barked. "Don't ever use the word smart with me."
Read the full piece: