Coronavirus live news: 60m Indians may have contracted Covid; Disney announces mass layoffs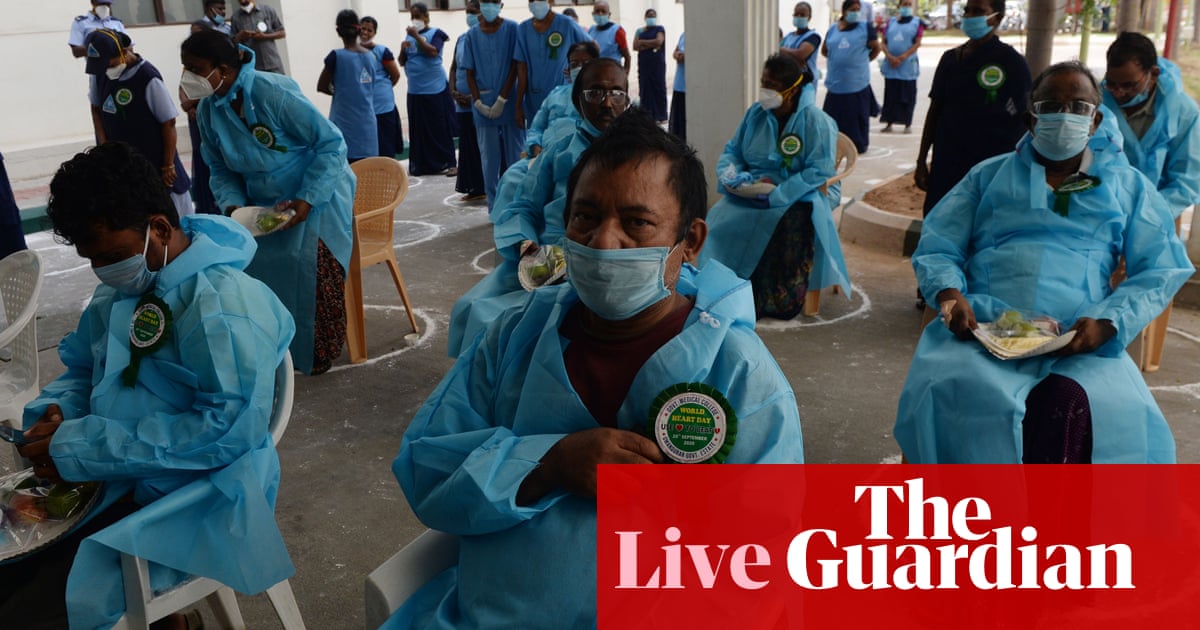 Hello and welcome to today's live coverage of the coronavirus pandemic.
My name is Helen Sullivan and I'll be bringing you the latest from the next few hours – we'll include coronavirus-related parts of the US presidential debate, too.
As always, I'm also to be found on Twitter @helenrsullivan or email: helen.sullivan@theguardian.com.
More than 60 million people in India could have contracted Covid-19, the country's lead pandemic agency said, citing a nationwide study measuring antibodies. The study found that the number of Indians to have had the disease may be 10 times higher than the official figure of 6.1 million.
Meanwhile the UK reported 7,143 new cases of Covid-19 on Tuesday, the highest single figure to date, and 71 deaths, the biggest toll since July, according to the government's dashboard.
Disney will lay off roughly 28,000 employees in its theme parks division, the company said, as its resorts struggle with limited attendance amid the coronavirus pandemic. Disney has reopened all of its parks except California's Disneyland. About two-thirds of the laid-off employees are part-time workers, the company said in a statement.
The World Bank has announced plans for a $12bn (£9.3bn) initiative that will allow poor countries to purchase Covid-19 vaccines to treat up to 2 billion people as soon as effective drugs become available. In an attempt to ensure that low-income countries are not frozen out by wealthy nations, the organisation is asking its key rich-nation shareholders to back a scheme that will disburse cash over the next 12 to 18 months.
The global coronavirus death toll passed one million. The world has suffered the loss of more than one million people in just nine months since the coronavirus first emerged in Wuhan, China, according to researchers at Johns Hopkins University, who rely on official government data.The current total is: 1,003,337. The true toll is likely to be higher due to time lags, differing testing rates and definitions (of what constitutes a coronavirus-related death, for example) and suspected underreporting in some countries.
The director-general of the World Health Organisation described the one millionth death as a "difficult moment for the world". Dr Tedros Ghebreyesus urged urged countries to "bridge national boundaries" to fight back against the virus and said it was never too late to turn the tide on the disease.
Germany is heading for nearly 20,000 new infections a day unless urgent action is taken, its chancellor Angela Merkel said. Merkel said she wanted to avoid another nationwide lockdown "at all costs" but that measures were necessary on a state-by-state basis. Restrictions will include a cap on the number of people at parties and family gatherings in areas worst affected by the coronavirus.
The Netherlands is in grip of a fast-growing second wave of coronavirus. The country reported 3,011 new cases on Tuesday, a daily record, as it imposed new measures to combat a resurgence of infections.