UK coronavirus live: new restrictions for Cardiff, Swansea and Llanelli; London placed on Covid-19 watchlist
I'm taking back over from my colleague Haroon now, who has kindly covered for me in the past hour.
If you have anything you would like to flag, you can contact me on Twitter @JedySays or via email.
The new lockdown restrictions, which will apply to everyone living in Llanelli, Cardiff and Swansea, are:
People will not be allowed to enter or leave these areas without a reasonable excuse, such as travel for work or education;
People will only be able to meet people they don't live with outdoors for the time being. They will not be able to form, or be in, extended households (sometimes known as 'bubbles'). This means meeting indoors (in people's houses, in a pub or elsewhere) with anyone you don't live with is not allowed at the moment unless you have a good reason, such as providing care to a vulnerable person.
The lockdowns for Cardiff and Swansea means that around 50% of the Welsh population will be subject to local lockdowns by the end of the weekend.
Asked why the whole country was not going into a national lockdown, the health minister, Vaughan Gething, said: "We have a different pattern in south Wales to north Wales."
Gething said there were "challenges" in north Wales but the rates of infection were more significant in the south.
On reports of panic buying taking place, Gething asked people to stay calm, adding: "There isn't a need to buy large additional amounts of items."
Gething said action was being taken now at an earlier point in the outbreak than in March to try to prevent a stricter lockdown.
Only parts of Llanelli will be under local lockdown. The situation in other areas of south Wales including the Vale of Glamorgan, where Cardiff airport is sited, are being closely monitored.
Nicola Sturgeon addressed students directly at her daily briefing, as she confirmed 558 new coronavirus cases overnight, telling them:
I know you might feel like you are somehow being blamed, you don't deserve to be facing this – no one does – and it's not your fault.
She said that she had spoken personally to university principals today to stress their duty of care to students, in terms of both practical and emotional support.
Following concerns raised particularly by parents about their self-isolating or sick children not being allowed to return home if they are not coping in their halls of residence, she said that the Scottish government was "looking at what might be possible" and aimed to publish further guidance over the weekend.
Meanwhile Scotland's chief constable, Iain Livingstone, was definitive about student socialising:
It is absolutely clear that house parties are not permitted under any circumstances.
Universities Scotland confirmed to the Guardian on Friday morning that no student representatives or organisations had been involved in the drafting of last night's rules.
But a spokesperson insisted:
Universities are acutely aware of mental health concerns in their student communities and have taken steps, ahead of the start of term, to be able to offer extra support for students that require help … The extra measures announced on Thursday were a rapid response to concerns about increasing transmission in specific contexts as relevant to students.
They added that they had been in regular touch with NUS Scotland throughout the summer.
Meanwhile, Louise Macdonald of Young Scot said she was "concerned" about freshers, especially those away from home for the first time. She pointed out:
The evidence shows the vast majority of students – indeed the vast majority of young people in Scotland – are complying with Covid-19 measures such as FACTS and want to play their part in stopping this virus.
Macdonald called for students to be treated as equal partners in the formulation of regulations such as this:
It would be great to see even more solutions on campus and in halls of residence which are co-produced with students – setting out clearly what support systems universities have in place and what students can do to make those work.
Cardiff and Swansea will be subject to local lockdowns from Sunday evening, the Welsh government has announced.
From 6pm on Sunday residents will not be able to travel in or out without reasonable excuse. Nor will they be able to meet indoors with anyone they do not live with.
Some parts of Llanelli in south Wales will also be under a local lockdown from Saturday evening.
The new restrictions will affect around 800,000 people.
Welsh health minister Vaughan Gething called on the people of Cardiff and Swansea not to treat the weekend as a "big blow-out" ahead of the lockdowns on Sunday evening.
The mayor of London, Sadiq Khan, pointed to a lack of testing capacity in the capital as the reason why it had become an area of concern (see previous update). He said:
London is at a very worrying tipping point right now. We're seeing a sharp rise in 111 calls, hospital admissions and patients in ICU [intensive care units].

The near collapse of test and trace and the resurgence of the virus means new measures to slow its spread were absolutely necessary.

Testing capacity was diverted away from London in the last two weeks to other national hotspots and weekly testing numbers are now down 43% in the capital since mid-August. The lack of testing capacity is totally unacceptable and it is why London has been added to the government's coronavirus watchlist as an area of concern.

Ministers simply have to get a grip. It's vital that testing capacity is increased immediately in London and focused in the areas it is needed most. Any delay will mean letting the city down and will cost lives.
The former rector of Glasgow University, Aamer Anwar, whose three-year term ended earlier this year, has posted this highly critical thread describing the treatment of students as a "shambles" and alleging that they are regarded as "cash cows" by accommodation providers.
Anwar is also critical of reporting of the guidance not to attend pubs as a ban – in fairness to the media, this may have stemmed from lack of clarity in the original Universities Scotland press release which didn't make it clear that this only applied to the coming weekend, not indefinitely.
He also points out that many students themselves work in pubs and bars to support their studies, and that "patronising diatribe against students, thinking this is about getting a pint, fails to recognise how many struggle financially".
Concern and confusion reign as the implications of the Universities Scotland guidelines for students sink in this morning.
The Scottish children and young people's commissioner, Bruce Adamson, has expressed his concern about their human rights implications, and said that his office is "seeking an urgent conversation with the Scottish government and Universities Scotland to establish the nature and legal basis for these restrictions".
As well as the limits on socialising, there are particular worries about clinical director Jason Leitch's insistence yesterday that parents and children could not meet indoors, something that has particularly troubled those with sick student children.
The Scottish government's higher education secretary, Richard Lochhead, did try to soften this earlier today, saying that individual universities should be "pragmatic" in exceptional circumstances, but there is still much confusion about what that actually means.
Elsewhere, students have been asked how the rules – which Universities Scotland insist are merely advisory, despite the involvement of Police Scotland – affect their individual circumstances.
Is a student who lives off campus in a private flat still only allowed to socialise within their own household, when the rule of 2/6 would normally apply? What if a student needs to return to their home town for a medical appointment?
There is no central place to find fuller guidance and exceptions and exemptions, because these have been left up to individual universities, which not only adds to the confusion but also risks inconsistency across the country.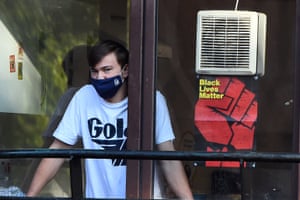 The number of people with symptomatic Covid in the UK has more than doubled in the past week, for the second week in a row, according to scientists behind the Zoe Covid symptom app.
Figures based on nearly 7,000 swab tests performed between 7 and 20 September point to 147,498 people with symptomatic Covid across the UK, up from 69,686 last week.
Tim Spector, professor of genetic epidemiology at King's College London, said the number of UK cases continued to rise "at an alarming rate" with figures now doubling each week across the country.
"In particular we are worried about places like London and other major cities like Manchester, Belfast and Glasgow where cases are surging and the R value is around 1.4," he said. The R value is the average number of people that an infected person infects. When R is above one, the number of cases will grow exponentially.
The app, which has been downloaded by more than 4 million people, records symptoms and positive test results when people submit them. The latest data suggest that in the past two weeks, an average of 16,130 people a day have picked up new symptomatic Covid infections.
Most striking is the rise in the north-west where infections are estimated to have tripled over the past week from 12,544 to 36,316.
In the north-east and Yorkshire cases appear to have doubled to 27,731.
In the past week, the number of new infections appears to have doubled in London, too, reaching 18,200.
All 25 regions monitored by the app have seen "huge" rises, the scientists say, making all of them areas of concern.