What's On Tonight: The Robert Pattinson And Tom Holland Netflix Movie Has Arrived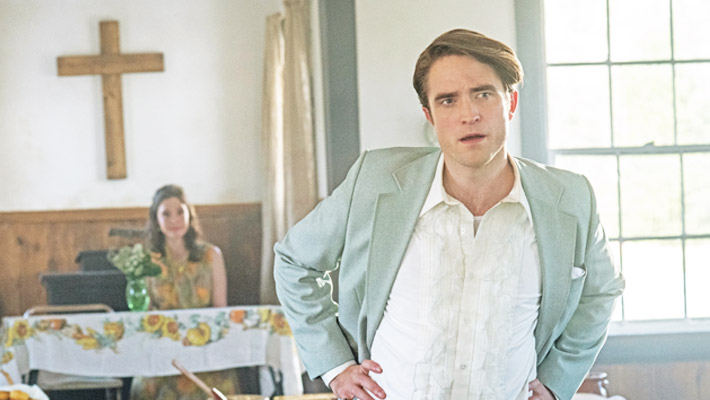 If nothing below suits your sensibilities, check out our guide to What You Should Watch On Streaming Right Now.
The Devil All The Time (Netflix film) — Robert Pattinson portrays an unholy preacher while Sebastian Stan steps into a crooked sheriff's shoes, and Tom Holland's simply trying to stay out of the line of fire while evil forces surround him. It's a battle between the corrupt and the so-called just that should provide a nice midweek viewing break. This Antonio Campos-directed story spans the period between WWII and Vietnam and co-stars Jason Clarke, Riley Keough, Bill Skarsgård, Eliza Scanlen, and Mia Wasikowska.
The 100 (CW, 8:00pm EST) — An unexpected threat's looming over Clarke and all of her friends as they're already reckoning with what's happened.
Coroner (CW, 9:00pm EST) — The whole place is on lockdown with Jenny separated from the team. Meanwhile, Detective McAvoy's searching for a newly released killer.
Late Show With Stephen Colbert — Drew Barrymore
The Tonight Show Starring Jimmy Fallon — Sharon Stone, Shaquille O'Neal, Kylie Minogue
The Late Late Show With James Corden — John David Washington, Michael McIntyre, Glass Animals
In case you missed these offerings last week:
Unpregnant (HBO Max film) — A 17-year-old Type A student, Veronica (Haley Lu Richardson), deals with a never-taken-lightly decision by taking a 1000-mile road trip with her former BFF, Bailey (Barbie Ferreira), and it's a wild ride that neither of them suspected was afoot. The value of renewed friendships with a dash of both Thelma And Louise and Fast And Furious make this an unexpectedly funny film with costars including Alex MacNicoll, Breckin Meyer, and Giancarlo Esposito, and Betty Who.
Woke (Hulu series) — This show is the comedy series that Lamorne Morris (and the rest of us) deserves with a little bit of everything. It's surreal, it's funny, it's serious, it's got talking toast and trashcans, and it's in good hands with director Maurice "Mo" Marable. The quest to "keep it light" never felt so real as Keef (based upon the life and work of artist Keith Knight) experiences a rude awakening and transformation to follow.
The Killing of Breonna Taylor (Hulu series) — The New York Times investigates the life of Bronna Taylor and her police killing (following a no-knock warrant) on March 13 while the case still unfolds.