Coronavirus live news: global cases near 30m as WHO warns of more deaths in European autumn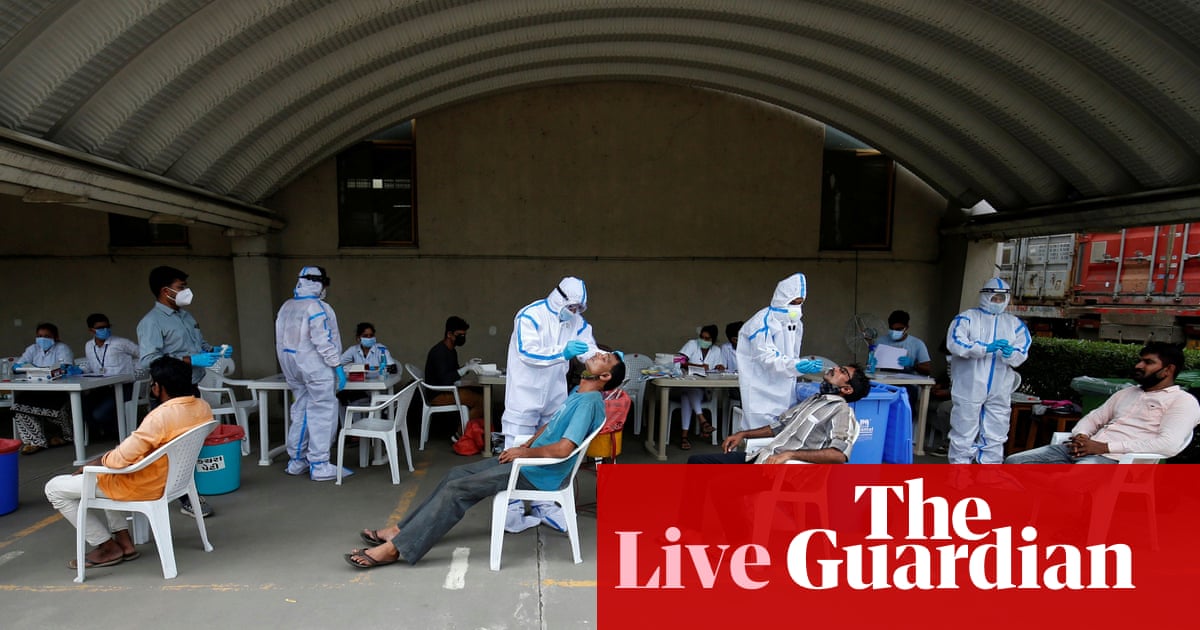 An outbreak of African Swine Fever threatens to keep German pork locked in the European Union with China, South Korea and Japan all banning shipments, a major setback in an already challenging year for meat producers following Covid-19 outbreaks at plants, Reuters reports.
German wholesale pig prices fell 14% on Friday after a case of ASF was found in a wild boar in the east of the country and major buyers on the international market quickly responded by banning shipments from the EU's top producer in what was due to be a big sales year.
In China, the world's biggest pork producer, the disease caused hundreds of millions of pigs to be culled and raised imports of protein from other sources.
German pork exports to China are worth around €1bn ($1.2bn) annually, and volumes had doubled in the first four months of this year on soaring demand after Chinese output shrank around 20%.
"The Chinese export stop is a hard blow for farmers and for industry in Germany," said André Vielstaedte, spokesman for Germany's largest meatpacker and exporter Toennies.
African swine fever spreads through contact with infected animals and can also be spread by people and trucks. It is almost always fatal in pigs but does not harm people.
Germany has sought a limited, regional ban on exports as the outbreak near the Polish border is hundreds of kilometres from the major producing region in north-west Germany. Whereas the concept of a regional ban exists in intra-EU trade, China has so far stuck to a national ban.
In the US, a House subcommittee is launching an investigation into whether political appointees have meddled with routine government scientific data to better align with President Donald Trumps public statements about the coronavirus pandemic, following a report that one such appointee claimed scientists were trying to undermine Trump, The AP reports.
The Democrat-led subcommittee said Monday that it is requesting transcribed interviews with seven officials from the Centers for Disease Control and Prevention and the Department of Health and Human Services, including communications aide Michael Caputo. Caputo has often publicly pushed back on CDC statements about the coronavirus and said falsely in a Facebook video on Sunday that the CDC has a resistance unit against Trump, according to The New York Times. His page has since been made private.
According to a report in Politico, Caputo, along with scientific adviser Paul Alexander, pressured officials to alter the CDCs Morbidity and Mortality Weekly Reports, a long-running weekly journal that features the latest science-based research and data on infectious diseases. Known as MMWR, the report has long been a sacred government information resource for doctors, scientists and researchers tracking outbreaks.
The officials pressured CDC to change the reports, at times retroactively, to better align them with Trumps often rosier public statements about the coronavirus, Politico reported.
In a letter to Health and Human Services Secretary Alex Azar and CDC Director Robert Redfield, the Democratic members of the subcommittee said they are gravely concerned about the reports of political meddling in a journal that has long been free of political interference.
Hello and welcome to today's live coverage of the coronavirus pandemic.
My name is Helen Sullivan and I'll be bringing you the latest for the next few hours. You can send me news and anything that sparks joy on Twitter @helenrsullivan and via email: helen.sullivan@theguardian.com.
The World Health Organization has warned that Europe will face rising deaths from the coronavirus during autumn. The WHO Regional Office for Europe told Deutche Welle, "We expect an increase of COVID-19 cases, which sadly means more cases of death."
There are nearly 30m coronavirus cases worldwide, according to the Johns Hopkins University tracker, with 29,136,553 confirmed so far. The number of deaths has passed 925,000.
There are nearly 30m coronavirus cases worldwide, according to the Johns Hopkins University tracker, with 29,136,553 confirmed so far. The number of deaths has passed 925,000.
A new national lockdown could be imposed in Wales within weeks unless people follow the updated rules on social gatherings, the country's health minister has said.
At least 14 refugees have tested positive for Covid-19, according to officials on Lesbos where efforts are underway to move thousands of people left homeless by devastating fires, in what had once been Europe's biggest migrant camp in Moria, into a new facility.
Jordan will suspend schools for two weeks from Thursday and close places of worship, restaurants and public markets as part of renewed restrictions after a record rise in coronavirus cases in the last few days, Reuters reports.
US president Donald Trump held a Nevada campaign rally at an indoor venue on Sunday despite public health professionals' warnings against large indoor gatherings during the coronavirus pandemic. People in the crowd were seated close together and many did not wear masks.
The World Health Organization reported a record single-day increase in global coronavirus cases on Sunday, as the tally surged by a further 307,930 infections in just 24 hours.
Former Italian premier Silvio Berlusconi left hospital on Monday 11 days after being admitted with coronavirus, describing it as "perhaps the most difficult ordeal of my life."
The imposition of a second lockdown in Israel has left the country staggering, with fears that three weeks of shuttered businesses and restricting people to their homes could devastate livelihoods.
Queues formed outside schools across Italy on Monday as 5.6 million pupils returned to classrooms for the first time in over six months. Schools in 12 Italian regions reopened in what prime minister Giuseppe Conte said was a "big test for the state".
The French prime minister, Jean Castex, has instructed the authorities in Marseille, Bordeaux and the French Caribbean island of Guadeloupe to detail extra measures to halt the spread of Covid-19 by the end of Monday.
The World Health Organization expects Europe to see a rise in the daily number of Covid-19 deaths in October and November, the head of the body's European branch has told AFP.
Public Health England said that as of 9am on Monday, there had been a further 2,621 lab-confirmed cases of coronavirus in the UK. Overall, 371,125 cases have been confirmed.PHE also said a further nine people had died within 28 days of testing positive for Covid-19 as of Monday. This brings the UK total to 41,637.
Russia has reported 5,509 new coronavirus cases today, pushing its national tally to 1,068,320, the fourth largest in the world. Authorities said 57 people had died in the last 24 hours, bringing the official death toll to 18,635.
An American woman has been accused of spreading coronavirusaround a Bavarian town by allegedly drinking in pubs and bars despite being told to quarantine after showing coronavirus symptoms.
Authorities in the Indonesian capital Jakarta reimposed a partial lockdown on Monday and vowed to strictly isolate anyone testing positive for Covid-19 as infections soared in the metropolis.
Spain has logged another huge leap in Covid cases, reporting 27,4o4 new infections since last Friday and bringing its total to 593,730.
According to the latest figures from the health ministry, 116,464 cases have been diagnosed over the past two weeks and there have been 207 deaths over the past seven days.