Trump continues threats against Portland ahead of Kenosha visit – live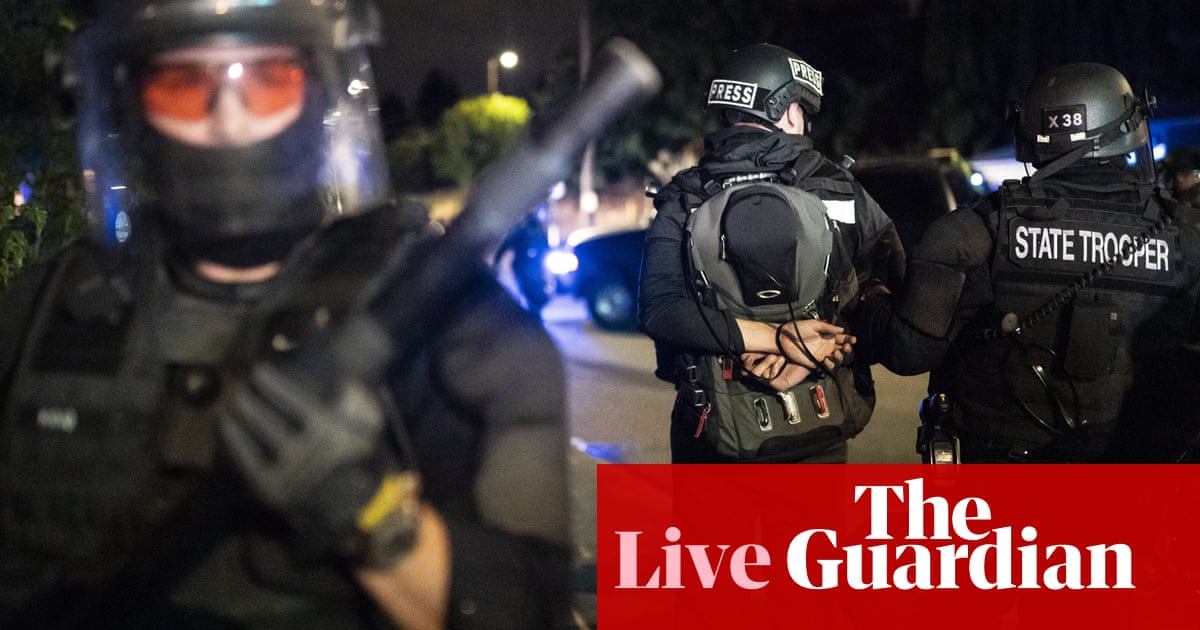 Stephanie Winston Wolkoff, a former adviser to Melania Trump who has written a book about the first lady, said the entire Trump family is tainted by "deceit" and "deception."
Winston Wolkoff spoke to ABC News a day before her book, "Melania and Me: The Rise and Fall of My Friendship with the First Lady," is set to be published.
Winston Wolkoff said she's still "working with investigators" in connection to possible financial crimes tied to Trump's 2017 inauguration.
"It was amateur hour then, and it's amateur hour now, and I think it's really frightening for our country," she told ABC. "Everyone does need to know what … this presidency is doing and what this propaganda machine behind this man at the White House is doing,"
Winston Wolkoff would not confirm or deny reports that she taped some of her conversations with the first lady, but she declined to provide ABC with any documents to back up her allegations, all of which Melania Trump's team has denied.
In his Pittsburgh speech today, Democratic nominee Joe Biden will accuse Trump of sparking violence in the US.
"This president long ago forfeited any moral leadership in this country," Biden will say, according to excerpts of his speech released by his campaign. "He can't stop the violence – because for years he has fomented it."
Biden will also criticize the president for failing to condemn recent violence from some of his supporters.
"He may believe mouthing the words law and order makes him strong, but his failure to call on his own supporters to stop acting as an armed militia in this country shows you how weak he is," Biden will say.
The Democratic nominee will go on to list a number of crises currently facing the country, including the coronavirus pandemic and the national reckoning over racism.
Biden will say, "The common thread? An incumbent president who makes things worse, not better. An incumbent president who sows chaos rather than providing order."
Trump will also visit Latrobe, Pennsylvania, on Thursday, the president's campaign just announced.
Trump will deliver remarks at 7 pm ET on Thursday, three days after Democratic nominee Joe Biden is scheduled to make an appearance in Pittsburgh.
The president carried Pennsylvania by less than 1 point in 2016, but recent polls have indicated Biden has the advantage in the swing state, where he was born.
In his Pittsburgh speech today, Biden is expected to blame Trump for the recent violence in Kenosha and Portland.
Trump intends to visit Kenosha tomorrow as the Wisconsin city continues to grapple with fallout from the police shooting of Jacob Blake.
The president, who has taken advantage of every possible opportunity in recent weeks to attack Democratic nominee Joe Biden, will also be visiting a key swing state that could determine the winner of the presidential election.
The Guardian's Chris McGreal reports from one swing county in Wisconsin:
The president's challenge in November is not only to hold on to those who supported him last time but to win over new voters to offset the increased determination by Democrats in the Wisconsin's larger cities to vote this time and a shift away from him in some conservative suburbs.

Trump has his work cut out in rural Forest county, in the upper reaches of rural Wisconsin, which has consistently backed presidential election winners of either party in recent times.

His support remains soft in the county among some of those who voted for him before … and who have long criticised his erratic leadership, confrontational tweets and outright lies but who remained loyal because they said the economy was strong. The only plus for Trump is there is little evidence of widespread enthusiasm for Biden.

Terri Burl, the Republican county chair until last month, concedes that Trump is struggling.

'It's a coin toss here with Wisconsin. Things are a little more ominous now for us. But I'm not a pessimist. I'm an optimist. The word out there is that we just have to stay positive, we have to get a positive message out,' said Burl, a former social worker.

But it's hard to push the positive in the middle of a pandemic, mass unemployment and a tanking economy.
Greetings from Washington, live blog readers.
Donald Trump is continuing his attacks on Portland this morning, two days after a reported member of a right-wing group was shot dead amid a clash between a group of the president's supporters and anti-racism protesters in the Oregon city.
"Portland is a mess, and it has been for many years. If this joke of a mayor doesn't clean it up, we will go in and do it for them!" Trump said.
Oregon's Democratic governor, Kate Brown, accused Trump of having "encouraged division and stoked violence" in her state.
The president's planned trip to Kenosha, Wisconsin, tomorrow has sparked concerns that he will only further inflame tensions in the city as protests continue over the police shooting of Jacob Blake.
Democratic nominee Joe Biden has cited Trump's response to the recent violence as another indication why he is not fit to be president.
"Donald Trump has been president for almost four years," Biden said in a statement yesterday. "The temperature in the country is higher, tensions run stronger, divisions run deeper. And all of us are less safe because Donald Trump can't do the job of the American president."