UK coronavirus live: local lockdown imposed in Aberdeen after 54 cases confirmed in city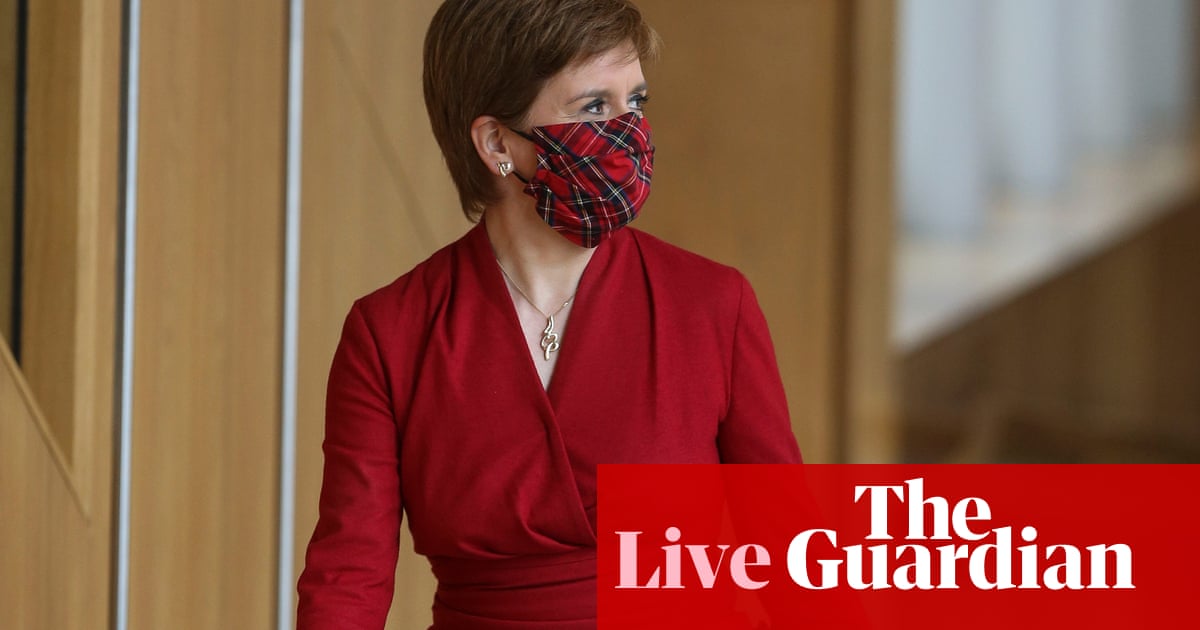 The first minister says the Scottish government is looking at measures beyond the furlough scheme it can put in place to help businesses and workers. She says she will speak to the UK government about its plans as well.
Sturgeon has told the briefing in Edinburgh that she's aware the changes are unwelcome news.
The last thing we want to do is to reimpose these restrictions but this outbreak is reminding us just how highly infectious Covid is.

Our precautionary and careful judgement is that we need to take decisive action now, difficult as that undoubtedly is, in order to try to contain this outbreak and prevent further harm later on.

As I said earlier, this is about doing all we can to ensure our children can return to schools next week. Acting now, we judge, gives us the time and the space to protect the ability of our young people to return to education.
The first minister warns people not to be complacent and says Scotland's testing and contact-tracing system is not a get-out-of-jail-free card. She asks all people to abide by the government guidelines on social distancing in order to stop the virus from spreading in the first place.
Sturgeon says no one in Scotland who has tested positive within the past 28 days died on Tuesday – the 20th such day in a row.
This measurement differs to the NRS data, she says, because the latter counts cases where the virus is noted on the death certificate as a contributory factor, meaning its scope is wider.
She says a total of 2,491 patients have died in Scotland after testing positive for Covid-19. Sturgeon says 18,781 people have tested positive for the virus, up by 64 from 18,717 the day before.
There were 267 people in hospital with confirmed Covid-19, down by three. Of these, three were in intensive care, which was no change.
Sturgeon says staff who have been brought back to work from furlough can be furloughed again. She says she's "very sorry" she's having to reimpose restrictions on the city, but insists "decisive action" is necessary to stop the outbreak getting out of hand.
The Scottish first minister, Nicola Sturgeon, has said 54 cases have now been confirmed in the Aberdeen Covid-19 cluster, while 191 close contacts have been traced, though she expects that number to increase. Across Scotland, 64 new cases have been recorded; with 36 thought to be in Grampian.
Sturgeon says there may be some community transmission and, while the outbreak may be centred on one city centre bar, it is not the only source and many more are being looked at.
Sturgeon says that, as a result, restrictions will be reimposed in the Aberdeen city council area.
People are being told not to travel to Aberdeen if they are not already there. A five-mile travel rule has been put in place and residents are also being told not to enter each other's houses. All indoor and outdoor hospitality has also been told to close by 5pm on Wednesday.
The closure will be backed by governmental regulations, the first minister says, and will be enforced if the rules are not followed.
Sturgeon adds that the changes will be reviewed next Wednesday, when she hoped that they could be removed if they could, either in entirety or in part. However, if necessary, Sturgeon has said they could be extended beyond that seven-day period.
According to the National Records of Scotland (NRS), seven deaths were registered that mentioned Covid-19 on the death certificate between Monday 27 July and Sunday 2 August; a decrease of one from the previous week.
The NRS said that was the second lowest weekly total for deaths since the first death was recorded in early March.
A total of 4,208 deaths have been registered in Scotland, as of 2 August, of which 46% were related to deaths in care homes, 46% in hospitals and 7% at home or in non-institutional settings, the NRS said.
To place these figures in context, the latest yearly totals show that, in 2018 24% of all deaths occurred in care homes, 49% in hospitals and 27% in home or non-institutional settings.
Pete Whitehouse, the NRS's director of statistical services, said:
Loss of life from this virus is tragic and every death represents loss and heartbreak for families throughout the country.

Today's figures show seven more deaths due to Covid-19, showing a similar level for three consecutive weeks. These figures are significantly lower than the peak week in mid-April when 661 Covid-19 related deaths were registered.

Monitoring the progress of this virus is important and National Records of Scotland will continue to work with Scottish government and Health Protection Scotland (HPS) to understand its impact in Scotland.
The GMB union also called on ministers to allow school staff to wear face masks if they want to when they return in September. Rehana Azam, GMB's national secretary, said:
Our members tell us they are scared of what's to come in September and they feel it's strange the government tells them to wear masks on the way to work, and if they go to get lunch, but not when they are in school.
The Association of School and College Leaders (ASCL) is calling for greater clarity on whether schools can permit face masks if pupils or staff want them. Its general secretary, Geoff Barton, said the guidance left key questions unanswered.
One, how should schools respond if pupils and staff want to wear face coverings? Two, do they have the flexibility to introduce the use of face coverings in constricted spaces where there is more mixing, for example in narrow corridors? We are seeking answers from the government to these questions.
Government guidance warns the misuse of face coverings may "inadvertently increase the risk of transmission" in schools and there could be "negative effects" on communication and education.
Among those putting pressure on ministers to change their approach is the teachers' union, NASUWT. It has called on the Department for Education (DfE) to revise its guidance on face coverings "as a matter of urgency" to help staff return to school in the autumn with "confidence".
The union said the government should encourage school and college staff to wear clear facial visors if there are concerns that teaching and learning may be impeded by the use of face masks.
Its general secretary, Patrick Roach, said the position in schools was "out of step" with public health guidance that suggests face masks should be worn when physical distancing cannot be assured. In a letter to the education secretary, Gavin Williamson, Roach said:
Strategies for minimising contact between pupils and staff (ie 'bubbles') are unlikely to be effective given constraints of building design, limitations of space within schools, and the inability of schools to control for wider social interactions involving children and adults within and outside their perimeters.

We strongly suggest that your guidance for schools should now be brought into line with changes to the government's guidance for other sectors, public transport, shops and supermarkets.
Face coverings for older schoolchildren should be considered, the shadow health secretary, Jonathan Ashworth, has said.
Earlier, the schools minister, Nick Gibb, told BBC Radio 4's Today programme that secondary school pupils will not be forced to wear face coverings when they return in the autumn.
But Ashworth said Labour would accept "tough decisions" to make sure all children can get back to class after months of partial closures.
According to the government guidance, face coverings are not required as pupils and staff are mixing in consistent groups – and the guidance says they should be removed on arrival at the school gates.
Hello, this is Kevin Rawlinson taking over from Lucy Campbell for much of the rest of the day.
I'll try to keep an eye on the comments below the line but the most reliable way to alert my attention to something is via Twitter: KevinJRawlinson. I look forward to hearing from you.