Congress remains divided as expanded unemployment payments end – live
Coronavirus cases remain high in Florida, one of the US hotspots for the virus. On Saturday, the state's health department reported 9,591 new cases of the disease and 179 new deaths. It is the fifth day in a row the state has reported more than 9,000 new cases, although it is down from the recent period when more than 10,000 new daily cases were regularly reported.
Florida's Agency for Health Care Administration says 7,942 people are currently in hospital with the virus, down from the just over 8,000 people last weekend. Florida's department of health says 7,022 people have now died from Covid-19 in the state.
A record-setting quarterly fall in US economic growth was announced earlier this week. The news came as another 1.43 million Americans filed for unemployment benefits.
Meanwhile, Democrats and Republicans are far from reaching agreement about how to implement support for the unemployed. An extra $600 in benefits a week was initially given to the unemployed during the pandemic but that aid officially expired on Friday night. Around 20 million people qualified for the payments and they accounted for 15% of the nation's wages.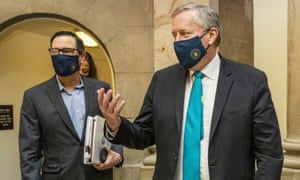 House speaker Nancy Pelosi and Senate minority leader Chuck Schumer met with White House chief of staff Mark Meadows and treasury secretary Steven Mnuchin on Saturday in Pelosi's office to discuss the next stage in benefits.
Pelosi said she hopes "that we make progress on a long-term deal", while Mnuchin told reporters: "We're just hopeful that they're willing really to negotiate today, if they are, we're prepared to make a deal on behalf of the American people."
Democrats want the $600 payments to continue until January, while Republicans want to cut the installments to $200 until states set up a system that sees the unemployed get 70% of their wages before they were laid off.
The two parties are still far apart. Democrats see the $600 payments as vital for keeping families and individuals fed and housed during the pandemic, while Republicans believe they discourage people from seeking work.
On Friday, Meadows said Democrats are "playing politics at a critical time", while Pelosi countered that Republicans are "disrespectful of the needs of America's working families."
Erum Salam in Houston has news of the surge in Covid-19 cases in Texas:
An older man in an orange apron greets customers at the Home Depot in College Station, Texas. Signs serving as a reminder they are living through a pandemic are plastered on the sliding glass doors: "Face covering required."
The reminder is much needed because to an outsider, Texas looked almost the same in July 2019 as it does in July 2020, despite Covid-19 having claimed more than 6,000 lives in the state and more than 150,000 lives in the US since March.
Customers at the home improvement store walk in wearing masks, which have become highly politicized, only to lower them below their chins to speak or remove them altogether.
In the upscale neighborhood of Montrose in Houston, the multi-story Agora coffee house is full of people hungry for coffee, pastries and conversation. It's difficult to spot an open seat inside or outside on the patio. It's also difficult to spot anyone wearing anything resembling a face covering.
The Texas governor, Greg Abbott, a Republican, caught flak for allowing the reopening of bars, restaurants, movie theaters and shopping malls back in early May. In June, he said that Texas was "wide open for business". Now in late July, more than four months into the Covid-19 pandemic, a mandatory mask order is in place across the state – a reversal from Abbott's initial position that the government should not infringe on personal rights by telling citizens what to do.
But, with little enforcement except by some businesses, some worry Abbott's reversals are too little, too late. As hospitals struggle and cases mount, much of ordinary life in Texas still appears to continue as normal.
You can read the full story below:
Donald Trump has arrived at Trump National Golf Club in Virginia. It's the 12th day he has spent golfing out of the last 36. His motorcade was booed by a group of dogwalkers, while another person held a sign up reading "We are good trouble", a reference to congressman and civil rights activist John Lewis who died last month. A man in a "Make America Great Again" cap saluted the motorcade as it passed.
The president fired off a few tweets last night, repeating his familiar line that Covid-19 cases in the US are surging due to increased testing (which doesn't explain the sharp rise in deaths). He also turned his attention to a familiar enemy: protesters in Portland. "Homeland Security is not leaving Portland until local police complete cleanup of Anarchists and Agitators!" he tweeted on Friday night.
And no sooner has Karen Bass emerged as a frontrunner for Biden's vice-presidential pick than stories, probably not discouraged by her rivals, bubble to the surface. Rightwing website the Daily Caller reports that Bass praised Scientology for its "commitment…to make a difference" during the opening of a Scientology building in California in 2010.
During the ceremony Bass also praised Scientology founder L Ron Hubbard for his belief that "all people of whatever race, color or creed, are created with equal rights".
Scientology has come under intense scrutiny after claims of physical, psychological and sexual abuse against its followers, accusations detailed in documentaries such as Going Clear by Alex Gibney, which focused on former members of the church.
The Church of Scientology denies the allegations of abuse and mistreatment among its ranks.
Good morning. As November's election approaches speculation over who Joe Biden will pick as his running mate mounts. The presumptive Democratic candidate for president has promised he will pick a woman as his running mate and his list of candidates is beginning to narrow.
CNN reports that 11 candidates are in the running. Kamala Harris remains the oddsmakers' favourite, and Biden was seen holding a list with her name and handwritten notes about the California senator on it.
However, in recent days, Karen Bass, congresswoman and chair of the Congressional Black Caucus, has emerged as a frontrunner, and Politico reports that members of Harris's team requested a meeting with Biden after learning their candidate was not a shoo-in for the VP slot. Harris is reported to have suffered after not showing contrition for remarks she made last year that appeared to depict Biden as racially insensitive.
Biden was supposed to name his running mate next week, but Politico reports the selection is now more likely to be announced in mid-August.
Other names in the running who have been vetted by Biden's team include Senators Elizabeth Warren and Tammy Duckworth; Florida congresswoman Val Demings; Atlanta mayor Keisha Lance Bottoms; and governors Gretchen Whitmer and Michelle Lujan Grisham.
Ed Rendell, the former governor of Pennsylvania and a Biden supporter, told CNN that Bass is seen as a safer choice than Harris.
"Kamala can rub some people the wrong way. Karen Bass is not likely to do that," Rendell said. "The number one rule for picking the VP? Do no harm."
One outside candidate gaining some momentum is Susan Rice, Barack Obama's former national security adviser. Although she lacks the campaigning experience of Bass and Harris, she worked with Biden during his own time as vice-president and has vast experience in global relations, which could prove invaluable during a time of turmoil around the world.
"If there ever was a time to pick someone without campaign experience, this would be the year," a former member of Obama's administration who has worked closely with Rice told CNN. "Susan would be the best governing partner."