Coronavirus live news: England tightens restrictions, WHO says 'young people' behind some spikes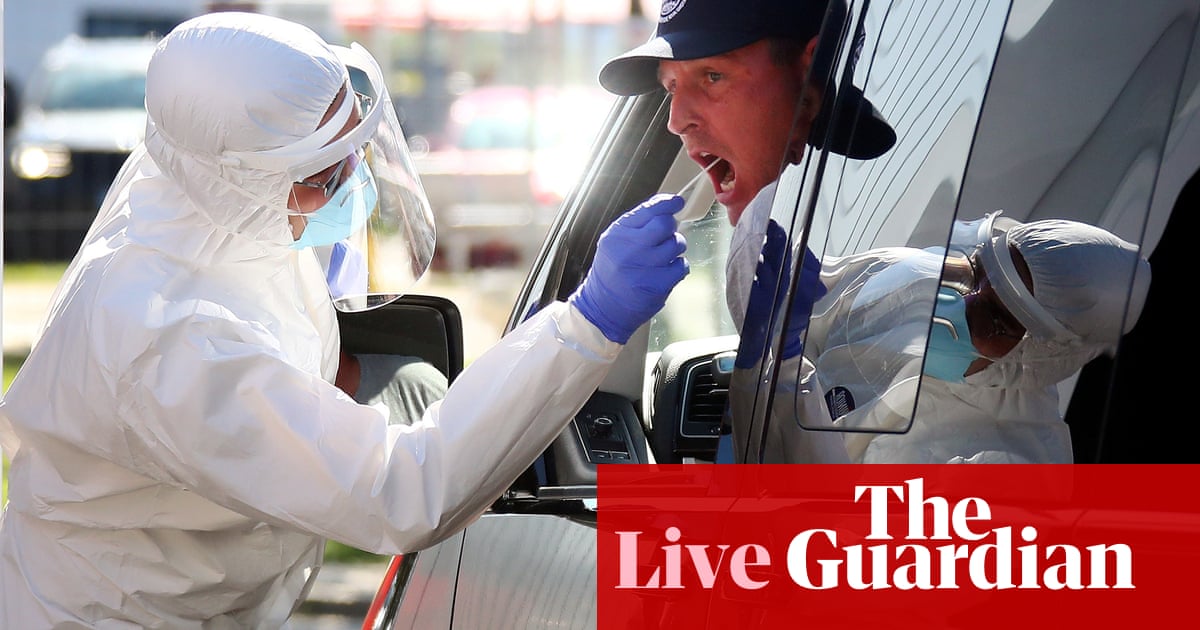 The World Health Organization has warned that spikes in coronavirus transmission in a number of countries were being driven by young people "letting down their guard".
"Young people are not invincible," WHO chief Tedros Adhanom Ghebreyesus told a virtual news conference in Geneva on Thursday.
He lamented that a major challenge in trying to rein in the novel coronavirus was "convincing younger people of this risk".
He said there was evidence that "spikes of cases in some countries are being driven in part by younger people letting down their guard during the northern hemisphere summer."
WHO 's technical lead for Covid-19 Maria Van Kerkhove lamented in particular that nightclubs in a number of places had become "amplifiers" of transmission.
Just a quick note on the way the new restrictions in England were introduced … the Health Secretary said on Twitter just hours before the new measures come into force: "We take this action with a heavy heart, but we can see increasing rates of covid across Europe and are determined to do whatever is necessary to keep people safe."
The opposition Labour leader, Keir Starmer, criticised the abrupt nature of the new rules, saying that "announcing measures affecting potentially millions of people late at night on Twitter is a new low for the government's communications during this crisis".
While acknowledging "no one would argue with putting in place local action to reduce the transmission of coronavirus" he criticised the government's lack of communication, and argued a press conference should have been organised for the announcement.
With regards to Leicester City, which you may remember had restrictions in place beyond many other places in England, in the country's first local lockdown, the health department said:
"While social gathering restrictions remain in place in Leicester City, the area will benefit from the lifting of restrictions that took place on 4 July in England, and all local restrictions currently in place in the neighbouring borough of Oadby and Wigston will end.
"It means from Monday 3 August restaurants, cafes, bars and hairdressers in Leicester City can get back to business but leisure centres, gyms and pools will remain closed. In addition, cinemas and museums will open and religious ceremonies will be able to take place."
You can see our full story on the new restrictions below:
Parts of the north of England have had a new face ban on indoor meetings between households introduced in the past half hour. The new measures apply to Greater Manchester, West Yorkshire and East Lancashire after increase in cases. (Specifically: Greater Manchester, Pendle, Hyndburn, Burnley, Rossendale, Blackburn with Darwen, Bradford, Calderdale, Kirklees, Leicester City).
The new measures mean:
People in the affected areas will not be permitted to mix with other households (apart from those in their support bubbles) in private homes or gardens.
Some exemptions will be put in place, including for the vulnerable.
The government will sign new regulations to make these changes legally enforceable.
The regulations will give local authorities and police forces the powers to enforce these restrictions and more details on these will be set out when the regulations are published.
Households may go to hospitality, for instance bars and pubs, but new guidance will make clear that two households should not go to hospitality together.
You can see the full details recently published on the Department of Health website. It says the measures were brought in because of an increasing trend in the number of cases per 100,000 people in the areas. Data suggested transmission among households was a key infection pathway in the area, the ministry said.
Hello and welcome to the Guardian's live coverage of the continuing coronavirus pandemic, with me, Alison Rourke.
England has reintroduced lockdown measures over large areas of the north of the country, after a surge in cases the country's health secretary, Matt Hancock, says have been caused largely by people "not abiding to social distancing". On Thursday night he said from midnight people from different households in Greater Manchester, parts of East Lancashire, West Yorkshire and Leicester would not be able to meet each other indoors.
Other European countries are also tightening restrictions. After a surge in infections, Iceland reduced the numbers on gatherings. France and Spain recorded their highest case levels in weeks, prompting several French cities to impose face mask requirements. Spain has already seen a number of localised restrictions introduced to control the virus.
The World Health Organization has delivered another stark warning to young people that they were not "invincible" and at risk of catching Covid-19. It warned that spikes in coronavirus transmission in a number of countries were being driven by young people "letting down their guard".
In other developments:
The US economy suffered its worst quarter since the second world war as GDP shrunk by 32.9%. The government figures, revealed on Thursday, showed more signs of the pandemic's heavy toll on the country's economy.
Spain recorded its highest daily increase in the number of coronavirus cases since lockdown was lifted on 21 June. On Thursday, 1,229 new infections were reported, topping 1,000 for the second day in a row.
France ruled out a "catastrophic" second national lockdown despite a rise in coronavirus infections. The prime minister Jean Castex said the priority was still prevention, as a second national lockdown would be catastrophic, both socially and economically.
Japan recorded a record high for new cases for the second day in a row. At least 1,274 cases were reported on Thursday, including a record 367 in Tokyo, where officials are considering issuing its own version of a state of emergency depending on the number of cases in the coming days.
Brazil recorded 57,837 additional confirmed cases of the coronavirus in the past 24 hours, as well as 1,129 deaths, the Health Ministry said on Thursday. Brazil has registered more than 2.6 million cases of the virus since the pandemic began, while the official death toll has risen to 91,263, according to ministry data.
Libya's internationally recognised government in Tripoli will impose a full lockdown in areas of the country it controls following a sharp rise in coronavirus cases.