Hong Kong: protests erupt as China brings in controversial new security law – live
The latest reaction from Beijing:
Zhang Xiaoming, executive director of the Hong Kong and Macao Affairs Office said the law was a "birthday gift" for Hong Kong, and would be "a turning point" which put the city back on track for development.
Zhang said the law marked "a milestone in advancing the cause of 'one country two systems', and the law was the most important legislation the central government has enacted besides Hong Kong's mini-constitution, the Basic Law. He said the new law was a "sword of damocles hanging over a tiny group of criminals who want to interfere in Hong Kong affairs".
Officials confirmed that someone travelling overseas to successfully lobby for sanctions could be charged with foreign collusion offences, or that provoking hatred of police – by spreading "rumours" of violence for instance – could be a national security offence.
Here are the latest statements from officials in Hong Kong:

Hong Kong chief executive Carrie Lam said the laws were "the most important development in relations between central – HKSAR since the handover". It was "constitutional, lawful, sensible and reasonable", she said.
Lam later told press the purpose of the legislation "was not just to punish, but also to deter". Asked about threats to the press, Lam said "criticism comes under freedom of speech". Lam said if journalists criticised the government as part of their work she couldn't see why that would be an offence, but if the reporter was "involved in organising or colluding… that is another matter." She said some internationally enshrined human rights were "not absolute".
Lam warned people "not to test our bottom line", noting some offences carried a sentence of life in prison.
Hong Kong police were ready for day one with official warning flags that chanting slogans or waving flags could see people arrested and charged under the new laws. They asked TV and radio stations to broadcast warnings that shouting independence slogans was inciting or abetting others to commit secession.
Hong Kong Secretary of Security John Lee was explicit about the law's aims to crush any community sentiments for independence. "With education prevention and enforcement we can turn the tide to let people know that protection on national security is everybody's responsibility, and that advocacy for independence in Hong Kong is against the law." He defended police already arresting people under a law no one was familiar with. "We will do education, but if something has outrageously broken the Hong Kong law, then the police have a duty to take action."
Secretary of Justice Teresa Cheng said her department is legislated to control all the prosecutorial decisions "free from any interference". "Therefore anyone who attempts to interfere or say 'forget about the evidence just proceed to prosecute', of course that won't be listened to'."
Protesters in Causeway are chanting in unison: "Hong Kong independence!" and cursing police on a main street in Causeway Bay. Police officers who have formed a check line are holding up a blue flag warning people to leave or face arrests. Police are shooting pepper balls at protesters.
Police have brought ten people out of a building in Causeway Bay and lined them up against a wall to search them. They have just been led away by police. Meanwhile, police officers have ordered a number of people to sit on the ground at a tram stop and they are searching their belongings.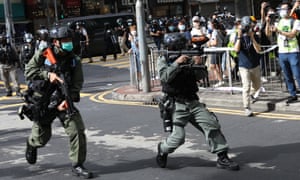 Hong Kong police have asked TV and radio stations to broadcast warnings that shouting independence slogans is equivalent to inciting or abetting others to commit secession.