Global markets post best quarter in a decade as China's factories strengthen – business live
Britain's FTSE 100 has dipped by 30 points, or 0.5%, at the start of trading – but is still on track for its best quarter since the financial crisis.
UK household spending slumped at a record pace in January-March, the ONS adds:
Households' consumption spending decreased by £9.5 billion (negative 2.7%) in Quarter 1 2020, the largest quarterly fall in nominal household spending of this type ever recorded; there were large falls in expenditure on motor vehicles, restaurants and hotels, and clothing and footwear.
Britain's economy suffered an even more bruising blow from Covid-19 than previously thought.
UK GDP shrank by 2.2% in the first quarter of 2020, according to updated figures from The Office for National Statistics. That's down from a previous estimate of a 2% decline — and is the joint-worst quarter since Margaret Thatcher was settling into Downing Street.
The ONS says:
UK gross domestic product (GDP) in volume terms fell by 2.2% in Quarter 1 (Jan to Mar) 2020, revised downwards by 0.2 percentage points from the first quarterly estimate; this is now the joint largest fall in UK GDP since Quarter 3 (July to Sept) 1979.
When compared with the same quarter a year ago, UK GDP decreased by 1.7% in Quarter 1 2020, a downward revision of 0.1 percentage points from the previous estimate.
This release captures the first direct effects of the coronavirus (COVID-19) pandemic, and the government measures taken to reduce transmission of the virus.
The services, production and construction sectors provided a negative contribution to growth in the output approach to GDP in Quarter 1 2020; with services output falling by a record 2.3% in the latest quarter.
Global stock markets have enjoyed a sizzling quarter, even as the death toll from Covid-19 has marched higher and economies have fallen deep into recession.
World equities have surged by 18% between the start of April and the end of June, according to MSCI's All Country World Index. That's its biggest advance in 11 years, and the second best quarter in at least two decades.
It means stocks have recovered some, but not all, of the heavy losses suffered during the crash in the first quarter of the year.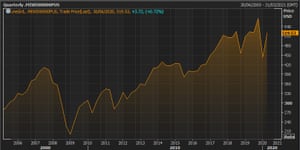 The financial markets have clearly already priced in a recovery, helped by huge stimulus packages, record low interest rates, and a generous flurry of money-printing by the world's central banks.
As Bloomberg puts it:
Investors are weighing better economic figures against a continued increase in virus cases. Following a stronger-than-forecast U.S. pending home sales figures Monday, China Tuesday reported improving purchasing-manager indexes for both manufacturing and services.

The MSCI All Country World Index is up about 18% this quarter, the biggest advance in 11 years — on the heels of the worst quarter since 2008. The rebound comes even as deaths from the virus surpass 500,000 and confirmed cases exceed 10 million, with the World Health Organization warning the worst is yet to come.

"It's not clear what trajectory coronavirus is heading," Tom Lee, co-founder and head of research at Fundstrat Global Advisors, said on Bloomberg TV. "But I also think because we're into quarter-end, there's been some re-balancing. So I'm kind of in the camp that any weakness is short-lived. I would think July is going to be a strong month for stocks."
Economists and traders are cheered by the news that China's factories posted growth this month, despite the ongoing pandemic.
Iris Pang of ING says today's manufacturing and non-manufacturing PMIs both send a positive signal for the economy. Can it be sustained?
Demand for materials and products for the development of advanced technology, the real estate market and infrastructure projects support growing manufacturing activity.

The foreign orders PMI at 42.6 in June confirms that external demand remains weak. We believe that the ongoing Covid-19 situation in the US and Europe will keep the pressure on export orders in the coming months. External demand weakness is putting pressure on some manufacturers, especially small factories, of which the sub-index PMI fell to 48.9 in June from 50.8 a month ago. This confirms our view that small manufacturers continue to struggle to get export orders.
Here's Stephen Innes of Axicorp:
The better-than-expected China PMI lends further weight to the argument that a global cyclical recovery is well underway.
And Jim Reid of Deutsche Bank:
Encouragingly, there was a broad improvement in the details for the manufacturing PMI with output, new orders and new export orders all rising from last month.
Good morning, and welcome to our rolling coverage of the world economy, the financial markets, the eurozone and business.
Some upbeat economic news from China is cheering investors on the final day of June, boosting optimism that the world economy is turning the corner.
China's factories grew at a slightly faster pace this month, according to China's National Bureau of Statistics. Its Purchasing Manager's Index has risen to 50.9 from 50.4 in May (anything over 50 indicates growth).
It's the fourth month of (modest) growth in a row, as China emerged from the lockdown imposed to curb the spread of Covid-19 in January and February.
Chinese manufacturers reported that supply and demand are starting to pick up, leading to more new orders. However, new export orders are still down, meaning factories are still shedding jobs.
In a statement, NBS official Zhao Qinghe said there was still much uncertainty about the economic outlook, with small Chinese companies finding conditions particularly tough.
Services companies also strengthened, with the official non-manufacturing PMI rising to 54.4 in June from 53.6 in May. That's the best reading of the year.
Julian Evans-Pritchard, senior China economist at Capital Economics, explain:
"The latest survey data suggest that economic growth accelerated in June thanks to a faster recovery in manufacturing and services, alongside continued strength in construction activity,

The recovery should remain robust in the coming months as strong infrastructure spending offsets external weakness."
Following an unexpected surge in US home sales on Monday, this may bolster hopes that the world economy may be gingerly emerging from the coronavirus slump.
European stock markets are expected to rise a little this morning, at the end of one of the strongest quarters in decades.
By my reckoning, the FTSE 100 has gained almost 10% since the start of April – its best quarter since 2010. Europe's Stoxx 600 has rallied by over 12% during the quarter – the best since 2015, while Wall Street has enjoyed its strongest gains since 1998.
Astonishing, really, given the world is still gripped by the Covid-19 pandemic. Clearly the unprecedented stimulus from central banks has reassured investors, even though a V-shaped recovery looks rather unlikely.
And most markets are still deep in the red for the year, due to the crash in February and March.
The agenda
10am BST: Eurozone core inflation for June – expected to remain at 0.8%
11am BST: Bank of England chief economist Andy Haldane speaks about the economic impact of Covid-19
1.30pm BST: Canadian GDP for April – expected to shrink by 13
2pm BST: S&P/Case-Shiller index of US home prices
5.30pm BST: US treasury secretary Steven Mnuchin and Fed chair Jay Powell appear before Congressional committee on financial services