Exeter City v Northampton Town: League Two play-off final – live!
2 min Adams sends in an outswinger, but it's cleared easily enough.
1 min Immediately, Northampton hump it forward and win a throw deep inside the Exeter half. Goode will look to hurl it long … no he won't, he goes short and his team win a corner.
1 min The referee blows his whistle and the players take a knee. Then he blows it again, and off we go.
A minute's silence to remember Theo Foley, who played for Exeter and served Arsenal as George Graham's assistant.
Exeter have more clean sheets than any other team in the division, but Taylor, their captain, might like to rethink his barnet.
Here come the Cobblers! For those of you watching in black and white, they're are in a kind of blue/black-grey striped top, with claret socks.
There will be no pre-match presentation of players to VIPs. Swings and roundabouts, eh.
Gosh, Northampton have been around the houses. This, from Wikipedia, lists their kit manufacturers.
"Northampton's has been manufactured by Nike since 2016. Previous manufacturers have included Bukta (1975-82), Adidas (1982-83), Umbro (1983-86), Spall (1986-88), MG (1988-89), Scoreline (1989-91), Beaver Sports (1991-92), Ribero (1992-93), Swift (1993-94), Lotto (1995-97), Pro Star (1997-2000), Sport House (2000-03), Xara (2003-05), Salming (2005-06), Vandanel (2006-09), and Errea (2009-16)."
Email! "Due to a number of factors including, but not limited to, the fact that the games were on TV in the early afternoon here in the U.S., my mostly inexplicable fascination with lower league English football, and a decent amount of boredom, I saw much of these semifinals," says Matt Burtz.
"Exeter seemed solid, well-organised, and mostly in control for both of their legs, while Northampton, after looking quite poor at home in the first leg, seemed to remember that they could still progress with a decisive win in the second leg and completely took it to a bewildered Cheltenham, who were playing with the insouciance of a team that thought they were already at Wembley (and their comical defending reflected it). So while the table may favour Exeter, my money here would be on Northampton, if for no other reason than momentum. Insert cliche about predictions being like opinions and other body parts and whatnot here."
Yes, due to a single factor including and limited to my wife's predilection for Real Housewives, I did not watch the semis. But having had a look this afternoon, I'd also edge towards Northampton, for whom Callum Morton looks in very nifty form. My guess is that Curle will have a plan for him.
Curle, meanwhile, says he's done everything he can, giving his team information and a detailed training session about their fundamentals – a word he keeps using. I'd guess it's something he drills into his players – that if they stick to what they know – what he tells them – they'll be alright.
Matt Taylor, Exeter manager, says his team are well prepared. He thinks it'll come down to how well his team play – how well they defend and attack. Great words.
Jobi McAnuff, player/coach of Leyton Orient, is in the Sky studio. He recently wrote this, which it's important we all grasp.
Wembley does look pretty strange that empty. The players will need to get used that, and quickly.
Do Exeter have a song to this? Surely they must.
By the looks of things, both sides will play 3-5-2 tonight. They're pretty evenly matched too, so the question for the managers is whether they rely on their players being better, or seek a way to outsmart their opposite number by doing something a bit different.
Inside the ground, things are already heating up.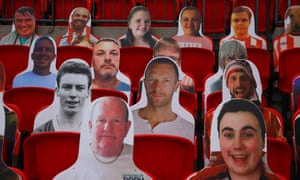 And here he is again.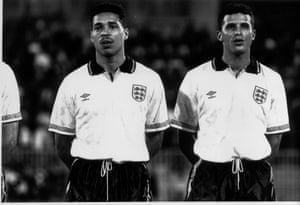 As mentioned below, Keith Curle is manager of Northampton. Here he is!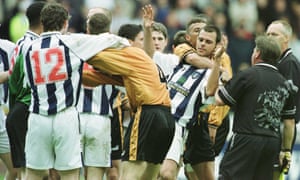 Exeter make one change from that dicey win over Colchester, Atangana replacing Collins in midfield, with Law passed fit. Northampton stay as they were.
Exeter City: Maxted, Sweeney, A Martin, Moxey, Williams, Atangana, Richardson, Taylor, Law, Bowman, Fisher. Subs: Ward, L Martin, Parkes, Sparkes, Dickenson, Ajose, Collins, Jay, Seymour.
Northampton Town: Arnold, Goode, Turnbull, Wharton, Harriman, McCormack, Watson, Hoskins, Adams, Morton, Oliver. Subs: Cornell, Martin, Lines, Olayinka, Anderson, Warburton, Marshall, Williams, Smith
Referee: Michael Salisbury
It's lucky that Wembley is rubbish – not words anyone ever supposed to type, but here we are. Inconvenient to get to and from and hard to get in and out of, the surrounding area offers precious little in the way of redemptive booze and food, while the ground itself is soulless, plastic and poorly designed.
As such, fans of Exeter and Northampton needn't be too upset about what they're missing, because who needs a day out with their mates more than they've ever needed anything? Exactly.
As it goes, the Grecians have made it to this point in two of the last three seasons only to lose to Blackpool and Coventry, so know exactly what they're missing. They finished – rather "finished" – seven points ahead of the Cobblers and are slight favourites to win tonight after an invigorating late win in their semi in which they threw away a lead then regained it in extra-time.
Northampton, meanwhile, visit HA8 in fine fettle. Just last week they became the first team since 2008 to overturn a 2-0 first-leg deficit, and Keith Curle, their manager, was manager of Carlisle when they beat Exeter with a last-minute goal, three years ago. Which is to say that it is the absolute height of on.
Kick-off: 7.30pm BST