2:00PM Water Cooler 6/1/2020
By Lambert Strether of Corrente.
Patient readers, I was trying to get my head round the riots, if riots we should call them, and so I got a very late start. I will add more links in due course. –lambert
#COVID19
At reader request, I've added this daily chart. The data is the John Hopkins CSSE data. Here is the site. Today I thought I would look at big states not in the Acela Corridor: California, Texas, Florida: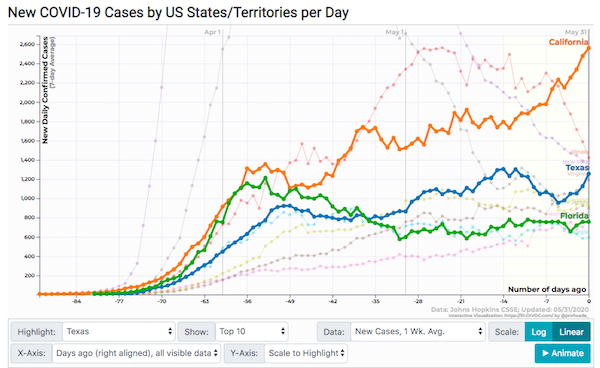 The vertical scale is scaled to the highlight. All the curves are calendar-, not inception-based. It's clear that this country cannot be said to have the pandemic under control.
Politics
"But what is government itself, but the greatest of all reflections on human nature?" –James Madison, Federalist 51
"They had one weapon left and both knew it: treachery." –Frank Herbert, Dune
"They had learned nothing, and forgotten nothing." –Charles Maurice de Talleyrand-Périgord
* * *
2020
Biden (R)(1): "Biden meets with black leaders at local church amid unrest" [Associated Press]. "[A]fter another night of violent protests, Biden gathered with roughly a dozen local black leaders during an intimate hometown meeting [in Wilington, DE] ahead of a virtual meeting with mayors from Los Angeles, Atlanta, Chicago and St. Paul, Minnesota… If elected, [Biden' promised to 'deal with institutional racism' and set up a police oversight body in his first 100 days in office. … In an election that is likely to be a referendum on the sitting president, some Biden aides say privately that the best plan may be to let Trump do himself in. Yet there is also a recognition that Biden needs to do more than simply wait for voters who may be turned off by Trump to turn toward him…. All the attendees, including Biden, wore face masks but lowered them as they spoke." • In an indoor space, so the masks were purely performative.

Sanders (D)(1): "Fear Pervades Black Politics, and Makes Us Agents of Our Own Oppression" [Black Agenda Report]. From March, still germane: "Black voters in South Carolina kicked off Joe Biden's political resurrection last Saturday, and stuck with the worthless corporate hack through Super Tuesday's primary contests. Although the craven Black Misleadership Class will no doubt shout hallelujahs that "hands that picked cotton now pick presidents" and claim Black voters exercised brilliant "strategic" judgment in making themselves indispensable to the corprate Democratic party establishment, the true motivator of Black Biden supporters is a pervasive and deeply corrosive fear. Not just dread of four more years of Trump, although that is central to Black political behavior, but abject terror at the very thought that the Democratic Party – "our" party, in many Black folks' minds – might fracture under the challenge of the Sandernistas. Voluminous data over many years has shown that African Americans are to the left of Hispanics on issues of bread and butter and, especially, war and peace, and far to the left of white Democrats. But, unlike Hispanics, Blacks cannot be depended on to uphold their own historical political consensus in Democratic Party primary elections for fear of weakening the chances of defeating The White Man's Party. Hyper-conscious of their minority and despised status – and surrounded by hostile, race-obsessed white Republicans in the southern states – older Blacks cling to Democratic Party structures as if their lives depend on it. The ascent of Donald Trump has only tightened the duopoly trap, causing Blacks to invest their votes in candidates they perceive as "good for the party," as if that is synonymous with Black interests. Ruling class panic at the prospect of losing control of the top of Democratic ticket has deeply infected the party's most loyal constituency. Thus, Black folks over 40, and many younger ones, are behaving like Malcolm X's 'house Negro,' who asks with genuine concern, 'Is we sick, boss?' when the master is feeling poorly." • Ouch. And here we are!

Trump (R)(1): "Trump slams governors as 'weak,' urges crackdown on protests" [Associated Press]. "Trump spoke to governors on a video teleconference that also included law enforcement and national security officials, telling the state leaders they 'have to get much tougher.' 'Most of you are weak,' Trump said. 'You have to arrest people.' 'You've got to arrest people, you have to track people, you have to put them in jail for 10 years and you'll never see this stuff again,' said Trump. 'We're doing it in Washington, D.C. .' Attorney General Bill Barr, who was also on the call, told governors that a joint terrorist task force would be used to track agitators and urged local officials to 'dominate' the streets and control, not react to crowds, and urged them to 'go after troublemakers.'" • One wonders where this will play well. Anyhow, I don't know why we militarized the police if we don't want them to use their toys.
Realignment and Legitimacy
What a legitimacy crisis looks like? Worth a listen (via DG):

[embedded content]

Liberal Democrats have lost their minds:

Susan Rice, at the end of this clip, suggesting the uprising is a Russian plot.

You cannot make this shit up. Fucking deranged.

— Eoin Higgins (@EoinHiggins_) May 31, 2020

To be fair, Rice, as a [x] black [x] woman, is on Biden's short list, so she has to conform to RussiaGate lunacy (as did Sanders, sadly).

Bright ideas (1):

Here's an idea: Why don't @JoeBiden, along with @BarackObama and @GeorgeHWBush and @BillClinton and @CarterLibrary address to the nation together?

— Kara Swisher (@karaswisher) June 1, 2020

Bright ideas (2):

If any public-spirited billionaire out there is wondering how they can leave a legacy in America, consider buying newspaper chains and empowering non-profit trusts of journalists to run them https://t.co/4ZutVet7de

— Jonathan Martin (@jmartNYT) June 1, 2020

Look at all that air. They can't even fill their news hole!
Stats Watch
At reader request, I added some business stats back in. Please give Econintersect click-throughs; they're a good, old-school blog that covers more than stats. If anybody knows of other aggregators, please contact me at the email address below.
Construction: "April 2020 Construction Spending Declined But Was Only Marginally Affected By The Coronavirus" [Econintersect]. "Construction spending is trending downward but remarkedly strong considering the impact of the coronavirus pandemic. Private construction had been fueling construction growth – but currently, public construction is fueling the growth.Consider this a slightly worse report relative to last month even with the decline reported by Census."
Manufacturing: "May 2020 ISM and Markit Manufacturing Surveys Remain Deep In Contraction" [Econintersect]. "Based on these surveys and the district Federal Reserve Surveys, one would expect the Fed's Industrial Production index growth rate to decline. Overall, surveys do not have a high correlation to the movement of industrial production (manufacturing) since the Great Recession. No question these surveys suggest the economy is contracting all thanks to the coronavirus."
* * *
The Bezzle: "Elon Musk vs. Bay Area officials: These emails show what happened behind the scenes in the Tesla factory fight" [MarketWatch]. "[Alameda County Interim Health Officer Erica Pan] requested police ensure several specific precautions were being taken, including screening of employees entering the facility, frequent cleaning and disinfection of high-touch surfaces, and ensuring employees wear masks and maintain physical distancing. 'My understanding is they only plan to have ~10% of their employees (~1500 employees during day shift) working this week to begin to prepare for increased operations as soon as next week, 'Pan wrote. The next afternoon, [Fremont Police Lt. Brian] Shadle and another officer arrived at the Fremont factory at 4:20 p.m. Pacific, and found a bit more activity than what Pan expected. 'During the visit it was extremely apparent that the manufacturing plant was NOT operating at full capacity it appeared that they were only operating between 25-30 percent of functions,' Shadle wrote. The rest of Shadle's report noted changes to employee shuttles, extensive hand sanitizer and personal protective equipment readily available, and abundant signage regarding social distancing and proper procedures during a nearly two-hour tour. 'The facility is huge and overall the safety measures that have been instituted exceeded the safety measures outlined by the Alameda County Health Department,' Shadle concluded. 'I am impressed at the length of the visit and the details of the report,' Pan wrote in response to the report. 'I realize this is not typical law enforcement work so I greatly appreciate the time, detail, and assistance.'" • This seems odd. Why wasn't there a heatlh officer along with the cops?
* * *
Mr. Market: "Dow claws back early losses as U.S. manufacturing data suggests worst of economic downturn is past" [MarketWatch]. "Evidence of rising tensions between the U.S. and China and social unrest in America helped to create some headwinds for markets early Monday, but the bearish sentiment gave way after economic data underlined the progress from states taking away measures implemented to stem the spread of the COVID-19 disease. All 50 states are under some stage of reopening from forced shutdowns due to the pandemic."
Today's Fear & Greed Index: 58 Neutral (previous close: 52 Neutral;) [CNN]. One week ago: 50 (Neutral). (0 is Extreme Fear; 100 is Extreme Greed). Last updated May 29 at 1:18pm. Last updated Jun 1 at 1:02pm. So Mr. Market came back from the Nineteenth Hole on Sunday, and decided to get bullish?
Rapture Index: Closes down one on earthquakes. "The lack of activity has downgraded this category" [Rapture Ready]. Record High, October 10, 2016: 189. Current: 185. Remember that bringing on the rapture is a good thing. I feel apocalyptic. Why don't these guys?
Health Care
"The case for doing everything outside" [The Week]. "It's not impossible to catch the coronavirus outdoors, but public health experts consider outside transmission extremely unlikely if people take appropriate precautions…. This means two things. First, people going to the beach, pool, or park aren't being reckless if they're maintaining distance from others and practicing proper hygiene. And second, if we want to safely move toward normalcy before there's a vaccine, reliable treatments, or widespread natural immunity, we should move life outside as often as we can….. Education isn't the only activity we could shift outdoors. Already some cities are considering closing parking lanes or entire streets to give restaurants more room for "patio" seating… Gathering outside could work for churches and other religious assemblies, too." • Not in the winter. For those who have winter…
"Mass gatherings, erosion of trust upend coronavirus control" [Associated Press]. "It's unclear if the protests themselves will trigger large new outbreaks. The protests were outside, where infections don't spread as readily as indoors. Also, many of the protesters were wearing masks, and much of the contact was likely less-hazardous "transient" moments of people moving around, passing each other, said Dr. William Schaffner, an infectious diseases expert at Vanderbilt University. But, still, experts worry that public efforts to contain the disease in the future could be undermined." And then there's this: "In a press conference Saturday, Minnesota Public Safety Commissioner John Harrington used the term '' when describing an investigation into arrested protesters there. He said the goal is to 'see if there are crime or white supremacy organizations that have played a role' and 'to understand how do we go after them, legally,' Harrington said." • So even "contact tracing," the term, is going viral and spreading, we know not where. Guaranteed it won't stop with application to white supremacy organizations.
Black Injustice Tipping Point
"Column: What images of burning buildings and broken windows tell us, and what they don't" [Los Angeles Times]. "A common sentiment I hear is that rioting is not the answer. But the painful truth is that rioting is not supposed to be an answer to anything. It is explicitly an expression of anger and frustration, a fire whose sparks land indiscriminately. A city burning is what happens when people have abandoned hope for answers….. In Los Angeles, many residents remember what it's like to try to answer the questions that images of a burning city raise. And if we have found a meaningful answer to the questions raised by the 1992 riots, or the Watts riots, or the Zoot Suit Riots."
Riot vs. rebellion. From Hong Kong: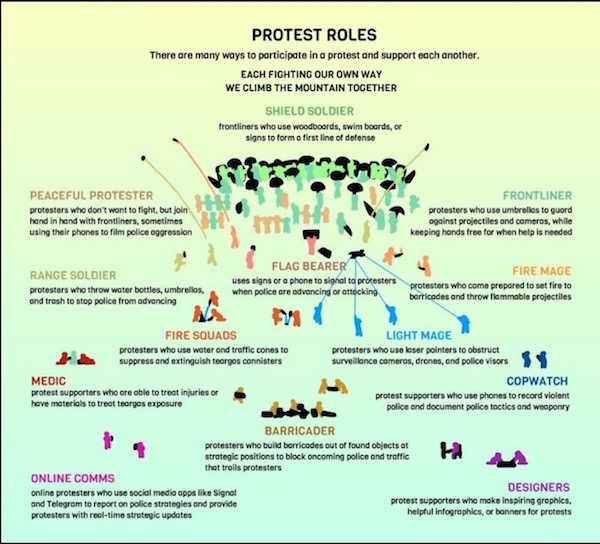 We have a ways to go…
Groves of Academe
"Risky Strategy by Many Private Colleges Leaves Them Exposed" [New York Times]. See Yves on this topic here. "Mr. Ducoff, a former administrator at Northeastern University, and Ms. Manville, a former administrator at Southern New Hampshire University, looked for a credible list of financially vulnerable colleges and couldn't find one. So they decided to create their own, using publicly available information about trends in colleges' revenues, expenses, debts and cash reserves. They assembled and were preparing to release a list of colleges that were headed toward insolvency. But when Inside Higher Ed, working on a news article to accompany the data, began to contact the colleges affected, angry emails and phone calls started pouring in. Making such information public would be 'grossly irresponsible and would cause great harm to the college,' one lawyer wrote, demanding that Mr. Ducoff's and Ms. Manville's small start-up firm, called Edmit, 'refrain from publication.' Edmit didn't have the money to fend off multiple lawsuits. It put the list in a drawer. That was in November 2019, shortly before the first recorded coronavirus victim began showing symptoms in China."
"Universities will never be the same after the coronavirus crisis" [Nature]. "As universities face major changes, their financial outlook is becoming dire. Revenues are plummeting as students (particularly international ones) remain home or rethink future plans, and endowment funds implode as stock markets drop…. The universities that are likely to fare best are those that are rich and powerful. But even those face challenges…. All institutions are facing major financial problems, however. Wealthy private US universities, such as Johns Hopkins University in Baltimore, Maryland, expect to lose hundreds of millions of dollars in the next fiscal year. UK universities collectively face a shortfall of at least £2.5 billion (US$3 billion) in the next year because of projected drops in student enrolment, according to the UK consulting firm London Economics. And Australian universities could shed up to 21,000 full-time jobs this year, including 7,000 in research, a government report said in May." • So. just as with a functional press, we'll be losing university research, exactly when we need it most.
Class Warfare
"Why wealth gap has grown despite record-long economic growth" [Associated Press]. From July, 2019, still germane. I've been looking for a chart with this breakdown for some time: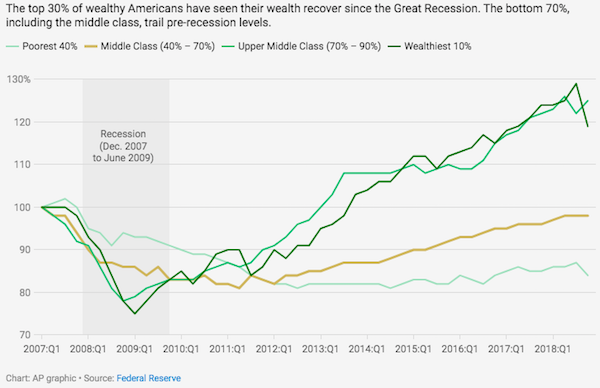 Breaks down rather neatly to the Democrat base; you can see why they genuinely would thank Obama.
"The dead end of racial identity politics" [Intransigence]. "The most recent manifestation of this phenomenon is an activist network in the United States that calls itself "Black Lives Matter," which has become synonymous with the movement against racialized police violence, a clear-cut example of capitalists and their lackeys co-opting the authentic resistance of black workers. This organization, whose ties to the Democratic Party-NGO complex are fairly well-established at this point, attempts to harness the explosive spontaneity of the proletarian element within these social movements, which often takes the form of riots and looting, into forms of engagement with the capitalist system that do not interfere in any way with profitmaking.10 It is unsurprising, therefore, that their manifesto reads like the DNC platform, but with demands for reparations and investment into black-owned businesses — effectively income redistribution for black capitalists — thrown in for good measure. Black Lives Matter are modern-day Garveyites, only they have traded in the overt homophobia and misogyny of the latter for hollow social justice rhetoric that throws a veneer of radicalism over their essentially capitalist politics." • Bracing, albeit from a tiny groupuscle.
"NY State Legislature Drops Rent Cancellation Bill, Takes Up 'Totally Inadequate' Measure Instead" [Gothamist]. "Notably absent from the agenda: legislation to waive rent for tenants facing hardship during the pandemic. That bill, introduced in March by Queens State Senator Mike Gianaris, won't get a vote this week, despite its 21 co-sponsors in the Senate and 22 in the Assembly…. Instead, legislators are poised to vote Thursday on a far more modest form of tenant relief. Dubbed the Emergency Rent Relief Act of 20201, the bill would provide vouchers to landlords on behalf of a small subset of rent-burdened tenants who lost income during the pandemic. To be eligible, a landlord's tenants must earn below 80 percent of an area's median income, and have been paying more than 30 percent of their household income in rent before March 7th." • Mark Ames comments: "Means testing—core Dem Party ideology."
News of the Wired
Normally I wouldn't run an animal (I run plants) but this seems to capture that Monday feeling so well, especially now:
— raccoons (@rqccoons) May 30, 2020
* * *Readers, feel free to contact me at lambert [UNDERSCORE] strether [DOT] corrente [AT] yahoo [DOT] com, with (a) links, and even better (b) sources I should curate regularly, (c) how to send me a check if you are allergic to PayPal, and (d) to find out how to send me images of plants. Vegetables are fine! Fungi and coral are deemed to be honorary plants! If you want your handle to appear as a credit, please place it at the start of your mail in parentheses: (thus). Otherwise, I will anonymize by using your initials. See the previous Water Cooler (with plant) here. Today's plant (WB):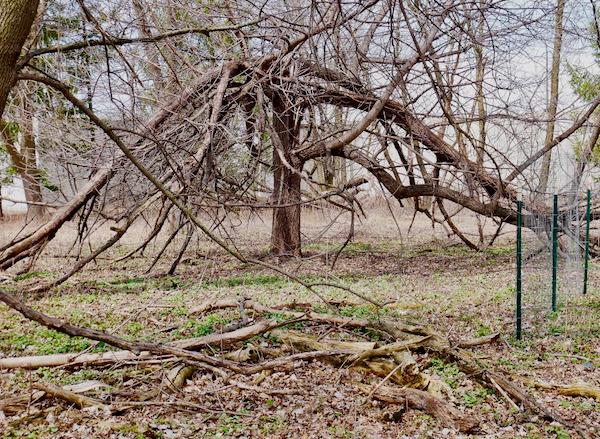 WB writes: "You wondered where umbrellas come from? Umbrella trees, of course." Add oil?
* * *
Readers: Water Cooler is a standalone entity not covered by the annual NC fundraiser. So if you see a link you especially like, or an item you wouldn't see anywhere else, please do not hesitate to express your appreciation in tangible form. Remember, a tip jar is for tipping! Regular positive feedback both makes me feel good and lets me know I'm on the right track with coverage. When I get no donations for five or ten days I get worried. More tangibly, a constant trickle of donations helps me with expenses, and I factor in that trickle when setting fundraising goals:
Here is the screen that will appear, which I have helpfully annotated.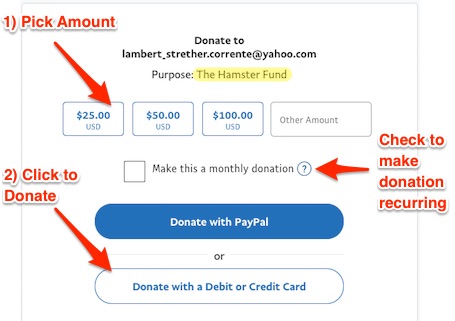 If you hate PayPal, you can email me at lambert [UNDERSCORE] strether [DOT] corrente [AT] yahoo [DOT] com, and I will give you directions on how to send a check. Thank you!