Coronavirus live news: 6m Australians download tracing app as experts fear second wave in US summer
More on the wage subsidy scheme in Australia. So far, the government has not given any indication it is planning to extend the scheme to excluded workers, such as casuals employed for less than a year, university and local government staff, temporary visa holders and employees of foreign-owned companies.
However, a scheduled review in June may look at tweaks to the scheme, including the potential to extend targeted support to the worst-affected sectors beyond the expiry in September.
The government has been spinning the updated figures as good news.
The energy minister, Angus Taylor, told Sky News this morning that the original forecast was never "an objective or a target".
"It does mean that we're in a better position as we work our way towards recovery and that is fantastic news," Taylor said, adding that "we'll see what comes out of" the review in June.
In Australia, the government is facing sustained pressure to widen its wage subsidy scheme to cover a broader group of workers, after revelations on Friday that the six-month "jobkeeper" program is now expected to cost the budget AU$70bn (US$45.8bn) rather than AU$130bn.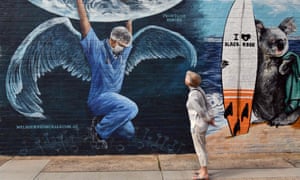 The Labor opposition's Senate leader, Penny Wong, described the news as "a $60bn black hole in the economic credibility of the Morrison government" and she reinforced calls for the $1500 fortnightly payment to be extended to a more of the workforce, including short-term casuals.
Speaking on the ABC's Insiders program on Sunday morning, Wong said the treasurer, Josh Frydenberg, should have "the courage" to accept a forthcoming invitation to appear before the Senate's Covid-19 inquiry to explain the error.
"We'd say to Josh, when you've got a budget blunder of this size, I reckon it is about time you fronted up and explained it."