Coronavirus live news: Boris Johnson in intensive care as Trump sends prayers
British media heavyweight, Andrew Neil, whose resume includes the BBC, the Spectator, Sky News and the Sunday Times summed up the mood in London.
Tony Blair's former press secretary, Alistair Campbell, also tweeted:
A number of world leaders have tweeted their support for Johnson, including this from the French president, Emmanuel Macron.
And this from the Australian prime minister, Scott Morrison.
You can see our story on world leaders' tributes to Johnson below:
While Johnson is in hospital, the UK's foreign secretary, Dominic Raab, will be running the country's coronavirus response. He is expected to chair the emergency Cobra meetings and cabinet meetings as the government makes crucial decisions related to the pandemic, including whether and when to alter restrictions on movement.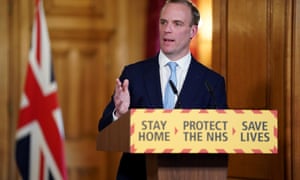 Raab, 46, who has twice tested negative for the virus, is Johnson's "designated survivor", and takes on prime ministerial responsibilities now Johnson has become too ill to remain in charge of the government.
You can see our full story on this by Rajeev Syal and Lisa O'Carroll here: Dominic Raab to lead UK through coronavirus hurdles
President Trump has been holding his daily White House briefing on coronavirus, in which he paid tribute to Boris Johnson, saying he had "found him to be a fantastic person, a fantastic warm strong smart guy. He loves his country, you see that. He fought like hell for his country. But intensive care is big stuff, really big stuff…"
Trump also said:
We're very saddened to hear that [Johnson] was taken into intensive care this afternoon, a little while ago, and Americans are all praying for his recovery. He's been a really good friend. He's been really something very special: strong resolute; doesn't quit; doesn't give up.

And I've asked two of the leading companies – these are brilliant companies. Ebola, Aids, they've come with the solutions and just have done incredible jobs – and I've asked them to contact London immediately. They've really advanced therapeutics … and they have arrived in London already, the London office has whatever they need.

We'll see if we can be of help. We've contacted all of Boris's doctors, and we'll see what is going to take place, but they are ready to go.

But when you get brought into intensive care, that gets very, very serious with this particular disease.

So, the two companies are there. And with what they are talking about, and it's rather complex and has had really incredible results. We're working with the FDA and everybody else but we are working with London with respect to Boris Johnson.
If you are just joining our coverage of the day's coronavirus developments, it's been a dramatic few hours of news, with the British prime minister moved to intensive care in hospital after his condition from Covid-19 deteriorated.
Johnson was moved to the critical unit at St Thomas' Hospital on Monday evening. He was understood to be conscious when he was moved to intensive care at about 7pm, as a precaution should he require ventilation to aid his recovery.
Press Association reports Derek Hill, professor of medical imaging at University College London (UCL), said the PM could be given a breathing aid known as continuous positive airway pressure (CPAP), which bridges the gap between an oxygen mask and full ventilation.
CPAP uses pressure to send a blend of air and oxygen into the mouth at a steady rate, thereby boosting the amount of oxygen that enters the lungs.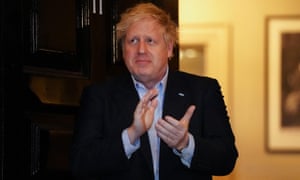 But Prof Hill said many Covid-19 patients eventually "progress to invasive ventilation".
This is for people whose illness is so severe they are struggling or unable to breathe for themselves. A mechanical ventilator either does all the breathing for the patient, or assists the patient's own breathing.
Hill said:
One of the features of Covid-19 in all countries seems to be that many more men become seriously ill than women – especially in the over 40 age group. Also we know that people under about 60 seem to have a higher chance of making a recovery from critical illness with Covid-19 than older people.

But there is no doubt this turn of events means Boris Johnson is extremely sick.

It illustrates three of the important healthcare needs of Covid-19.

Firstly, many patients need help breathing, and there is a shortage of the mechanical ventilators that can do this – and in particular a shortage of the high quality intensive care ventilators most suitable for Covid-19 patients who might need help breathing for over a week.

Secondly, Covid-19 patients need a huge amount of oxygen to help them breathe – which is potentially going to be in short supply.

Thirdly, looking after people in intensive care requires skilled staff, and the experience of New York has been that finding enough skilled staff has been the greatest challenge.
Hello and welcome to our continuing live coverage of the coronavirus pandemic.
The main news today is that the British prime minister, Boris Johnson, has been admitted to intensive care in a London hospital, as he battles Covid-19. He was moved into ICU at 7pm London time as a precaution in case he needed ventilation.
A Downing Street spokesperson said: "Over the course of this afternoon, the condition of the prime minister has worsened and, on the advice of his medical team, he has been moved to the intensive care unit at the hospital."
You can read our coverage of the story here:
President Trump has just held his daily White House press briefing, in which he paid tribute to Johnson.
We're very saddened to hear that [Johnson] was taken into intensive care this afternoon, a little while ago, and Americans are all praying for his recovery. He's been a really good friend. He's been really something very special: strong resolute; doesn't quit; doesn't give up.
Elsewhere:
Egypt has reported 149 new cases; its highest daily toll since confirming the first infection in February.
Israel will go into a four-day national lockdown starting on Tuesday to try to stem the outbreak during the Jewish holiday of Passover.
Denmark will reopen day cares and schools for children in first to fifth grade starting 15 April if the numbers of coronavirus cases and deaths remain stable, the country's prime minister has said.
Russia is resuming some international flights to repatriate its citizens, ending the suspension of all flights announced last week.
The wearing of medical masks by the general public could exacerbate the shortage for health workers on the front lines, the World Health Organization (WHO) has said.
You can also find our latest "At A Glance" summary of developments here.