the coronavirus shows how clean the air could be if we all used electric cars
as well as cleaner water and more vibrant wildlife, lockdown measures as a result of coronavirus are demonstrating a positive impact on the air we breath. new satellite images and personal testimonies showed that air pollution had decreased in urban areas across europe and america as a result of their being less people, and more importantly, less cars.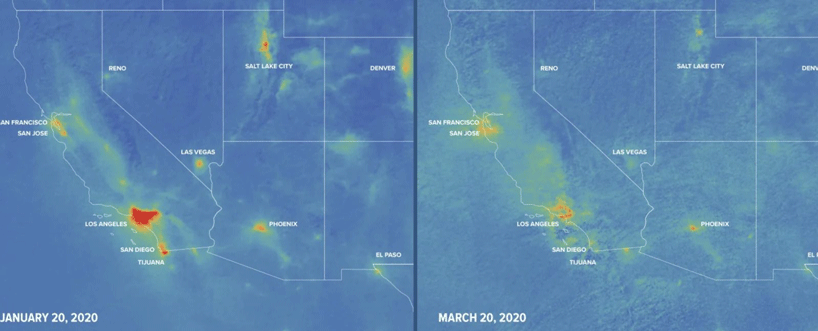 image via electrek
as electrek's editor-in-chief fred lambert reports from california where he lives, the effects can be felt across LA:
'we have a great view from our backyard and can see miles out,' he writes. 'however, due to the smog that surrounds los angeles, we were only able to see the san gabriel mountains and downtown la a day or two after the smog is cleared by the rain – then it's back to seeing only a few miles out.'
'but now it hasn't rained in a week and we can see further out than I've ever seen in the last 3 months. we can see all the way to the cucamonga peak, which is a good 50 miles from here. of course, that's only anecdotal evidence, but the data is starting to back it up.'
the evidence lamber references includes a map of nitrogen dioxide captured from satelittle images that shows a massive reduction compared to just two months ago. the data gathered during the crisis is expected to be used to better understand how human activity produces emissions in different regions.

cities including brussels, paris, madrid, milan and frankfurt showed a reduction in average levels of noxious nitrogen dioxide over march 5-25, compared with the same period last year, according to the sentinel-5 satellite images. the new images, released by the european space agency (ESA) and analyzed by the non-profit european public health alliance (epha), show the changing density of nitrogen dioxide, which can cause respiratory problems and cancer, like heat maps.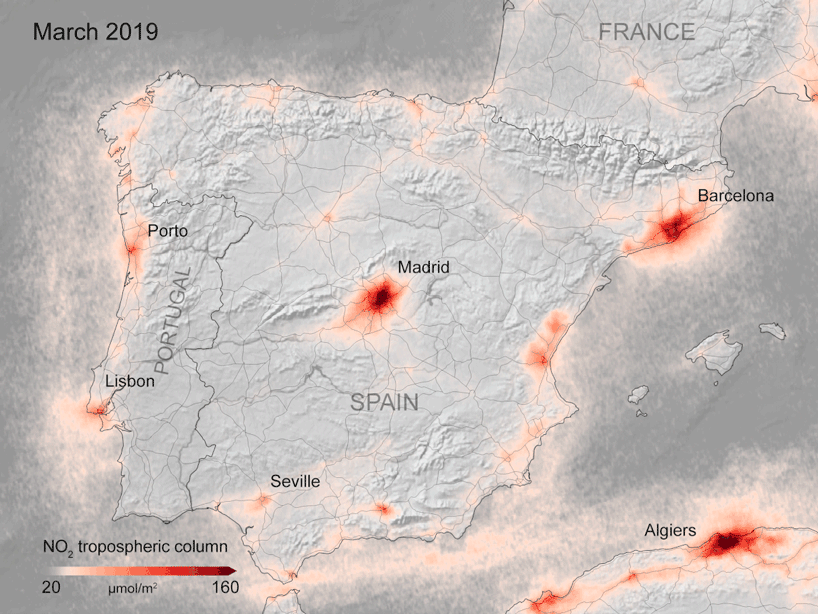 assuming that one of the main reasons for this is a widespread reduction in vehicle usage, lambert points out that the images demonstrate the powerful impact that widespread electric vehicle adoption could have on the air we breath:
'if everyone who is staying home these days were driving electric cars powered by renewable energy when they go back to their regular commute, we would keep this incredible air quality going forward,' he continues. 'we are still quite far from that goal, but we could take this opportunity to double down our effort to accelerate electric vehicle adoption.'


kieron marchese I designboom
mar 31, 2020