Juventus v Manchester United: 1999 Champions League semi-final – live!
10 min I suppose Manchester United had to score anyway. The difference is that a 1-1 draw would take the tie to extra-time, whereas a 1-0 win would have put them through.
9 min Birindelli drives a long pass towards Inzaghi, who wrestles with the last man Johnsen and then falls over. The referee isn't interested. But Juventus look so dangerous on the break.
8 min An immediate response from United. Keane chips a cute ball down the line for the overlapping Neville, who lobs it first time across the penalty area. Cole, 12 yards from goal, connects well with an overhead kick but hits it straight at Peruzzi.
It's an even better start now! Filippo Inzaghi has given Juventus the lead from the corner. Zidane took it short to Di Livio, received the return and curled a wicked first-time cross into the six-yard area. Inzaghi was the only Juventus player in there, but he got away from Neville at the far post to volley in from two yards.
Neville's defending was less than ideal. He was thrown by a sudden movement from Inzaghi and ended up trying to manhandle him, like a bouncer bundling somebody out the back door of a nightclub. He wasn't even looking at the ball as it flashed across the face of goal onto Inzaghi's right foot.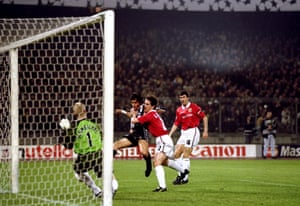 6 min Davids shields the ball from Keane near the halfway line, then suddenly opens United up with a marvellous pass down the inside-left channel. Beckham slides in ahead of Pessotto to concede a corner. This is a strong start from Juventus.
5 min The decidedly uncrowded Zidane has time to drive a long, angled pass over the defence. For a second it looks like Inzaghi is through, but Stam shows good pace to catch him up and put the ball out of play. Moments like that are exactly the reason United bought Stam, who is arguably the best one-v-one defender in the world.
4 min The early signs are that United have no special plan to deal with what Ferguson called "the Zidane thing" in the build-up. He is playing in the hole between the defence and midfield, and it looks like United are planning to crowd him rather than man-mark him.
4 min "I'm just about to finish college, the world is my oyster, everything seems rosy," says Matt Dony. "Maybe my band will get the record deal we deserve. (Otherwise, I'll probably end up as a boring, bitter middle-aged grump. Urgh.) The world is full of opportunity. I don't even mind seeing United do well (although, they stand no chance tonight), because I've got a good feeling about Liverpool over the next few seasons. Next year will be our season."
It'll be Sean Dundee's season. You heard it here last.
3 min A frantic start, although United have seen plenty of the ball. Zidane plays a first-time through ball towards Conte, and Schmeichel rushes from his line to claim.
2 min "Great pre-match tune featuring Ian Brown," says Peter Oh. "Do you reckon that the Stone Roses will ever reform?"
No chance. They've got far too much class to go down that desperate road.
1 min Peep peep! United kick off from right to left as displayed by the Independent Television cameras. Drink!
There's quite a din in Turin. The atmosphere is smoky, primal – and, even on a television screen, pretty damned intimidating. This is it.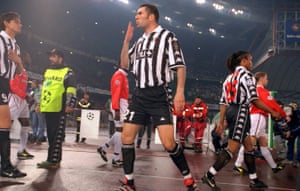 Alex Ferguson is radiating calm during his pre-match interview on ITV. He looks excited but relaxed, with a half-smile on his face as he considers the match. "It's a massive game and I feel good about it. I think we have a very good chance. It's gonna be a tough game, we're aware of that. They'll start 100 miles an hour, they'll try to finish us off in the first 30 minutes. We've got to make sure we're ready for that, and counter-attack with real purpose. It's gonna be a great night I hope."
"Hi Rob," says Sean Doyle. "I've lost a lot of money this week betting on the weather but after Juve's performance in the first leg I'm confident that my ridiculously large bet on a comfortable home win will turn my luck around."
Come on: how much, and what odds.
Edgar Davids, Juve's Dutch pitbull, was in bullish mood earlier in the week.
United are supposed to have the best midfield in the world but we had the better of them at Old Trafford. We were like a steam train, overrunning them. I felt sick to my stomach when Giggs equalised for them. The longer I was out there, looking at opponents who had been described as such big stars, the more I realised what was in it for us. I have no fears any more. I want to get at them again.
Twelve men, some angrier than others, are on a yellow card and will miss the final if they are booked tonight: Irwin, Johnsen, Keane, Scholes, Phil Neville, Conte, Deschamps, Davids, Di Livio, Zidane, Montero and Peruzzi. It was on this ground that Paul Gascoigne started shedding them during and after the Italia 90 semi-final.
There's no Ryan Giggs, not even on the bench. Ferguson has decided to keep United's width and replace him with Jesper Blomqvist rather than Paul Scholes. That's one of two changes fron the first leg. The other was widely predicted: Nicky Butt replaces Scholes in central midfield, where United were outnumbered in the first half at Old Trafford.
Dwight Yorke and Andy Cole return to the starting line-up after being on the bench or in the stands for the last two games. They haven't scored in over a month, and Yorke in particular had a beast in the first leg, but Ferguson was always likely to trust them in such a big game. They've scored 10 between them in this season's competition, the same as the entire Juventus squad.
Juventus also make two changes from the first leg. Ciro Ferrara replaces Paolo Montero, who is only on the bench. That must be because of injury. The suspended right-back Zoran Mirkovic is replaced by Alessandro Birindelli at right-back.
The young French winger Thierry Henry, who scored twice at Lazio on Saturday, is cup tied. Juventus have stuck to the same 4-4-1-1 formation that was so effective at Old Trafford, with Zidane playing behind Filippo Inzaghi.
Juventus (4-4-1-1) Peruzzi; Birindelli, Ferrara, Iuliano, Pessotto; Conte, Deschamps, Davids, Di Livio; Zidane; Inzaghi.
Substitutes: Rampulla, Montero, Fonseca, Amoruso, Tudor, Tacchinardi, Esnaider.
Manchester United (4-4-2) Schmeichel; G Neville, Johnsen, Stam, Irwin; Beckham, Keane, Butt, Blomqvist; Cole, Yorke.
Substitutes: Van Der Gouw, May, P Neville, Brown, Scholes, Solskjaer, Sheringham.
Referee Urs Meier.
The sixth best team in Italy are also the most feared in Europe. Juventus may have taken most of the Serie A season off, but they still have an aura the size of a continent. If you don't believe me, here's Exhibit A: Gary Neville's face when Juventus sneaked into the quarter-finals after drawing their first five group games.
Juve were still scary when they were crap. On current form, they're terrifying. They took the leaders Lazio apart in Rome at the weekend, and they were awesome for the first hour of their 1-1 draw at Old Trafford two weeks ago. "We'll score over there," said a combative Ferguson after that game, and United will have to: if it ends 0-0, Juventus go through on away goals.
This really is the ultimate challenge for Ferguson's intrepid, Treble-chasing team. The good news is that they could barely be in better form going into it. United are unbeaten in four months, and the astonishing drama of last week's FA Cup semi-final win over Arsenal has created a powerful sense of destiny. But while they are hoping to reach the European Cup final for the first time in 31 years. Juve are expecting to reach their fourth in a row, and their sixth European final in seven seasons.
Dwight Yorke reckons it's 50/50; George Best says United need "a miracle". I wouldn't go that far, but Juventus are big favourites – especially as United are likely to be without Ryan Giggs, who did not train last night because of his ankle injury. Forget what Juve's new coach Carlo Ancelotti said earlier this week; Giggs is the one United player Juventus truly fear.
Giggs starred when United beat Juventus 3-2 in the group stages last season, their most important European rite of passage to date. That was a glorious victory – but it was at Old Trafford, and Juventus had 10 men for the last 25 minutes. This challenge is on another level. In recent seasons Juventus have been United's benchmark, inspiration and nemesis. If Ferguson's team are going to reach the European Cup final, there's no better place to do it.
Kick off is at 7.45pm BST on 21 April 1999 (and 31 March 2020)