Coronavirus live news: US deaths could reach 240,000 as UN says world faces worst crisis since WW2
Moving away from the US now to Saudi Arabia, which has urged Muslims to wait before making plans to attend the annual haj pilgrimage until there is more clarity about the pandemic.
Some 2.5 million pilgrims from around the world usually flock to the holiest sites of Islam in Mecca and Medina for the week-long ritual, which is a once-in-a-lifetime duty for every able-bodied Muslim and a major source of income for the kingdom.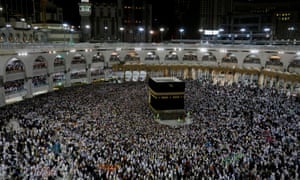 The largest annual gathering of Muslims is scheduled to begin in late July, but the coronavirus outbreak has raised questions about whether it can or should go ahead given the risk of spreading the disease further in large gatherings.
Saudi Arabia has already suspended the smaller, year-round umrah pilgrimage until further notice, halted all international passenger flights indefinitely and last week blocked entry and exit to several cities, including Mecca and Medina.
The kingdom has reported 10 deaths among 1,563 cases of coronavirus, which has infected some 800,000 people globally and killed more than 38,000.
Cancelling the haj would be unprecedented in modern times, but curbing attendance from high-risk areas has happened before, including in recent years during the Ebola outbreak.
Trump also said that "nobody knew how contagious this virus was".
My colleagues have fact checked this:
Fact check: "Nobody knew"

"Nobody knew how contagious this was," Trump said. "I don't think any doctor new it at the time. People have not seen anything like this."

In fact, as the disease spread through China, public health experts were warning for weeks that the coronavirus threat could grow into a pandemic.

Moreover, epidemiologists have been predicting this sort of pandemic for years. The US intelligence community, in its January 2019 Worldwide Threat Assessment, wrote: "We assess that the United States and the world will remain vulnerable to the next flu pandemic or large-scale outbreak of a contagious disease that could lead to massive rates of death and disability, severely affect the world economy, strain international resources, and increase calls on the United States for support."
US president Donald Trump has just finished a White House briefing, one of the more memorable because of the predictions coming out of the coronavirus task force's modelling.
"It's an incredibly dark topic," Trump said, before leaving the podium. "An incredibly horrible topic. And it's incredibly interesting. That's why everybody is, They're going crazy, they can't get enough of it."
Between 100,000 and 240,000 Americans will die, the White House modelling says.
Trump told people to prepare for a "very, very painful two weeks".
The graph showing those numbers listed those possible deaths as "goals" in the mitigation: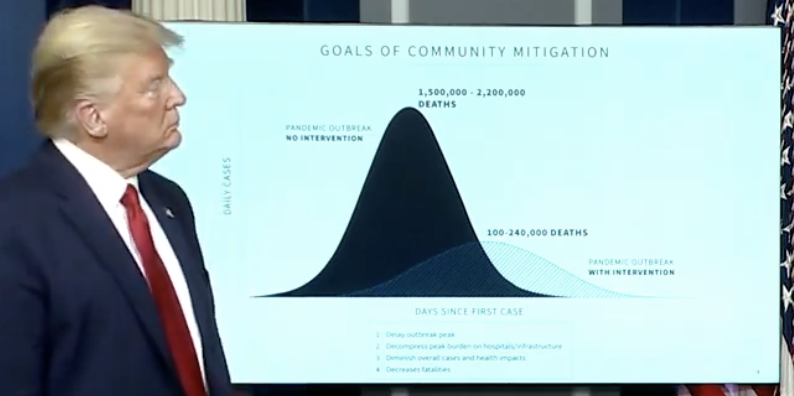 Hello and welcome to today's live coverage of the coronavirus pandemic, which the UN secretary general António Guterres called the greatest challenge faced by the planet since the second world war.
There are now more than 850,000 cases worldwide, a fifth of which are in the United States. Tuesday saw several countries, including France, Italy, US, Spain and Russia, declare record daily increases in pandemic-related deaths.
I'll be taking you through the next few hours of news. If you have questions, stories you think we should be covering, tips, or something heartwarming you can get in touch with me directly on Twitter @helenrsullivan.
Global deaths pass 40,000. Data collected by Johns Hopkins University researchers show at least 40,636 people have died across the world, while 174,019 people have recovered after becoming infected. At least 850,000 people have been infected.
US deaths could reach 240,000 according to the White House. Trump said the country should expect a "very, very painful two weeks." US deaths currently exceed those in China. Monday was the deadliest day yet for the US, which has now lost more than 3,400 people. The figures mean the coronavirus death toll has now surpassed that of the 11 September terror attacks and is greater than that of China – 3,309.
France, Italy, Spain, Russia and the UK recorded their highest daily deaths. UK deaths were up 381 from 1,408 on the previous 24 hours and represents a 27% day-on-day increase – by far the biggest. Italy's death toll rose by 837.
Boy, 13, becomes UK's youngest victim. A 13-year-old boy in London who tested positive has died, Kings College hospital has said. He is believed to be the youngest victim of the outbreak in the UK.
Worst FTSE quarter since 1987. The FTSE 100 posts its worst quarter since autumn 1987 as it closes for the night at 5671 points (up 108 points, or 1.95% today). That means it has shed 24.8% of its value in the last three months. That's its second-worst quarter since being created in 1984.
More than 1,000 have now died in the Netherlands. The number of deaths in the Netherlands resulting from the epidemic rises by 175 to 1,039. The number of confirmed infections has increased by 845 to 12,595, the Netherlands' National Institute for Health (RIVM) says.
UK shows early signs of flattening the curve. The NHS needs everyone to play their part in reducing transmission of the virus, the medical director of NHS England Stephen Powis says, as signs emerge that physical distancing measures are beginning to work.
'Stay healthy!' US urges Americans left behind in Pakistan. A US government-arranged flight is to leave Islamabad in Pakistan on Wednesday night to repatriate Americans in the country. But not all US nationals will be on it. Their embassy's advice to them while they await a plan to get them home is: "Stay healthy!"
Ireland: confirmed cases of coronavirus halve. Ireland on Monday confirmed 295 new cases, the second highest daily number, bringing the total to 2,910. It recorded eight deaths, bringing the death toll to 54. Northern Ireland has 533 confirmed cases and 22 deaths.
Burundi and Sierra Leone confirmed their first cases, and Slovakia and Oman registered their first deaths.